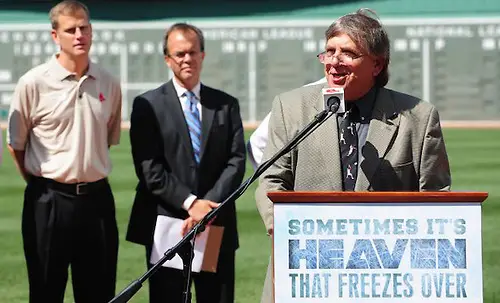 With the Hockey East season in full swing, the standings beginning to take shape and the Beanpot on the horizon, it seemed like a perfect time to put individual teams aside and talk with Hockey East commissioner Joe Bertagna to get his take on the major issues facing his league and college hockey.
Here are some of the key points from the conversation:
York's 1,000: It's the sheer magnitude
When Boston College coach Jerry York became the first in college hockey to reach 1,000 wins last Friday night, he not only hit a milestone, he may have destroyed it.
York, who in is his 44th season as a college hockey head coach, has averaged more than 22 wins a season. He's led five teams to national championships, including four at Boston College alone. Ten of his teams have captured their league's postseason title, while 12 have won the regular season crown.
But with the entire resume of the legendary bench boss, becoming the first college coach to reach 1,000 victories might be the most impressive.
It symbolizes consistency and achievement. But it also is a feat that might not even be accomplished again.
York began his coaching career at age 26, an age when few are hired in today's game. He has persevered and he's never wavered from wanting to be a college coach.
"Part of it's the way he's gone about it," Bertagna said of York, referring to the head coach's gentlemanly demeanor. "He's so low maintenance from a commissioner's point of view."
The accomplishment, however, represents the ability for York, year in and year out, to find and develop some of the top talent.
"If you want to put a critical eye on it, you'd cite an old Jack Parker quote that the team that gets off the bus with the best players usually wins," said Bertagna. "Jerry would be the first to tell you that a lot of those [1,000] games he got off the bus with the better players.
"But when you look at the number of years, you don't sustain that level of talent all the time, so to be able to average [that number of wins] as long as he has, knowing that there are up years and down years for talents, and guys leaving programs and guys being hurt, no matter what the circumstances, he's been pretty consistent."
Big Ten's age-limitation proposal continues to loom on radar
The Big Ten's proposal to limit the maximum age of a college hockey player, which came to light to most in late November, continues to loom, said Bertagna.
The proposal would, in effect, restrict the maximum age for a college hockey player to 24 years old, meaning athletes that often reach their 25th birthday in their senior season would be either forced to enter a year earlier or limit their careers to three seasons instead of four.
A vote is expected in April. A nonbinding vote of men's college hockey coaches was taken earlier this year, and while all Big Ten coaches voted in favor of supporting the proposal and all coaches in the WCHA, NCHC, Atlantic Hockey and ECAC Hockey all reportedly voted against supporting the proposal, Hockey East was hardly as clear cut.
Nearly a third of Hockey East coaches voted in favor of supporting the legislation, putting Bertagna in a somewhat precarious position.
"Roughly a third of the people I answer to have taken a position in support of this," said Bertagna. "But when you get right down to it, I am expected to carry out the wishes of the majority. So whatever the position of the majority is, that's the position I have to take."
One of the largest issues surrounding the legislation is the sheer power the Big Ten — the only college hockey conference with an all-sport presence — has in pushing this legislation through. Outside of the Big Ten representatives, most who will vote on the proposal in April don't come from an institution that sponsors college hockey and, further, most who will vote don't have much background in the college hockey game.
That, according to Bertagna, forces those who oppose the proposal to take on roles similar to what lobbyists do when dealing with politicians in Washington.
"I think the bigger issue here is that the Big Ten can, and now is showing, that it can go on its own and file legislation without having a great national discussion ahead of time," said Bertagna. "Having one league that can go out and file [legislation] certainly is a departure from the ways we've done things where we worked by consensus as leagues in the past."
Early commitments a concern
While the Big Ten's legislation could push through rules that a major part of the college hockey body opposes, another issue causing strife among some college coaches right now is the age at which coaches are seeking commitments from prospective student-athletes.
In January 2014, Maine made headlines when it was revealed that 13-year-old Oliver Wahlstrom committed to play hockey for the Black Bears. He has since decommitted from Maine and committed to Harvard for the fall of 2018.
That was surpassed in August when another 13-year-old, Anthony Cipollone, announced on Twitter his commitment to Vermont.
Although official commitments cannot be made until the signing periods in the year before the recruits arrival on campus, for many years coaches have respected verbal commitments made by prospects by no longer pursuing those student-athletes.
As Bertagna notes, those "gentleman's agreements" were put in place in an age when players were recruited one, maybe two, seasons before they were to matriculate. The goal was to allow some of the smaller programs that identified talent and convinced them to attend their schools from having that talent poached by some of the bigger-name programs.
Those "agreements" were generally respected when the target player was 16, 17 or 18 years old. But moving the recruiting timeline up by three additional years to an age as young as 13 — nearly 20 percent earlier in the player's development timeline — makes it impossible for some coaches to take a hands-off approach.
"It's somewhat messy out there with kids making commitments and reneging on commitments; coaches making commitments and putting off the kids' arrival at school," said Bertagna. "Talking to coaches across the country, there's a lot of unease in the way some of this is conducted."
Bertagna hopes that at this year's coaches' convention, held in Naples, Fla., each April, significant time can be spent discussing the ages at which players are targeted.
"The climate out there in recruiting and the respect between coaches isn't what it used to be," Bertagna said. "I hear coaches saying the honor among coaches isn't what it used to be, and it's bothersome."
Special events remain a focus
The success of this year's Friendship Four in Belfast, Northern Ireland, led the tournament's organizers to commit to a second tournament in 2016. That, however, means finding two participants from Hockey East and ECAC Hockey for the event.
Bertagna said that tournament organizers, which include former Boston University players Steve Thornton and Shane Johnson, will be in town for the second night of the Beanpot tournament hoping to further the planning.
Bertagna also noted that Hockey East is in discussions with the team at Fenway Sports Management about a potential for a fourth edition of Frozen Fenway.
The event, which has had varying levels of success — most related directly to the weather — typically has been played on alternating years, which would have set the event to have taken place this month. But with the NHL playing the Winter Classic at Gillette Stadium, the parties involved in Frozen Fenway decided that next year would be a better option.
Nothing is set in stone, but it certainly seems plausible that Fenway Park will once again host hockey in January 2017.
Finally, Bertagna said Hockey East is excited to move this year's women's championship, which has been played on Cape Cod for the last three years, to Merrimack this March.
That could conflict a bit with the men's playoffs. Should Merrimack finish at a seed between five and eight, it would host a first-round series over the same weekend. That would result, in all likelihood, in a Thursday-Friday-Sunday men's series, opening Lawler Arena on Saturday for the women's semifinals. If the men's series goes three games, a separate-admission doubleheader (possibly noon and 7 p.m.) would feature the women's title game and the deciding game of Merrimack's first-round men's series.