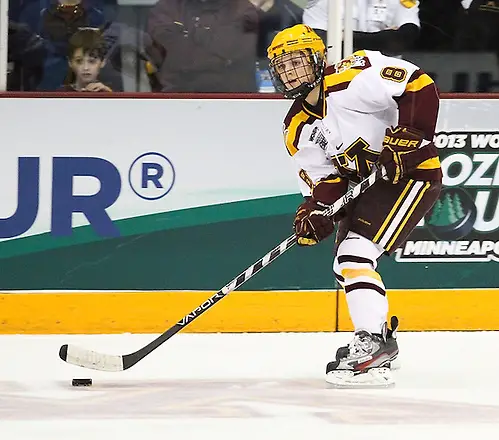 I like watching thoroughbreds run. Some people don't; they think it is cruel to the horses. If their point is to do everything within the sport to protect the health of the horses, I can agree with them. If they believe that horse racing should be outlawed to ensure that no horse will ever break down on the track, then I'm not sure how it benefits the horse. The people who invest millions of dollars in raising and caring for racehorses aren't likely to continue to do it if all the horse does is stand in a stall or graze in a pasture. Maybe the thought is that an animal that has been domesticated for generations will somehow find a niche in nature. It's a nice thought.
Anyway, when I watch a horse run, to me it looks like it is doing what it was born to do, and there is a beauty in that.
Amanda Kessel likely wasn't born to be a hockey player, but she has certainly evolved into an exemplary one. Like a thoroughbred, she can cover distance rapidly and make it look almost effortless. That she can combine speed that few female hockey players can match with soft hands and a head for the game makes her a rare talent.
Due to lingering symptoms from a concussion suffered while she was part of the United States Olympic Team, Kessel announced her retirement from the sport in July 2015. On February 3, 2016, Minnesota announced that she was rejoining the team for an abbreviated and long-delayed senior season.
"It's awesome for women's hockey; it really is," coach Brad Frost said. "We've been a pretty good team here this year and haven't seen too many people around. When she got her concussion, it was probably one of the most notable things in women's hockey a few years ago, and now her coming back is probably the most notable thing currently."
Kessel's first game back in the Gophers' lineup on Friday drew a crowd of 2,635 and a media contingent at least the equal of an NCAA quarterfinal. Normally at Ridder Arena, the center is the last of the starters announced. On Friday, the last starter introduced was the home team's right wing, a senior from Madison, Wis.
"I actually debated it, just because of certain line matchups that we wanted," Frost said. "I asked Joel Johnson, my assistant, 'We've got to start her, right?' He said, 'Absolutely.' When we did, it was pretty emotional. To see our team support Amanda with their stick taps the way they did, and to hear the crowd. I don't think I've heard it that loud since we won the national championship here. I think so many people were just so excited to see her work her way back to where she is now."
During previous introductions on home ice, Kessel has tended to be reserved, but on Friday, she couldn't hide a smile as she stood on the blue line and the fans roared.
"I thought I'd be a lot more emotional," Kessel said. "I think kind of yesterday, I got all my emotions out, but more just excitement. I woke up this morning, and I was pumped to play. It's been a long road, but it felt great to be back out there on the ice and representing the University of Minnesota."
For a time, that road seemed to be leading nowhere as far as her hockey career was concerned, culminating in her retirement, but shortly thereafter, the prognosis changed.
"It was back in August," Kessel said. "I saw some new doctors, and they told me, 'You're going to play hockey. You're OK, and you're just going to have to work through this.' I've been working my tail off for a few years, but I really started changing then, and I knew I'd be back playing."
The improvement hastened with a more aggressive approach.
"It's just physical activity," Kessel said. "I wasn't doing any physical activity, and kind of the new treatment [for] concussions, you just kind of attack them, and you get back out there and you exert yourself. Really just getting to the point that I could fully exert myself after not doing that for a couple years, that was really the treatment that helped me."
Eventually, her status as a former Gopher began to change.
"I'd gotten a call in August just saying that Amanda was coming back to school, which was still kind of up in the air, and that her doctor was encouraging her to start skating on her own a little bit," Frost said. "I always had it in the back of my head that I guess there was potential, but I always thought it was a long shot, just because of the things that had been going on previously."
Being able to return to the life of a normal college student was a gigantic step, but varsity hockey remained an unrealistic hope as the 2015-16 season began.
"Really I think probably starting in the new year here, I thought that there was maybe a 50-50 chance, but I never wanted to get my hopes up, because one, it would take the focus off of our team and who we had on the ice, and secondly, it just may not have happened," Frost said. "Over the last month or so, continued to get more and more opinions and some clearance there, and Amanda was practicing with us over the last month, full go, and she was great. So it's not like she just started skating last week and we threw her in there. Our priority the whole time has been her health, and if she wasn't 100 percent healthy, then there's no way we would have allowed her to play."
Neither the coaching staff nor Kessel had the final say on her dressing for games.
"She had been cleared for practice and those types of things, but our medical people needed second, third opinions," Frost said. "They wanted to make sure that everything was buttoned up, dotting their i's and crossing their t's before they made that decision."
There are many well-intentioned people of the opinion that the risk of re-injury is too great and anyone with a similar medical history should walk away from the game, even if they've received medical clearance.
"I think anything is possible," Kessel said. "I think I would regret it if I didn't work to get to this point. Playing for the Gophers has been some of the best memories of my life, so it was devastating to think that I wasn't going to be able to finish out a year, so I guess it's pretty much a dream come true to come back and really be out there. I was just sitting in the locker room, and I was just, 'I can't believe this is happening.'"
Whether her teammates believed that No. 8 was back on the ice or not, they fed off the energy of the moment.
"I think any time you play North Dakota, we're going to be amped up and ready to go, but having Amanda back, obviously, was a huge boost to that," Hannah Brandt said. "Personally, I couldn't have been more excited to be back with her. I think everyone was just so excited for her to get another chance to play hockey, to play here at the U of M."
During Kessel's junior season in which she totaled 101 points, Brandt, then a freshman, was her center.
"Hannah's one of my favorite people that I've ever played with, so to get back and playing was awesome, but then to know that I was going to get another chance to play with Hannah, I was even more happy," Kessel said.
Having not played a game in two years, there was some doubt as to just how much Kessel could contribute in her return to the ice.
"It was not my 100 percent game shape, but I think I went in there expecting that and just trying to have fun and help the team in any way I could to get a win," she said. "Your legs, no matter now hard you train, there's nothing that you can do to really get in game shape without playing in games. I had to expect that, and even though I would have wanted to be in 110 percent game shape, I knew I wasn't going to be."
While perhaps not quite what she displayed during her junior season, Kessel was pretty good on Friday for someone who last played in a college game when a number of her current teammates were high school sophomores.
"These were probably the shortest shifts that Hannah and Dani [Cameranesi] have had all year," Frost said. "Amanda was usually the first one off, and when one of your linemates gets off, you usually follow a few seconds later. You could just tell Amanda was getting a little tired. She's one of the best players in the world at pacing herself and being at full speed when she needs to be. There's some players that just go 100 miles an hour all the time. She's got enough ability and hockey sense to pick and choose her spots."
Kessel was buzzing and set up Brandt in the slot for a shot that smacked the crossbar on the second shift for their line with Cameranesi.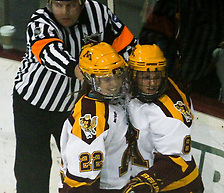 "I think it was pretty easy to get back playing with her," Brandt said. "She's the easiest person to play with probably in the world, so it was pretty easy for me. I don't know if she could say the same, but it was a lot of fun today."
When the Gophers went on a power play later in the first period, Kessel got a couple whacks at a puck on the edge of the crease, Cameranesi collected the rebound behind the net and fed an open Brandt in front. With the secondary assist, Kessel had her first point of the season and added another when she spotted an open Sophie Skarzynski in the third period.
"This past week was really the first time that the three of them skated together," Frost said. "They've only had a few practices together and now a game. But that's the great thing, if teams focus on Kessel and Hannah, you've got another future Olympian that you're going to have to deal with that's a top-five scorer in the country right now."
On Friday, North Dakota fell, 3-0, to Minnesota and its reconfigured top line.
"The three of them are pretty dynamic, but the other thing it does is that now Sarah Potomak can be on our second line and our second line is really good," Frost said. "I think one of the biggest things is Cara Piazza was centering our third line, and I thought our third line was awesome tonight. I was able to have a lot of confidence having Cara's line out there against the top North Dakota line with [Amy] Menke and [Meghan] Dufault. The trickle down effect makes us a lot better. Brook Garzone, first game at D in a couple years, played really well. Milica [McMillen] goes out [with an injury], so [Skarzynksi] has to go back [to the blue line]. The depth that we have on our team is real good right now."
Even with that depth, the Fighting Hawks rose up on Saturday, ground out a scoreless tie with Minnesota, and won the shootout in the 11th round. Kessel scored the Gophers' only shootout goal, but was held without an official goal for the second straight game.
"She's a little frustrated," Frost said. "She's probably the most competitive kid I've coached, and she's kind of a perfectionist. She was getting a little frustrated when things weren't going in the net, but it's just a matter of time."
Gelling will take some games.
"I think just all five skaters on the ice," Brandt said. "She has never played with the majority of the people on this team. For me and her, it's not too hard, I don't think; it's a little adjustment. I think just getting used to the new defenders that she's going to be playing with and having Dani on the wing. It's not hard, but it's definitely just different from what it used to be. I thought even [her second game] was better than [her first], even though we couldn't score. But we got more chances, I thought."
She saw positive signs in her right wing's game.
"[Friday] was just so many distractions, her first game back," Brand said. "I could tell as the game went on, I could feel the old Kessel coming back, just the things she was saying. [Saturday] for sure, that competitiveness was 100 percent there. Every time we missed a play, you could tell how badly she wanted to be out there and to get that goal for our team. Whatever it takes, she literally wanted to be able to do it for us. It's good to see her like that. It's a good sign of things to come for our team."
Only, Brandt, Garzone, McMillen, Lee Stecklein, and goaltender Amanda Leveille were her teammates the last time Kessel played for the Gophers.
"It's definitely different," Kessel said. "I think it's kind of fun. You've got these freshmen that are really excited, and they're a lot younger than me. It's just a bunch of great kids. To see the excitement in them and to be able to help them, I think I've got to take a little bit different of a viewpoint and appreciate things a lot more."
Two games into Kessel's encore, the Gophers may not look like championship favorites, but they definitely have more potential than they did before her return. Brandt in particular showed more spark than she has in weeks in an injury-plagued senior season.
"Feeling better, for sure," Brand said. "I think 'Kess' coming back gave everyone a little extra step, including myself."
"I think it picked our team up a little bit," Frost said. "And it has been hard. We've been playing in a lot of real tough games and trying to gut some things out. I've been really happy with our team and how they've found ways to win against a real good Bemidji State and a Mankato team that was playing desperate. I think any time you get a player with the caliber of Amanda, it has to give you a boost. It's great for her, but it's great for our team as well."
In 2013, Kessel was named the 16th recipient of the Patty Kazmaier Memorial Award. Included among the award's selection criteria are, "a love of the sport," and, "an ongoing willingness to participate."
In the aftermath of her concussion, Kessel has certainly exhibited both of those qualities. But isn't she worried about suffering another injury?
"No, not at all," Kessel said. "If I was going to come back, I was going to be 100 percent healthy, otherwise, I wouldn't do it."
That's the problem; healthy people can suffer concussions as well. Everyone who has ever battled concussions and their effects at some point suffered her first when she was healthy and no more at risk than anyone else.
"She saw a lot more contact [Friday] than she's seen in practice," Frost said. "Even though we have contact, everybody's pretty tame that way. I think it was great. She drew the first penalty of the game with that cross-check, and she got banged around a little bit, and that's what she needs for her own sake and her own confidence and the confidence of everybody else, just to know that she really is good to go."
In the end, each of us must make a personal decision on what risks we wish to take. Several months after giving birth to her daughter Serena, Patty Kazmaier-Sandt died at age 28 from the blood disorder thrombotic thrombocytopenic purpura, for which pregnancy is a predisposing factor.
Health is precious, but so is being able to do the things in life that we love most, even things that come with risk, like playing hockey. For those who say that Kessel had nothing to prove in the sport, she hasn't returned because she wishes to add to her legacy.
"It's about the team and our success," she said. "Really, the memories that you make — that's what it comes down to. That's what you remember, what you did with your teammates and how you are as people."