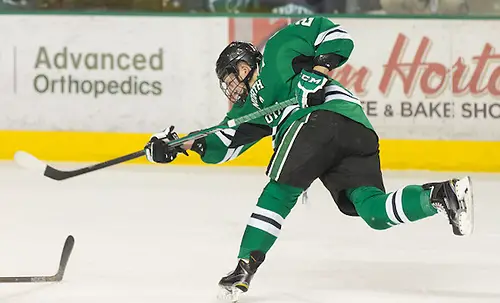 Each week during the season we look at the big events and big games around Division I men's college hockey in Tuesday Morning Quarterback.
Paula: It is good to be back, Jim, and I want to thank Candace Horgan for filling in for me last week. I also want to remind everyone to get their flu shots next year.
I know it's a week late, but I do want to start by saying what a great event the Big Ten's Super Saturday was in Madison Square Garden on Jan. 30. I know that the afternoon basketball game was well attended, and the hockey game had over 13,000 fans in the stands — and the atmosphere was great. Fans of both teams traveled but there were more Penn State fans than Michigan fans, and until the Wolverines blew open the game in the third period, the Nittany Lions had a home-ice advantage with a very lively fan base.
We were lucky, too, that the weather cooperated. After the game, I heard fans of both teams talking about how much they enjoyed the day.
Now to the present. With so little time left in the regular season, I am finding it interesting how the top teams in the PairWise Rankings are holding on, more or less, to those top 10 spots. Even with some stumbles among the top teams — St. Cloud's split with Miami, another tie for Quinnipiac, Michigan's split with Michigan State — the top teams in the country appear to be the top teams in the country, if that makes sense. Given how much parity we saw earlier in the season, it seems to me that those near the top of the rankings have their fates in their own hands.
Jim: It's great to have you back and as close to 100 percent as possible after your bout with the flu.
I do agree with your assessment of the PairWise Rankings. The top teams at this point seem to have solidified their tickets to the NCAA tournament. I am pretty comfortable with saying that Quinnipiac, St. Cloud State, North Dakota, Boston College and Providence will all make the NCAA field. I am also close to crowning Michigan in that group, which would be the first bid for the Wolverines since 2012.
After that, however, I think there is plenty of room for fluctuation. If any of the teams below Providence nose dive through the end of the season, an NCAA tournament spot is very much in jeopardy.
That said, there are also teams very much on the upswing. Clarkson and Robert Morris have played themselves back toward the NCAA bubble. Robert Morris, in particular, interests me. If the Colonials — and that is a big if — run the table in regular season, advance to the Atlantic Hockey title game and lose, there is a decent chance that they'd earn an at-large bid. The Colonials' RPI would raise to one of the top 12 or so, a critical factor in determining the NCAA field. If that were to happen, Atlantic Hockey would earn two NCAA tournament bids.
I can almost hear the whining now of all the teams sitting on the NCAA bubble. Can't you?
Paula: Ah, the Annual Bubble Whining! I remember the last couple of CCHA tournaments I covered in Joe Louis Arena, when there were a couple of different CCHA teams on the bubble each year. Assistant coaches would seek me out after games were over Friday night to quiz me about all possible permutations. Every year, my answer was the same. I told them that I hoped that they would fare well, and I told them — gently — that had they had taken care of business a bit better during the regular season, they wouldn't be watching their fates decided by the play and luck of other teams.
Robert Morris is an especially interesting team. The Colonials' defense is OK, but the offense is so good (4.11 goals per game) that they have the sixth-best scoring margin in the country. Plus, Robert Morris has good wins over Michigan, Penn State and UMass-Lowell. The Colonials are well coached and play to the best of their ability, so they're a bubble team worth watching.
Three other bubble teams have captured my interest: Clarkson, Dartmouth and Minnesota. After a solid start to the season, Clarkson cooled but the Golden Knights have a seven-game unbeaten streak going for them, with a record of 3-0-1 against ranked teams during that stretch. After a shaky first half, Dartmouth is 9-3 since the start of 2016, and Minnesota — which, in fairness, would interest me no matter what — sometimes plays like a mighty team and sometimes can't get it together.
Jim: In Minnesota's case, there is little to no room for error the rest of the way. It's doubtful they'll go unbeaten in Big Ten play down the stretch, so even going, say, .750 down the stretch, the Gophers could be dead in the water as they need to jump at least six more teams and have a good showing in the Big Ten tournament (that is, no one-and-done).
But Minnesota has dug its own grave. Inconsistency has keep the Gophers right around or below .500 since day one. Only one opponent down the stretch in the regular season is ranked, which in concept should translate to wins for a "good" team. But playing teams with mediocre RPIs makes it so difficult to make a major jump in the PairWise.
Dartmouth might be the craziest bubble team. Other than a five-game winning streak in January, it's been a win-one-lose-one type of season for the Big Green. That .500 record won't get them into the NCAA tournament, in my estimation. With games against Rensselaer, Cornell and Clarkson remaining, there are some quality wins still available, but Dartmouth needs to probably pull four wins in the regular season and advance to Lake Placid to keep its NCAA hopes alive.
Paula: Other than bubble speculation, there are good things going on in college hockey this week, including the Beanpot, which wrapped up Monday night. Why is it that only teams with "Boston" in their names have won the title since 1993?
Jim: I think when it comes to the Beanpot, the sheer pressure associated with the tournament can get to teams at times. I have seen Harvard and Northeastern play a number of times each this season and can say that neither played up to its potential for the majority of last Monday's semifinals. Why? Who knows. But I've seen just about every game of the tournament in the last 20 years and I can say that, for the most part, Boston College and Boston University both play more confidently in that event than do the other two participants.
It's a statistical abnormality that only BU or BC has won for 23 straight years. It's even more peculiar that in 64 years Harvard and Northeastern have never played one another in the title game. Even if you said BC and BU were 75 percent favorites to win their semifinal games each year, pure statistics would tell you that a Harvard-Northeastern final should have happened a few times by this point.
There's always 2017, right?
Thumbs up
To Minnesota State senior forward Bryce Gervais, who scored twice short-handed during the same penalty to Mankato, at 12:36 and 13:58 in the third period in last Friday's win over Bowling Green. He was assisted on both goals by senior forward Teddy Blueger. The back-to-back shorties were the second and third on the season for Gervais, who has nine career short-handed goals.
Thumbs down
Speaking of the Beanpot earlier, thumbs down to Mother Nature, who doesn't seem like a big fan of the Beanpot. Last year, she forced postponement of both nights of the annual tournament. This year, a week after summer-like temperatures for the semifinals, Monday's final happened after significant snowfall in areas surrounding Boston. Don't forget, this is a tournament that once had hundreds of fans and workers stuck at the old Boston Garden for days after the 1978 semifinals. Yes, we know playing it in February makes this seem inevitable. But couldn't Mother Nature just make things easy the first two Mondays in Boston each February?
Coming up
No. 2 North Dakota and No. 13 Denver have the featured series in the NCHC this weekend, with a pair of games in the Mile High City.
ECAC Hockey's race to the finish continues with No. 9 Harvard hosting No. 18 Rensselaer on Friday, No. 1 Quinnipiac playing at No. 20 Clarkson on Saturday and No. 15 Cornell hosting No. 10 Yale on Saturday.
And in Hockey East, No. 7 Boston University and No. 11 UMass-Lowell play a home-and-home series Friday and Saturday.