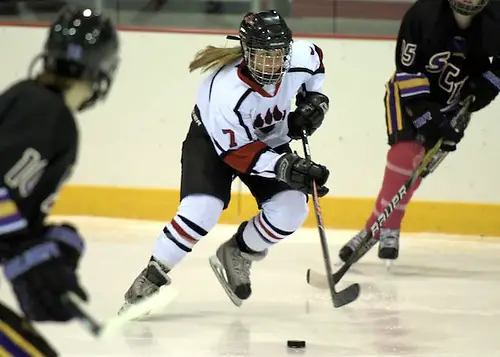 The NCHA women's conference on Thursday announced its player, freshman and coach of the year, in addition to its All-NCHA Team and All-Freshman Team.
Lake Forest senior forward Michelle Greeneway scored a nation's-best 33 goals among 46 points to take home top player honors. Greeneway also won the honor in 2014 as a sophomore.
"I've never seen or coached a more competitive player than Mickey," Lake Forest coach Carisa Zaban Wahlig said in a news release. "From her freshman year to her senior year, she continues to impress and amaze me with her level of play and ability to dominate. She came in offensively-oriented, but improved her defensive game tremendously, which is what makes her such a fantastic two-way player.
"She's truly a one-of-a-kind player and has been invaluable to the program's success the last four years."
This season, Greeneway became just the sixth D-III women's player to score 100 goals in her career.
Adrian forward Brooke Lupi is the freshman of the year after tallying 16 goals and 16 assists for 32 points for the Bulldogs.
The Bulldogs' Chad Davis is the top coach for the second straight season. In 2015-16, Davis guided Adrian to a 22-2-1 mark and a top-five ranking for the majority of the campaign.
2015-16 NCHA All-Conference Team
| Player's Name | Position | Class | School |
| --- | --- | --- | --- |
| Michelle Greeneway | F | Sr. | Lake Forest |
| Lexi Holman | F | So. | Concordia (Wis.) |
| Kristin Lewicki | F | Jr. | Adrian |
| Lauren Roethlisberger | F | Sr. | St. Norbert |
| Kaylyn Schroka | F | Jr. | Adrian |
| Olivia Spellmire | F | So. | Lake Forest |
| Kayla Griffith | D | So. | Lake Forest |
| Sydney Smith | D | Jr. | Adrian |
| Alex Stensland | D | Sr. | Lake Forest |
| Kristine Zink | D | So. | Adrian |
| Allie Carter | G | Sr. | Lake Forest |
| Lindsey Hartfiel | G | Jr. | St. Scholastica |
2015-16 NCHA All-Freshman Team
| Player's Name | Position | School |
| --- | --- | --- |
| Amy Budde | F | Lake Forest |
| Brooke Lupi | F | Adrian |
| Courtney Wittig | F | Marian |
| Kennedy Houge | D | St. Scholastica |
| Ellie Woodman | D | Concordia (Wis.) |
| Christina Pattengale | G | Concordia (Wis.) |
| Lindsey Strainis | G | Marian |