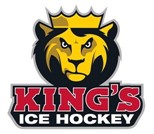 King's College has announced the college will add men's and women's hockey to its list of NCAA Division III varsity sports for the 2017-18 academic year.
The school is located in Wilkes-Barre, Pa.
"For a number of reasons, the addition of men's and women's ice hockey is extremely exciting," King's director of intercollegiate athletics and recreation Cheryl Ish said in a news release. "We will have the opportunity to add approximately 55 student-athletes to the already strong student-athlete total at King's, where approximately 30 percent of our students participate in an intercollegiate sport. Combined with the rollout of the new athletic logos last year, the recent improvements made to athletic facilities, and the addition of men's and women's track and field this academic year, it is a time of tremendous growth for King's athletics."
When the sports begin, King's will field one of only three NCAA Division III men's programs in the entire state of Pennsylvania, joining Neumann University, located in Aston, and Lebanon Valley College. King's will also have one of four women's programs, joining Neumann, Lebanon Valley and Chatham.
"Based on conversations with other athletic directors at colleges that offer the sport, we also expect that the ice hockey student-athletes will come not only from our traditional regional recruiting areas, but also from across the country and internationally," added King's vice president for student affairs Janet Mercincavage. "The potential to add a very popular and exciting sport while also increasing the diversity of our student population is an opportunity on which we want to capitalize. The process will begin this spring when King's starts a national search for head coaches and will continue with a year of recruitment for our first teams."
King's has not officially joined a conference due to the recent approval of the sports by the Board of Directors. The school will not begin the scheduling process until men's and women's head coaches are on board.
The Revolution Ice Centre in nearby Pittston will serve as the primary practice and game venue for both teams.
"Given the growth of ice hockey at the high school level and the scarcity of Division III programs nationally, we feel that this is a very exciting opportunity for students who want to continue to play after high school while attending a college with a strong liberal arts curriculum, personalized attention, and professional preparation," noted King's vice president for enrollment Corry Unis.
"With the growing popularity of ice hockey we are excited about starting up the sport at King's and being able to help meet the growing demand of those interested in continuing both their education and hockey careers," Ish added. "For a lot of young men and women, the opportunity to play beyond high school or the junior leagues is limited and King's College will become one more option available to them."