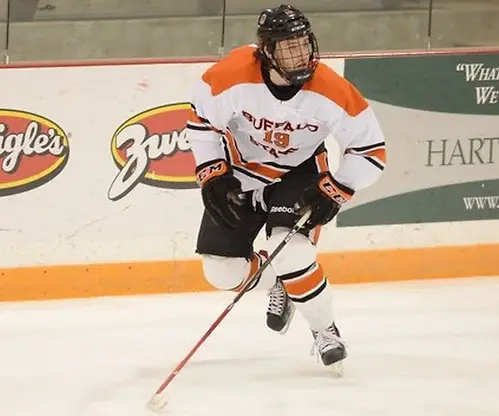 Wow, it is a SUPER SATURDAY!
A total of 36 teams in 18 games showcasing great hockey across the Northeast and teams hoping that this is when they find their best hockey of the season.
I am just like those teams when it comes to my season-long predictions. While I have not been great all season long, my last two weeks at 14-2-2 (.833), including last week's 8-2-0 (.800) mark, have me believing that I just might be peaking at the right time of the season.
The total for the year now stands at a respectable 60-31-9 (.645) with still lots of action to go beginning with this mega-playoff slate of games on SUPER SATURDAY!
Here are my picks across some of the games (10 total) in each of the East conferences:
Saturday, Feb. 27
Canton @ Daniel Webster – billed as the D-III Independent Championship, the two teams will play a pair of games over the weekend to wrap up their respective seasons. Both teams would certainly like to finish on a high note and the visitors appear to be the better of the two independents right now – Canton 5, Daniel Webster 3
St. Anselm @ Stonehill – the NE-10 championship game will find both teams looking for something out of their first encounter. The Skyhawks would like the result, while the Hawks would like the effort and territorial dominance with a different set of numbers on the scoreboard. Mark Meads and company find a way to win on the road – St. Anselm 3, Stonehill 2
Amherst @ Bowdoin – the Polar Bears are one of the hottest teams entering postseason play, while Amherst has struggled for most of the season in finding consistency. This is likely coach Terry Meagher's final game behind the bench at Sid Watson Arena if knocking off the defending champions from their NESCAC title wasn't quite enough motivation – Bowdoin 2, Amherst 1
Norwich @ Babson – a great rivalry game that always brings out the best in both teams no matter where or when they play. History says that 60 minutes is likely not enough time to decide a winner and I tend to agree that this one will be tight. The edge here is likely with the home team, but by the slimmest of margins – Babson 3, Norwich 2
Neumann @ Hobart – the Knights have their work cut out for them in trying to do something no one else has done this season – beat Hobart on its home ice. Neumann has the offensive tools to challenge the Statesmen, but there is too much depth and balance in the Hobart lineup starting with Mac Olson and Ben Gamache – Hobart 5, Neumann 3
Oswego @ Plattsburgh – this is another game that is appearing a round earlier than usual in the playoffs. Oswego has had an up-and-down season, but may have made a statement in their 8-0 quarterfinal win over Brockport on Wednesday. Plattsburgh really had nothing to play for last week, but does now and Bob Emery's troops will be ready to go – Plattsburgh 4, Oswego 3
Geneseo @ Buffalo State – the Bengals may have surprised some by capturing the second seed in the SUNYAC tournament, but they are peaking at the right time and would love to extend their current six game win streak by a couple more games. The Knights took them to overtime a couple of weeks ago and this could be a case of déjà vu – Buffalo State 3, Geneseo 2
Johnson and Wales @ Salve Regina – it is said that one of the hardest things to do is to beat a team three times in a row. The Seahawks have had the number of their in-state rivals so far this season and will want to score early and get in their heads again to advance. Salve Regina is just a .500 team against conference foes, so the Wildcats can turn the tables on their host. Thinking "three-peat" here – Salve Regina 4, Johnson and Wales 2
Westfield State @ Massachusetts-Dartmouth – when is home-ice advantage not home-ice advantage? The Corsairs are just 4-5-0 at home against conference foes and 50 percent of those wins have come over the Owls. Coach John Rolli will need a big game from Drew Michals in goal and a bit of the old Hetland Rink magic from playoff games past – Massachusetts-Dartmouth 3, Westfield State 2
Becker @ Nichols – the Bison have struggled down the stretch and the sting of last week's overtime loss that cost them the first-place bye may be just what coach Parker Burgess needs to motivate his team to take no prisoners against a potentially dangerous quarterfinal foe. The defending champions look to flex their muscles a bit and show they intend to defend – Nichols 6, Becker 2
Unfortunately, a lot of teams will see their season end this weekend, but for those moving on, the task does not get any easier in the next round. You can't play next week if you don't win on Saturday – drop the puck!
WEST PICKS – Brian Lester
It's a new season for teams in college hockey and anything can happen in a playoff situation.
St. John's (12-9-4) at St. Thomas (13-7-5)
Both regular-season meetings were competitive as the two rivals played to a 2-2 tie on both nights. The Johnnies are unbeaten in their last nine games, while the Tommies are 5-1-3 in their last nine games.
This one comes down to defense and it won't be a surprise if it's decided in overtime. Goaltenders Saxton Soley (St. John's) and Joe Morris (St. Thomas) could very well have the biggest impact on how this game plays out. Expect another low-scoring showdown.
St. John's, 3-2.
Hamline (9-11-5) at Concordia (Minn.) (10-13-2)
The Pipers are going to have to be road warriors once again if they are going to repeat as conference tourney champs. They have only won twice in true road games this year, but they do feature two of the top scoring threats in college hockey in Charlie Adams (21 goals, 26 assists) and Brandon Zurn (18 goals, 28 assists).
Concordia has struggled lately, losing five of eight, but the Cobbers do at least have home-ice advantage for this matchup. Jon Grebosky has led the way for Concordia with 11 goals and 14 assists on the year.
The Cobbers and Pipers split in the regular season and this one could no doubt go either way.
Hamline, 5-4.
Augsburg (15-8-2) vs. Hamline (9-11-5)
The reigning regular-season conference champs have the luxury of playing at home and will be ready to go. The Auggies swept the Pipers in the regular season and should continue that domination in the playoffs.
Augsburg is 6-2-2 in its last 10 games. Nate Flynn leads the Auggies with 15 goals and 13 assists. He is one of five players who has scored eight or more goals.
Augsburg, 5-4.
Adrian (21-3-1) vs. St. Scholastica (15-8-3)
The two-game series begins Friday night. The Bulldogs have won their last four games and Connor Armour leads the way in points with seven goals and 30 assists. They have one of the best goaltenders in college hockey as Kevin Entmaa is 12-0-0. He is the only unbeaten goaltender in college hockey.
The Saints rolled to a 6-2 win over Lawrence to advance to the semifinal round. They are coming off their first win in five games and Keegan Bruce will be a key to the Saints' success. He recorded a hat trick against Lawrence and has scored at least one point in 15 of the Saints' last 17 games.
Adrian is 11-0 at home and swept St. Scholastica in the regular season.
Adrian, 4-2 and 5-4.
St. Norbert (21-2-2) vs. Marian (17-5-3)
St. Norbert is unbeaten in its last nine games. Marian has won its last 13 games and is the hottest team in college hockey.
Erik Cooper leads the Green Knights. The NCHA Player of the Year and has come through with 11 goals and 17 assists and has scored a point in his last 17 games.
The Sabres defeated Concordia (Wis.) 3-0 to advance to the semifinal round and have two of the top scoring threats in college hockey in Derek Thorogood (nine goals, 24 assists) and Devin Stuermer (17 goals, 15 assists). Mike Baldwin has won 13 games and has recorded four shutouts this season.
St. Norbert and Marian split in the regular season, with the Green Knights winning 4-1 and the Sabres earning a 4-2 win.
St. Norbert, 3-2, Marian 4-3; St. Norbert 2-1 (mini game).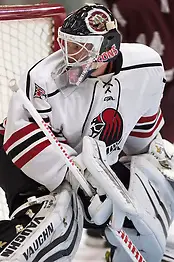 Wisconsin-Stevens Point (19-5-1) at Wisconsin-Eau Claire (15-5-5)
The Pointers have yet to beat the Blugolds this season, but will look to change that trend this weekend in a WIAC tournament semifinal series. Both games in the regular season were decided by a goal.
Stevens Point is 10-3 on the road and has scored 127 goals. Joe Kalisz has paved the way with 13 goals and 26 assists. Max Milosek is 14-4-1 and has recorded two shutouts.
Eau Claire has won its last two games and finished the regular season with a share of the conference title. Adam Knochenmus has struck for 21 goals to go along with 16 assists. The Blugolds have scored 100 goals in all. Tyler Green has made 17 starts in goal and is 10-4-3.
Stevens Point, 4-3, Eau Claire 5-4, Stevens Point, 3-2 (mini-game)
Wisconsin-Stout (10-12-5) at Wisconsin-River Falls (15-6-4)
River Falls swept the regular season series against Stout, winning 4-3 and 4-0. The Falcons feature one of the top goaltenders in the game in Tanner Milliron, who is 13-6-4 and has four shutouts to his credit. Kyle Gattelaro has scored nine goals and dished out 10 assists to pace the Falcons. River Falls has scored 72 goals in all.
The Blue Devils have just one win in their last 11 games and playing on the road won't be easy. Stout is 5-7-2 away from home this season. Jake Useldinger, who has scored 10 goals and dished out 13 assists, will need a big performance to put Stout in a position to pull off the upset.
River Falls, 5-2 and 3-0.