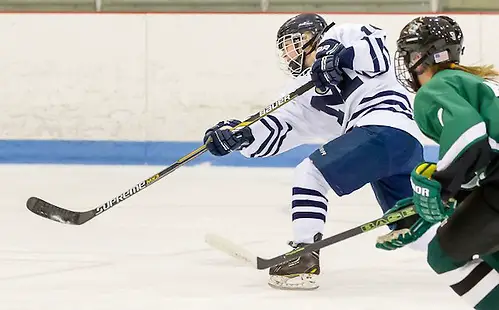 The NESCAC women's conference handed out three individual awards Tuesday, in addition to announcing its pair of All-Conference Teams.
Middlebury sophomore forward Maddie Winslow potted 11 goals and 13 assists for 24 points and was named Player of the Year.
Winlsow's coach, Bill Mandigo, took home Coach of the Year laurels for the third time in 28 years behind the Panthers bench after guiding the squad to a 18-4-3 overall record and 13-0-3 mark in league play. He also won the award in 2004 and 2011.
The conference's Rookie of the Year is Connecticut College forward Jordan Cross, who led all rookies in scoring with 12 points on six goals and six assists in 16 NESCAC games.
2015-16 First Team All-NESCAC
| Player's Name | Position | Class | School |
| --- | --- | --- | --- |
| Ari Bourque | F | Sr. | Bowdoin |
| Alex Toupal | F | So. | Amherst |
| Maddie Winslow | F | So. | Middlebury |
| Julie Beattie | D | Jr. | Connecticut College |
| Caitlyn Ryan | D | Jr. | Amherst |
| Katherine Chester | G | Jr. | Connecticut College |
2015-16 Second Team All-NESCAC
| Player's Name | Position | Class | School |
| --- | --- | --- | --- |
| Hannah Bartlett | F | Sr. | Hamilton |
| Erin Martin | F | Sr. | Amherst |
| Jessica Young | F | So. | Middlebury |
| Sara Taffe | D | Jr. | Hamilton |
| Julia Wardwell | D | Sr. | Middlebury |
| Sam Walther | G | So. | Hamilton |