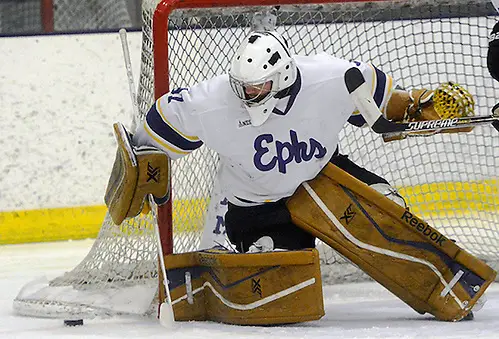 Williams earned all three individual awards from the NESCAC as the conference announced the winners on Tuesday.
The league's Player of the Year is Williams senior defenseman and captain Zander Masucci, who tallied seven goals and 18 points to lead all NESCAC blueliners this season.
Co-Rookies of the Year are Williams goalie Michael Pinios and Bowdoin forward Cody Todesco. It's the first time since 2003 that two players have tied in the voting for the top rookie award.
Bill Kangas led the Ephs to an 18-5-2 overall mark, including a 14-2-2 conference record, and is the Coach of the Year for the second time in his career – the first was in 2006.
The conference also announced two All-Conference Teams.
2015-16 First Team All-NESCAC
| Player's Name | Position | Class | School |
| --- | --- | --- | --- |
| Tim DiPretoro | F | Sr. | Connecticut College |
| Robbie Murden | F | Jr. | Hamilton |
| Sean Orlando | F | Jr. | Trinity |
| Mitch Barrington | D | Jr. | Bowdoin |
| Zander Masucci | D | Sr. | Williams |
| Evan Buitenhuis | G | So. | Hamilton |
2015-16 Second Team All-NESCAC
| Player's Name | Position | Class | School |
| --- | --- | --- | --- |
| Ryan Cole | F | Jr. | Trinity |
| Anthony Sabitsky | F | So. | Trinity |
| Tyler Young | F | Jr. | Williams |
| Ronald Fishman | D | Sr. | Middlebury |
| Conor Lamberti | D | Jr. | Hamilton |
| Michael Pinios | G | Fr. | Williams |