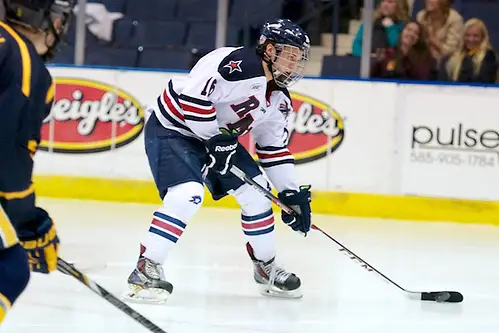 Last Friday's title-clinching 6-3 win by Robert Morris over Canisius certainly produced a sense of accomplishment for the Colonials, who went wire-to-wire to repeat as Atlantic Hockey regular season champions.
But there also was a sigh of relief for coach Derek Schooley and his nine seniors.
Repeating is often more difficult than winning the first time, especially when it's expected — Robert Morris was picked No. 1 in the preseason coaches poll — and you have a large group of players taking their final turn at the brass ring.
"You're not going to sneak up on people," said Schooley, whose team also won the AHC playoff title in 2014. "Teams are gunning for you, looking to knock out teams on top.
"I give a lot of credit to the teams that were chasing us. They were pushing us and challenging us every week."
But in the end, the Colonials finished the season where they started, atop the standings. And their seniors were the major reason why.
Air Force coach Frank Serratore once said, "Your seniors are either going to be your best players or your worst players." For Robert Morris, it's clearly the former:
• Goaltender Terry Shafer leads the league and is seventh in the nation in save percentage (.932).
• Zac Lynch leads all current AHC players with 150 career points, including 49 this season. He needs a single point to set the school's all-time career scoring mark, for which he is tied with Cody Wydo, whose senior season last year ended as a Hobey Baker Award finalist. Lynch's seven short-handed goals this season is best in Division I by a wide margin.
• Greg Gibson's 28 goals leads the league by a wide margin, six better than Lynch, who is No. 2 in the conference with 22.
• Brandon Denham is having his best season, with 20 goals and 38 points.
• Forwards David Friedmann and Matt Cope have nine goals each and round out a power play that's third in the nation (28.8 percent).
• On the blue line, Tyson Wilson has 24 points, second in the league for defensemen, and is a plus-26. Chase Golightly has 22 points and classmate Evan Moore has 45 blocked shots.
"This group has accomplished a lot and this is their last kick at the can," said Schooley. "We've battled inconsistencies at times but as a group [this senior class] has won five trophies: two regular season championships, a playoff championship and two Three Rivers Classics. They're motivated to add to that list."
With the regular season in the rear-view mirror, Schooley said his team expects to be fiercely challenged in the playoffs.
"The regular season was a marathon," he said. "Now it's a sprint. It's going to be [won by] a team that gets hot down the stretch. Anybody has the ability to get hot right now."
It's all about timing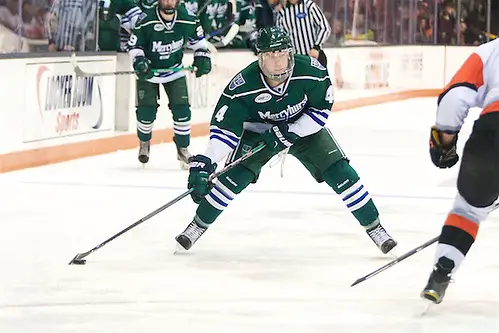 Who's going into the AHC tournament with the wind at their backs? Who needs to regroup for a final push? With the exception of one squad, teams have formed into two groups on opposite ends of the spectrum. Let's take a look at recent history:
Peaking:
• Mercyhurst is riding a seven-game unbeaten streak, the longest in the league. The Lakers are 3-0-2 in their last five games and 6-1-3 in their last 10.
• Holy Cross has picked things up after a January lull and finished the regular season on a four-game winning streak. The Crusaders have won four of their last five and are 5-2-3 in their last 10 games.
• Robert Morris lost two games in a row just once this season, back in early January. The Colonials are 4-1 in their last five games and 7-2-1 in their final 10 games of the regular season.
• Air Force also looks to keep things rolling. The Falcons have lost just three games since the holidays, winning four of their last five, and finished the regular season 6-2-2 in their final 10 games.
Stuck in the middle:
• Army West Point won five of its final 10 games (5-2-3) and was 1-2-2 in its last five, but that was good enough to claim the No. 6 seed, the highest finish for the Black Knights since 2010.
Turnaround needed:
• Rochester Institute of Technology was tied for second place going into the final weekend of the regular season but was swept by Mercyhurst and finished fifth. The Tigers are 2-2-1 in their last five games; 2-4-4 in their last 10.
• Sacred Heart was also swept in its final series of the regular season, and finished 2-3 in its final five games and 3-6-1 in its last 10 contests.
• Bentley finished the regular season winless in its last five games (0-3-2) and 2-4-4 in its last 10.
• Canisius dropped a spot in the seedings after being swept by Robert Morris last weekend. The Golden Griffins have lost four games in a row and are 3-5-2 in their last 10 contests.
• Niagara, Canisius' first-round opponent, has three straight losses and was 2-5-3 in its final 10 regular season games.
• American International is just 1-8-1 in its last 10 games, including a winless stretch over its final five.
Round one
The Atlantic Hockey quarterfinals will be hosted by Robert Morris, Air Force, Holy Cross and Mercyhurst. RIT captured the other first-round bye and will travel to Mercyhurst. The other three bye teams await the results of this weekend's three first-round, best-of-three series:
No. 11 American International (6-27-3) at No. 6 Army West Point (10-13-9)
The Black Knights will host a postseason series for first time since 2011. The Yellow Jackets swept Army West Point in Springfield back in December, winning both games in overtime.
No. 10 Niagara (5-23-6) at No. 7 Canisius (10-19-5)
It's always fun when rivals meet in the postseason. Canisius has ended Niagara's season twice in the past five years. The Golden Griffins took three of four points from the Purple Eagles in the regular season.
No. 9 Sacred Heart (12-18-4) at No. 8 Bentley (11-17-6)
Both teams are struggling entering the postseason — a combined 2-6-2 in their final five games. Bentley defeated and tied Sacred Heart in late January. The teams last met in the postseason in 2012.
How'd we do?
Here's how Dan Rubin and I did in our preseason predictions compared to the league's coaches:
| Team | Actual Finish | Coaches' Prediction | USCHO Prediction |
| --- | --- | --- | --- |
| Robert Morris | 1 | 1 | 1 |
| Air Force | t2 | 7 | 7 |
| Holy Cross | t2 | 6 | 9 |
| Mercyhurst | 4 | 8 | 6 |
| RIT | 5 | 2 | 3 |
| Army West Point | t6 | 10 | 10 |
| Canisius | t6 | 4 | 4 |
| Bentley | 8 | 3 | 2 |
| Sacred Heart | 9 | 5 | 5 |
| Niagara | 10 | 9 | 8 |
| American International | 11 | 11 | 11 |
The only correct placement picks were for first (both the coaches and USCHO had Robert Morris) and 11th (we both picked AIC).
The coaches' predictions were off by an average 2.9 places per team while Dan and I missed by 3.1 places per team. Dan and I were off by a whopping seven places for Holy Cross (we underestimated), and six for Bentley (ditto). The largest margin for the coaches was five places for both Air Force (underestimated) and Bentley (overestimated).
Last season, we all did a better job, with Dan and I averaging a difference of 2.1 places and the coaches off by 2.2. As the numbers bear out, this was a more unpredictable season.
Weekly awards
Player of the week — Greg Gibson, Robert Morris: The senior piled up the points last weekend with five goals and an assist in a sweep of Canisius.
Goalie of the week — Shane Starrett, Air Force: This is the seventh weekly honor for the freshman, who stopped 44 of 45 shots he faced in a sweep of Niagara. He recorded his fourth shutout of the season on Saturday.
Rookie of the week — Matthew Whittaker, Mercyhurst: The freshman had two goals and two assists, including the game-winning tally on Saturday in a sweep of RIT.
Defensive player of the week — Johnny Coughlin, Holy Cross The rookie blueliner chipped in two assists and a game-winning goal in a sweep of Sacred Heart that locked up the third seed for the Crusaders.