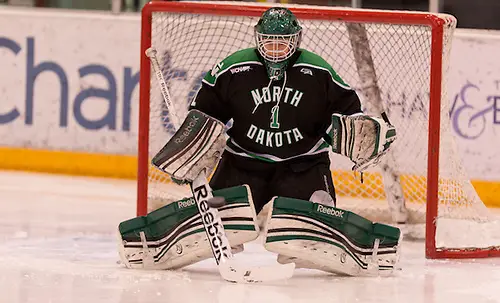 Arlan: In reviewing your predictions before the weekend, outside of getting the orders wrong in some of the splits or not being exact in terms of which teams would need three games to advance, there were a few surprises regarding the teams that advanced. I think we both thought that Princeton and Colgate were the vulnerable home teams in the ECAC. Ultimately, the Raiders found a way to win a deciding overtime while the Tigers did not. The biggest surprise was that instead of sweeping, Bemidji State was swept by Minnesota-Duluth. That result wasn't entirely inconceivable, given the Bulldogs were the second-division WCHA team with the most potential, but I didn't expect the Beavers to be losing a 5-1 game on home ice.
There were also some minor surprises along the way in series that ultimately ended as expected. Quinnipiac had a struggle solving Rensselaer, or more accurately, goaltender Lovisa Selander. North Dakota suddenly looked like the team we expected them to be all season but seldom were unless they were facing ranked opponents. I didn't think Boston University would need all three games to eliminate Vermont, but it had firm control of the two games it did win. Robert Morris opened with a clunker against Lindenwood and can thank a strong performance by rookie Lauren Bailey, who picked a good time for the first two wins of her career, for even needing to think about next weekend. It's hard to say what that means for the Colonials goaltending rotation going forward.
Despite getting bounced from the ECAC tournament, Princeton is still very much alive for NCAA consideration. However, the Tigers are holding that precarious seventh spot in the PairWise Rankings, and any upset winner outside of the CHA will leave Princeton with no plans until autumn. I read that star defenseman Kelsey Koelzer was injured early on in the third game, so I don't know if she'll be available if the Tigers' season continues.
Wisconsin goaltender Ann-Renée Desbiens made history with her 17th and 18th shutouts of the season in sweeping Minnesota State. That broke former Minnesota goaltender Noora Räty's mark established three years ago. Meanwhile, Boston College checked off two more games from its slate and at 36-0-0 is only five games from matching the Gophers' perfection from that same season.
Where would you like to focus attention first?
Candace: Might as well start in the ECAC with Colgate and St. Lawrence. I confess I didn't see the Raiders beating Harvard; the Crimson had swept both games from Colgate over the season, and while I thought Colgate would take it to three, I figured Harvard's experience would win out. With the loss, Harvard's season is over; it is impossible for the Crimson to make the NCAA tournament, quite a fall from last year's runner-up finish. Harvard just could never get untracked this year. I remember you and I talking when Harvard lost to BC in the Beanpot about how it seemed the defense wasn't quite there, and goalie Emerance Maschmeyer seemed off. Colgate scoring four on Friday and three on Sunday was certainly a surprise.
Colgate however, is young and seems to have a lot of promise. The Raiders will now play Clarkson, a team they beat in the regular season. I'm beginning to believe, and I'm sure they are too. Colgate trailed going into the third Sunday, 2-1, but Megan Sullivan tied it at 2:36 with a quick strike, and then Shae Labbe won it at 14:45 of OT. Goalie Ashlynne Rando made an impressive 40 stops.
Credit also to St. Lawrence, though honestly, I thought the series between the Saints and Tigers was a coin flip. They split their two games this year, with Princeton winning in OT just a few weeks ago and St. Lawrence winning at home back in November by a goal. It's fitting then, that all three games were one-goal decisions, and the finale went to OT. Amanda Boulier gave the Saints a lead with a strike at 4:22 of the third in the series deciding game, but Molly Contini tied it for Princeton with an extra-attacker, power-play goal with 15 seconds left in the game. That could have been a serious blow to the Saints, but they regrouped, and Justine Reyes won the series at 5:37 of OT. I don't know that St. Lawrence can win the ECAC tournament like it did a few years ago, but that was a good win.
In the semis, Colgate will face Clarkson and St. Lawrence will face Quinnipiac. Princeton will be at home watching, and hoping that there aren't any more upsets. The Tigers are seventh in the PairWise, and as long as Clarkson or Quinnipiac win the ECAC, Boston College or Northeastern win Hockey East, and Minnesota or Wisconsin win the WCHA, the Tigers will be in the NCAA tournament. If I had to rank the likelihood of an upset winner in those three conferences, I'd rank the ECAC first, Hockey East second, and the WCHA third. Do you see it differently?
Arlan: I'd say that Hockey East is the league least likely to have a winner come from outside of the top six. Connecticut had a hard time putting away a New Hampshire team whose starter only lasted 32 minutes and change before being replaced by a goalie who had one win on the season. It took three extra periods on Saturday and required Elaine Chuli to make 69 saves. If the Wildcats outshoot Connecticut nearly two to one, what is BC going to do? Boston University has been the team that knows how to win at conference tournament time, but if it couldn't win back-to-back games at home versus Vermont, I'm not encouraged that it is ready to pull off the Northeastern and Boston College double.
The ECAC is tricky. One can say that an upset winner could emerge because neither Quinnipiac nor Clarkson has any history of success in winning the tourney, but then, neither does Colgate, and St. Lawrence won so long ago that I think only Boulier was around to experience it. The Saints were 0-5-1 combined against the two top seeds during the regular season, so I don't see them being likely to knock off both, particularly coming off three tough games with more bus miles than the other teams had to travel. I watched the final game of Colgate's win over Harvard, and the Raiders are a dangerous team, especially now that Ashlynne Rando is playing well in goal. They have so much young talent on that squad that in any week they might suddenly find another gear and jump to a new level, but the problem is that both Clarkson and Quinnipiac are built to win now. It's going to be hard for an up-and-coming team to get through both of them.
North Dakota, on the other hand, is a team that could put together a run. It's had hot streaks in recent seasons and hasn't really put one together yet this year. Its best players are upperclassmen, so there should be a sense of urgency now that the postseason is here. I know that Minnesota and Wisconsin have motivation to win the league tournament, but that doesn't compare to the Fighting Hawks trying to win to extend their season. The Badgers and Gophers are going to be seeded second and third in some order no matter what transpires, so their hunger isn't of the same magnitude. UND has beaten both of the higher seeds during the season and made their lives miserable in just about all of the previous games. It is diverse enough that it could win a 3-2 game or a 1-0 game. It has also been close in previous years, played well, and it just didn't quite happen. Maybe UND is due to win something. So I'll put the WCHA as most likely for an upset winner from outside the top six. Not by a lot — let's call it a razor-thin margin over the ECAC in second.
After all that, I doubt that there will be anyone outside the top two seeds winning any of those three conferences, which would mean Princeton will be safe. I don't know if that will be a second life for the Tigers or just a stay of execution. Even 10 years ago, the one season that Princeton reached the NCAA tournament, it was knocked out in the semifinals of the ECAC tourney by a Brown team that finished third during the season, four games behind second-place Princeton. The Tigers never seem to really put it together in the playoffs, and that goes back a while. Do you have any theories as to why that might be?
Candace: It's kind of a generic theory, and it applies to a lot of teams. Simply put, as the pressure rises and the stakes get higher, offense becomes even more difficult, and most of these teams, including Princeton, struggle to score consistently. This weekend, there were 32 playoff games. Six of those went to overtime, and another five were decided by one goal, so a third of the games were single-goal affairs. Outside of that, others were close. Vermont's win over BU Saturday was by two goals, Robert Morris' win over Lindenwood Saturday was by two goals, Clarkson's win over Cornell Friday was by two, and so was Saturday's essentially, with an empty-netter tacked on.
Even some of the games that look on paper like blowouts had moments of doubt for the favorite. Boston College was tied with Maine in the second period of both games, and Northeastern twice trailed Providence by a goal Friday before pulling away. What BC and Northeastern and Minnesota and Wisconsin have that many other teams don't is offensive depth, and the knowledge that if they keep plugging away, eventually the goals will come.
Princeton won 22 games this year, going 21-6-2 in the regular season. Eight of its wins were by one goal, many in games where they scored three or less goals, and three of its losses were by a single goal, so the Tigers weren't operating with much margin for error in their games. They are built on solid defense and goaltending with timely goals, much like Bemidji State and other teams, and when the margin for error is so thin, and the intensity ramps up in the playoffs, that can be a hard thing to overcome.
You say that North Dakota can put together a run, and I suppose that's true, but the Fighting Hawks have had even more scoring difficulties. They went 16-11-5 in the regular season, and were shutout eight times and held to a single goal in five other games. It seems to be feast or famine. Do you think the six-goal output in each game against St. Cloud over the weekend indicates that North Dakota has finally found some scoring consistency, or was it more the case of playing an inexperienced playoff team and having a lot of confidence? North Dakota plays Minnesota next, and the last time they played, the Fighting Hawks were shut out in both games, so rediscovering the offense now would be very critical to any NCAA tournament hopes.
Arlan: Offensively, North Dakota is very similar to Minnesota-Duluth in that it can put together a top line that can be very dynamic, but if it does so, there won't be a lot of scoring pop coming from its other lines. The coaches of the top teams struggle with this question: is it better to load up one line for maximum output, or to try to have a balanced attack? There isn't always an easy answer, and it can vary based on the chemistry of the players involved and defensive responsibilities.
For example, Wisconsin's three best offensive players are Annie Pankowski, Emily Clark, and Sarah Nurse. Other than end-of-period type situations, Mark Johnson doesn't elect to play Nurse with the other two. I think we've see that at BC in this and past seasons where sometimes Katie Crowley plays Alex Carpenter and Haley Skarupa together, and at other times, she splits them up.
For UND, the best possible top line is Meghan Dufault centering Amy Menke and Becca Kohler. All three have more than 30 points, speed and finesse, and they can create problems for opponents. However, playing them together also creates a problem for Brian Idalski, because then he has put all his best eggs in one basket. Nobody else for the Fighting Hawks has 20 points. Among forwards, Layla Marvin is next with 16 points. So particularly when he doesn't have last change, which he won't as the visiting team on Saturday, his best line is vulnerable to being matched against a checking line or shutdown defensive pairing. At the same time, he has to worry first and foremost about stopping the other team's offense. Idalski needs to be able to control the Hannah Brandt line with Amanda Kessel and Sarah Potomak on the wings, while Brad Frost is likely to want to put Kelly Pannek's line with Dani Cameranesi and Kate Schipper out against UND's top line. Unless he has a second line he really trusts to do the job versus Brandt and company, Idalski may not be able to afford a steady diet of Dufault, Menke, and Kohler as a trio.
That's why playing with a lead can be so vital at this time of year. If UND is ahead, Idalski can afford to sacrifice offense for defense. Should it fall behind by a couple of goals, then he has to roll the dice and go for it. The Bulldogs got a lead on the Beavers and were able to pull away in their first game and flip the script of that series. Rensselaer never had to play from behind at Quinnipiac over the weekend, so they weren't forced to deviate from a defensive game plan.
One goal can matter so much this time of year in terms of strategy, or mentally, it can fuel the belief of an underdog. That's another thing that BC has going for it. Deep down, I'm not sure that most of these teams really believe that they are going to knock off the Eagles. The undefeated team starts to carry an aura of invincibility. Do you see a team out there, other than obvious choices like Wisconsin or Minnesota, that has the makeup to be a giant killer should it find itself on a rink with the Eagles?
Candace: I suppose it depends whether you would include Northeastern, Boston University, Clarkson, or Quinnipiac on the list of obvious choices. I think in a one-and-done, any of those teams is capable of bedeviling the Eagles, and it's clear BC is already somewhat concerned with whether it can match Minnesota's feat of 2013, at least according to an article in the Boston Globe that was published Sunday. In it, Skarupa was quoted as saying, "I  feel like we wouldn't really be comfortable losing a game at this point," and Dana Trivigno said, "I feel like a loss would almost be like we didn't do the best we could."
However, both players also acknowledged that bringing BC its first national championship is the true goal. Anyway, BC's only guaranteed game at this point is Connecticut. No offense to the Huskies or the amazing netminding of Elaine Chuli, but I don't think Connecticut can beat BC, though they are capable of keeping the score close. BC will then play either Northeastern or Boston University in the Hockey East championship game, and both have played BC tough this year. BU actually came the closest to ending BC's perfect season, taking the Eagles to OT back in November. Getting past either of those in the Hockey East championship game, historically a stumbling block for BC, will be very difficult, especially in some ways if it's BU, because the Terriers would be playing for an NCAA tournament berth at that point.
If you look at the murkier picture of the NCAA tournament, first, I'm not sure who the committee would send to face the Eagles in the first round. Logically, it should be the winner of the CHA tournament, but logic doesn't always factor into things. After that, it's likely BC would play the winner of a game between Clarkson and Quinnipiac. Quinnipiac has one of the best defenses in the country, and people always like to say defense beats offense, so that matchup would be a good test.
I guess I'm saying if you are an Eagles fan, there are a lot of potential heartbreaks in the way of BC matching Minnesota's feat. There's one other too: no offense to BU, but in 2013, after Minnesota had run a gauntlet that included a triple OT win against North Dakota and an OT win against BC in the semis, the BU title game felt like an afterthought. Minnesota matched up very favorably against the Terriers, and the Terriers were by no means the toughest team Minnesota faced that year. Minnesota scored the first two goals in that game, took at 2-1 lead into the second period, scored two more in the second, and the game was effectively over. BU got back to within two goals twice in the third period in Minnesota's 6-3 win, but the result never felt in doubt.
If BC were to take a perfect record into the national championship game, the Eagles would likely face either Minnesota or Wisconsin, and either game, no offense to any of BC's opponents so far, would be the toughest game BC has played all year, with incredible pressure on the players to win and make history. If it gets to that point, I'd like to see it happen, but I think BC's last game of a perfect season would be much harder than Minnesota's.
We haven't talked about the CHA yet, so I'm going to toss it to you. Penn State swept defending champ RIT, and next faces Syracuse, while Robert Morris edged Lindenwood in three and now faces Syracuse. Do you see any upsets in the semis, and if not, who do you favor between Syracuse and Mercyhurst?
Arlan: Before I address your CHA question, I'm assuming that BC's first-round NCAA opponent will be the lowest team in the PairWise Rankings that doesn't require a flight to get to Boston. Of the CHA teams that are still alive, Syracuse can bus to Boston, but I think all of the Pennsylvania teams are outside 400 miles and need a flight. If we're talking about an undefeated BC, that means Connecticut and BU are out, so the most likely opponent would be Syracuse, Princeton, St. Lawrence, Colgate, or if North Dakota or UMD won the WCHA, Northeastern.
As for the CHA, no, I don't see any upsets in the semis. Of course, this is the CHA we're talking about, where the upsets can materialize out of nowhere, whether or not you saw them coming. Penn State just doesn't score enough to cause problems for Syracuse. The Nittany Lions only scored five goals total in going 0-3-1 this season in the head-to-head meetings. True, the Orange only had nine goals themselves, but they managed to scratch out just enough offense, and I think that they will again.
Robert Morris has given Mercyhurst fits in previous years, but the Colonials also went 0-3-1 against their favored opponent during the year, including getting swept rather handily on home ice at the beginning of February. Jessica Dodds had a rough start in the first game versus Lindenwood, getting tagged for four goals on 20 shots before Bailey took over and anchored the series victory. So now, who is RMU's goalie: the freshman with two wins on her college resume, or Dodds, who is coming off a shaky outing? Mike Sisti has had to deal with the who-to-start quandary in net at times this year for Mercyhurst, but that looks to be behind the Lakers, and March is a tough time of year to be trying to answer that question.
Thus, I like both of the higher seeds to reach the final. That's theoretically a better scenario for the league, as for the first time it is holding its championship weekend at HarborCenter in Buffalo, and the venue is closer to the teams' fan bases in Erie and Syracuse. As for which team would win and move on to the NCAAs, I think it will be very tight. They split their two season series, with the shots favoring the Orange and Mercyhurst finding a couple more goals. My hunch is that the Lakers are playing their best hockey right now and get back to the national tournament after a year's absence, but Syracuse has come so close to championships in both the tourney last year and the recent season race that it might give it extra motivation. Anyway, my column this week will be on Mercyhurst, so maybe I'll dream up some more CHA insight by then.
You introduced the topic of the ECAC, said you were starting to believe in Colgate, and that it was the league most likely to have an upset winner. Would you like to elaborate on how such an upset might play out? If not, and you'd prefer to hold that back for your upcoming picks column this week, here's another option.
Injuries seemed to play a role in the early end to Harvard's season, as they came into the weekend missing several players and lost Sydney Daniels early in the series final. Princeton lost Koelzer prior to being knocked out. On the other hand, Clarkson won the NCAA tournament a couple years ago despite having to make its run minus Erin Ambrose. Word out of Wisconsin is that Desbiens had been hit with the flu bug prior to her team getting swept by the Gophers. Maybe she succeeded at least in spreading the pestilence, because the Gophers were barely able to practice at all leading up to the Ohio State series, and they kind of looked like a team that hadn't practiced and should have been in bed. You follow the men's game as well. Would you say that with the shorter rosters in the women's game, injuries and illness play a bigger role than is the case in the men's college hockey, or is it about the same?
Candace: I'll address both questions. I think the injury and illness rate is probably about the same. For instance, North Dakota is in the NCHC, and the Fighting Hawks lost two of their top players to injury for a few weeks in Drake Caggiula and Nick Schmaltz. Kalle Kossila plays for the men's St. Cloud team, and he spent most of his junior year playing hurt, and needed surgery last spring. BC goalie Thatcher Demko needed surgery. I've heard of men's teams losing multiple players to illness, or players playing sick or injured. I think overall, the injury rates are similar. Hockey is a physical game, and on top of that the men's game allows full body checking, and players just carry niggling minor things throughout the year. I don't see the checks that go high that result in suspensions happening nearly as much in the women's game as in the men's, where sometimes players get careless and lead with a high shoulder or something and it hits the opposing player's head.
I think one difference is in some of the types of injuries. Women are more likely to suffer concussions, and it seems like there have been more high-profile cases of women's players suffering concussions that have knocked them out of the game. Kessel just came back a few weeks ago; her struggles have been well-documented. Other players knocked out in recent years include Harvard's Josefine Pucci, Wisconsin's Stefanie McKeough and Brittany Ammerman, Syracuse's Laurie Kingsbury, and Minnesota's Alyssa Grogan and Ashley Stenerson. Kessel, Pucci, and Ammerman were eventually able to return and play, but the others had their careers ended. Women suffer concussions at a rate of 2.72 per 1,000 player hours, compared to 1.47 per 1,000 for men.
A study by the National Institutes of Health in 2010 concluded that women suffer fewer upper extremity, shoulder, and knee injuries than men, likely due to checking being allowed in the men's game. Women suffer more groin and foot injuries. Regardless of whether it's men's hockey or women's hockey, I think teams will over the course of the season lose players to injury or illness, some for just a few games, some for longer periods.
As for the other question, the Raiders match up well with Clarkson. They split a pair of one-goal games; Colgate won in December on the road. What worked in their favor was scoring early, as the Raiders took a 2-0 lead on goals within 45 seconds at 6:57 and 7:42 of the first. While Clarkson tied it in the second period, Colgate answered with a power-play goal in the third, forcing Clarkson to score an extra-attacker goal at 18:33 to tie it again, but Labbe scored the game-winner just 12 seconds into OT.
In the other game, Colgate again had a two-goal lead, up 2-0 after just 48 seconds of the second, but Clarkson answered at 5:47, and then made the big push. Colgate needs to get that early lead and then play solid defense. If they can then advance to a likely meeting against Quinnipiac in the tournament final, I think given that Quinnipiac plays defensive hockey first, Colgate needs to prevent Quinnipiac from jumping out to a big lead early. As such, the play of Rando will be critical. When Colgate tied Quinnipiac back in November, Rando made 44 stops. If she is on and the Raiders can stay tied after one or two periods, anything can happen, and their youth might work in their favor, and there's your upset.
Last Thursday, the 10 finalists for the Patty Kazmaier Award came out. Six players have been on that list before, including 2013 winner Carpenter. For me, a surprise was Shelby Amsley-Benzie of North Dakota. Amsley-Benzie is a good goaltender for sure, but she wasn't on my radar as a Kazmaier finalist. She's only eighth in goals-against and 15th in save percentage. She is fifth in shutouts with eight, but that still leaves Quinnipiac's Sydney Rossman, BC's Katie Burt, Minnesota's Amanda Leveille, and Desbiens above her. What did you think of the overall list, and Bensley's inclusion, and who do you think make the final three, and then who emerges as the 2016 winner?
Arlan: The coaches are in charge of the nominations and narrowing the list down to the 10 finalists, and I think that they tend to go less by pure statistics than media or fans do. Coaches have access to both more visual evidence and a network of their peers, so they're less reliant on pure numbers. One of the criteria for the award is "performance in the clutch." When I want to take a closer look at a candidate for the award, I try to zoom in on the games she played against top teams.
Since you mention Amsley-Benzie, her team played 12 games against ranked opponents, and she started all but one of those. She had surgery in the off season, so I think they tried to limit her workload early, so she only played once per series over the first four weeks. Against Bemidji State, she was 1-1-1, which looks rather mediocre, until you consider she gave up one goal in the three games combined. She handed Minnesota its first loss when the Gophers were ranked No. 1, and then she did the same to Wisconsin when it was the top-ranked team, shutting the Badgers out for 125 minutes.
When these teams got another shot at her in 2016, Wisconsin scored four times in two games, but one was into an empty net. Against the Gophers in Kessel's debut, she again allowed three goals in the series with one shutout, but her team didn't score. So in 11 games against ranked teams, including four each against No. 2 and No. 3, she allowed a total of 15 goals, and eight of those came in the first Minnesota series when she was still finding her form after surgery. Outside of that, she gave up seven goals total in the other nine games, including five shutouts. She's a four-year starter, so that means more voters are likely to be familiar with her abilities. Academic achievement is also mentioned, and she has a perfect GPA as a chemical engineering major. I have no problem with Amsley-Benzie being on the list.
Anyone who has ever dabbled with picking an all-anything team or a top-5 or top-10 list knows that you invariably learn that you have more people that deserve to be on the list than you have spots available. If you don't, you haven't watched enough hockey. It would be nice to have more than one player from the ECAC on the list. If there was one thing that I wish was different, that would be it. I'm glad Koelzer was included, and I think she was deserving. The league's top scorer in conference play was a freshman who ranked behind a couple of other freshmen nationally, and none of them made the Kazmaier top 10. My guess is that a number of young players that came up just short will be on a Kazmaier list in the near future. When you asked me for my top 10 a couple weeks ago, the only difference in the names I came up with from those of the coaches was that I had T.T. Cianfarano instead of Amsley-Benzie.
As for the top three for the award, I think that Desbiens has separated from the other goalies, and Carpenter and Kendall Coyne of Northeastern have separated themselves from the other skaters. Those are my top three.
Up until the Wisconsin series in Minneapolis, I'd have placed Desbiens at the top, but she wasn't in the same form as she had been when the teams first met. It's too bad that she wasn't in good health, but we don't always know who is healthy and who isn't over the course of the season, so we can only judge performance. Between the two forwards, Carpenter's team obviously had more success, but Coyne had more goals, won her league's scoring title, and in my opinion, was required to do more to get her team to where it is. Both teams won easily this weekend. Maine held Carpenter to one point, but the Eagles have other sources of offense. I don't know that Northeastern would have been in as good shape versus Providence had Coyne been shut down, rather than scoring five goals with two assists as she did. For the season, she's had a point on more than half of her team's goals. Her academics are fine, so although it is a close call, I'd have Coyne emerging from that trio.
Do you disagree with any of my Kazmaier conclusions, or is there something that I neglected?
Candace: I think your top three is dead on. I think the winner might be more up in the air. Desbiens set a shutout record this year. If the voters are going to hold one off weekend against her, when she was most likely playing sick, as reason not to vote for her, that seems awfully short-sighted. While Coyne may have scored more than Carpenter and may be a bigger asset to her team, when she's come up against Carpenter and the Eagles, she hasn't been able to get her team over that hump, and to me, that's a strike against her. Whether that factors in long-term in the voters conclusions is anybody's guess. I think Carpenter, Coyne, and Desbiens are all Kazmaier-worthy, so it will be interesting to see who gets the nod.