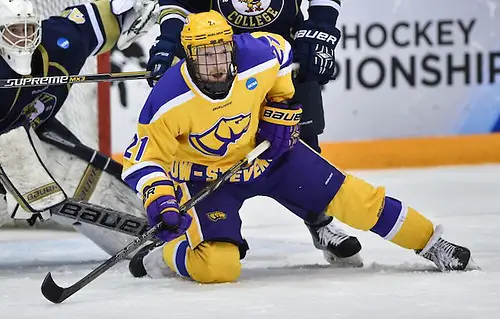 It's conference championship game week and the showdowns for the title are set in the MIAC, NCHA and WIAC.
The NCHA title game is worthy of a national final as it features the top two teams in the country in top-ranked St. Norbert and No. 2 Adrian.
Fourth-ranked Wisconsin-Stevens Point will square off against No. 12 Wisconsin-River Falls and Augsburg, which plays St. John's, is ranked 14th. The only team not ranked in the three conference finals is St. John's. The Johnnies did receive five votes in this week's USCHO.com Division III Men's Poll.
St. John's (13-9-4) at Augsburg (16-8-2)
The Johnnies will hit the road to play for the conference title this weekend after punching a ticket to the championship game with a 2-1 overtime win against rival St. Thomas. They are playing their best hockey at the right time of the year as they are unbeaten in their last 10 games.
Saxton Soley has been phenomenal in goal during the Johnnies' streak, fashioning a 2.16 GAA and .923 save percentage over the last 10 games. He has 11 wins and is 49-29-10 in his career.
Offensively, the Johnnies don't have a player who has scored 10 or more goals. Huba Sekesi and Neal Smith lead the team in goals scored with nine apiece. Sekesi is the points leader as he has dished out 16 assists as well. Seven other players have scored at least six goals for the Johnnies, who have outscored opponents 27-5 in the third period over their last 10 games.
The Auggies are already the regular-season champs and will now look to add a tournament title to their trophy case. They advanced to the final with a 5-2 win over Hamline and are seeking their first tourney crown since the 1997-98 campaign. It's also the last time Augsburg played in the NCAA tournament.
Augsburg did lose both games to the Johnnies in the regular season, falling 5-3 and 4-2, which means revenge will be on its mind in a game where the stakes will be much higher. Nate Flynn leads the offense with 16 goals and 13 assists, while Corbin Chapman has stepped up in a big way as well this season, tallying 11 goals and 10 assists. Goaltender Jordyn Kaufer is having a successful season, winning 15 games and recording three shutouts. He has made 550 saves.
Augsburg does have the advantage of being at home, where it is 8-4-1 on the year but St. John's is no pushover on the road. The Johnnies are 9-2-1 away from home this season.
St. Norbert (23-2-2) at Adrian (23-3-1)
The Green Knights are the No. 1 team in the country and are coming off a sweep of Marian in the semifinal round of the playoffs.
Erik Cooper is playing tremendous hockey, scoring at least one point in 19 consecutive games. The streak is a school record. Cooper has scored in all but one game this season for St. Norbert, which is unbeaten in 11 games. The Green Knights have won four in a row overall.
Cooper leads the team in points, scoring 12 goals and dishing out 20 assists. Michael Hill has struck for 15 goals on the year and has also dished out 10 assists. Eight other players have scored at least five goals. St. Norbert has come through with 121 goals in all.
Tony Kujava anchors the defense. The talented goaltender has played in 17 games this season and owns a 1.28 GAA. He has 14 wins to his credit.
St. Norbert has fared well on the road this season, fashioning a 14-0-2 record.
The Bulldogs have won their last six and are ready to defend the Harris Cup. Adrian also won championships in 2008, 2009, 2010, 2011 and 2013 and is 23-2 in conference playoff games.
Adrian has one of the best goaltenders in the country in freshman Kevin Entmaa, who is 14-0 and is the only unbeaten goaltender in college hockey. The Bulldogs boast an offense that has cranked out 150 goals.
Connor Armour leads the Bulldogs in points as he has come through with seven goals and 30 assists. Mathew Thompson and Trevor Boyd lead Adrian in goals with 16 apiece. Six others have scored at least 10 goals for Adrian. The Bulldogs also play unselfish hockey, with 10 players coming up with at least 10 assists.
Adrian split with St. Norbert during the regular season in two tightly played games, winning 5-4 before falling 2-1. Both of those games were on the road. This time, Adrian has the luxury of playing at home, where it is 13-0.
Stevens Point (20-5-2) at River Falls (16-6-5)
River Falls defeated Stout in a semifinal series to punch a ticket to the WIAC tournament final. The Falcons are 12-4-2 at home this season and one of those wins was a 3-2 victory over Stevens Point. The Pointers won the second regular-season meeting by a 4-3 score.
Kyle Gattelaro leads the Falcons in points with nine goals and 10 assists. He is part of a balanced offensive attack for River Falls, which features nine other players who have scored at least four goals. The Falcons have thrived off unselfish play as well, with seven players coming up with at least eight assists.
Tanner Milliron has been solid all year as a goaltender, winning 14 games. He owns a 1.77 GAA and has recorded four shutouts.
The Pointers bounced Wisconsin-Eau Claire from the postseason in a semifinal series last weekend and will now look to win a conference tourney title after missing out on nailing down the regular-season WIAC title it was favored to win.
The Pointers have fared well on the road, going 11-3-1, and have an offense that has punched in 131 goals. Joe Kalisz leads the attack with 13 goals and 27 assists, while Lawrence Cornellier has come through with 19 goals and 11 assists. Nine other players have scored at least four goals this season.
Max Milosek has started 20 games at goaltender, winning 15 times and recording two shutouts. He owns a 2.08 GAA.
The Pointers lost to River Falls in the WIAC championship game a year ago, but went on to play in the national title game.