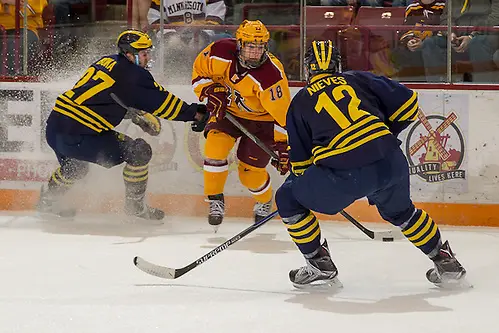 There's an old saying in sports: Big players make big plays at big times. Perhaps no Big Ten play was bigger last weekend than Hudson Fasching's goal 57 seconds into overtime Friday, giving Minnesota a 3-2 win over Michigan.
How big?
"Awesome. So good," said Fasching. "We didn't quit on each other. We came together as a team. There was no quitting involved and it was awesome to see. We battled right to the end and it's just an awesome feeling to stand here right now … being in first place in the Big Ten."
Awesome.
Entering the weekend, the Golden Gophers were in first place and a point ahead of the Wolverines. After a 6-2 loss Thursday, Minnesota found itself in second place heading into Friday's game and in danger of falling five points behind Michigan. The Gophers are the two-time defending regular season Big Ten champs.
"There's no question that if we want to try to defend the crown, we had to win today," Minnesota coach Don Lucia said after Friday's game. "There's no way you're going to fall back four points when it's four games to go and think you're going to have a chance to win."
After losing four seniors who were responsible for 63 goals in the 2014-15 season, the Golden Gophers found themselves in the relatively unfamiliar position of having to reload this season. Minnesota finished last season averaging 3.51 goals per game, fifth in the nation. The Gophers were also the only Big Ten team that didn't need the league's playoff championship autobid for entrance into the NCAA tournament.
This season, the Gophers have had to work for their 3.32 goals per game (12th) and couldn't be more on the bubble for the NCAA tournament, sitting tied with Michigan Tech for 16th in the PairWise Rankings, in large part because of their shaky early season results. This year's Minnesota squad features seven freshman skaters and a freshman goaltender, and it's taken until right about now for the Gophers to coalesce.
"We have a lot of juniors as leaders this year," said Fasching, "so I guess we kind of learn as we go. We've taken a lot of knowledge from the seniors that were here last year. Obviously, we've still got some older guys here so we take everything we can from that and we just learn and we just keep on trudging on."
One of the most impressive things about this young Minnesota team is its ability to learn from day to day, especially since the beginning of Big Ten conference play in early December. After losing 8-3 to Michigan on the road Dec. 11, the Gophers beat the Wolverines 3-2 the following night. On Jan. 8, Minnesota lost a 3-2 overtime road game against Penn State and then rebounded the next night with a 7-1 win.
There was the 4-1 home win over Penn State on Feb. 5 followed by a 5-3 loss on Feb. 6 — a game in which the Gophers gave up two third-period goals to the Nittany Lions. But the following weekend, Minnesota swept Ohio State on the road, winning in overtime the first night and managing to hold onto a lead in spite of giving up two third-period goals the following night.
In Friday night's win over Michigan, the Gophers held the toughest third-period team in the country to no goals.
"We really dug in in the third period," said Lucia. "We didn't give up much of anything. You have to be conscious defensively. We're not going to run and gun with that team and think we're going to come out on top.
"Winning a kind of tough, grind-it-out third period when in so many games we've kind of let one slip away, that's part of the growth and learning how to play."
"As team, we've come up a little bit short a couple games," said Fasching, "but we've always known it was there and I think we just kind of keep on keeping on."
Fasching's game-winner was his 19th goal of the season in 31 games played. The junior had a dozen goals in 38 games last season and 14 in 40 the year before.
"We feel good," said Fasching. "We're in first place. This is about as good as you can feel, to be honest with you. Obviously, Michigan's right on our tails, but we feel good. We're playing well. We just keep growing. We've learned a lot of lessons through the course of the season. There's been a lot of ups and downs. With a young team, that's going to happen."
Minnesota's schedule for the remaining two weeks of the regular season is favorable. This weekend, the Gophers travel to East Lansing to play fifth-place Michigan State before ending the season at home against last-place Wisconsin.
And defense wins games, sometimes
Clearly, whatever adjustments Minnesota made from Thursday to Friday forced the Wolverines to play a kind of hockey game that Michigan isn't accustomed to. It was the second time this season that the Gophers limited the Wolverines to just two goals, and only the seventh time this season that Michigan has scored two or fewer goals in a game.
In spite of the loss, Lucia said that the Wolverines actually brought a better game Friday.
"Michigan played better tonight, and we had to play better as well," he said. "I thought it was a great college hockey game. That was the best game we've been in all year."
Thursday's game marked the first in 13 contests that senior Tyler Motte hadn't scored a goal. Motte's goal-scoring streak was the longest for any Michigan player in the Red Berenson era, and the forward picked up his 29th goal of the season in Friday's loss.
Friday's golden opportunity to remain ahead of the Golden Gophers may be the only chance the Wolverines will have to catch Minnesota this season. Michigan plays a home-and-home series against Ohio State this weekend and closes the regular season with two home games against Penn State. Taking two more points than Minnesota does down the stretch will be difficult.
"We like where we are," said Michigan coach Red Berenson. "We wanted to get more than a split when we came here. Minnesota's probably pretty happy with the split right now, but we've got to take advantage of our remaining games and see what happens."
When asked if he'd mind a rematch with the Gophers in the Big Ten tournament, Berenson said, "We're OK with seeing anyone."
The Wolverines are a confident team, scoring 4.73 goals per game and getting good goaltending from senior Steve Racine. And Michigan, sixth in the PairWise Rankings, has probably played itself into its first NCAA tournament appearance since 2012.
And there was hardware
"We talked about keeping that trophy that we have with Michigan and if we tie we maintain it," said Lucia. "We've had it now for a number of years and we didn't want to give that up."
Trophy? Yes, there was hardware on the line last weekend, the Mariucci-Renfrew Trophy, named for legendary coaches of each team, Minnesota's John Mariucci and Michigan's Al Renfrew.
There's hardware at stake this weekend, too, when the Gophers meet the Spartans. It's the Mariucci-Bessone Trophy. Bessone was legendary Michigan State coach Amo Bessone. The Gophers swept the Spartans in Mariucci Arena Jan. 15-16.
In order to finish as high as fourth place, the fifth-place Spartans would have to sweep this weekend's series and take two from Ohio State to end the season.
The Nittany Lions on the road
With 29 points, third-place Penn State trails Michigan by six points and Minnesota by seven, tough deficits to overcome considering that the Nittany Lions finish their regular season on the road. First they head to Wisconsin, then the Nittany Lions finish their season in Yost Ice Arena.
Coach Guy Gadowsky said his team is focused on this weekend's series, not thinking past the Badgers to the Wolverines.
"Something we've tried all year is to not look too far ahead, to focus on whatever the next game is," said Gadowsky. "I think that credit or accountability has to do with the leadership in the locker room. [Captain] David Glen has done a great job with it as well as all the seniors all year, and I don't expect to have any changes. We all know these games are important and it's coming down to the end, but it's the way we like to approach things so I'm sure the leadership will follow along."
Penn State had a bye last weekend, and Gadowsky said that strength and conditioning coach Cam Davidson put that time to good use.
"It's a great opportunity for Cam to really fine tune peaking at the end of the year," he said. "I know they had a great week in the weight room. He's not only very motivating, but he's very intelligent and educated in what you have to do to peak."
The Nittany Lions are 5-2-3 on the road this season. They swept Wisconsin at home Jan. 15-16.
"I expect us to come out flying," said Gadowsky. "It was a very good week for us. I think the guys have restored some energy and maybe healed a little bit. You never know how the games are going to go, but I'd expect us to come out flying."
Penn State is another PairWise bubble team, entering the weekend at No. 14. The Nittany Lions are looking for their first trip to the NCAA tournament.
Eager for a rematch?
Wisconsin has one conference win this season, and with nine points, the Badgers are unlikely to finish above last place for the second consecutive year. Still, coach Mike Eaves likes the way his team matches with the Nittany Lions this weekend.
One of the Badgers' earlier losses to Penn State was a 4-3 overtime heartbreaker after Wisconsin had scored late in the third to even things up.
"They're not a lot different from line to line," Eaves said of the Nittany Lions. "I'd have to say some of their lines have a little bit more [of the] things you don't teach kind of feel to them, but they all play hard, they all play the same way, and they want to get up the ice. They have good goaltending.
"When we went in there, we felt like we were right there again with them and coulda shoulda woulda. What they do is off the premise that they all work hard."
And finally, speaking of big players again …
Ohio State freshman forward John Wiitala is developing into a big player. Wiitala's ninth goal of the season at 17:11 in the third period was the game-winning goal in the Buckeyes' 6-5 win over Wisconsin last Saturday — and it was his team-leading third game-winner of the season. Those three points kept the Buckeyes in fourth place, three points ahead of Michigan State.
After their home-and-home series against Michigan this weekend — Sunday's game is at Nationwide Arena in Columbus — the Buckeyes travel to East Lansing for two against the Spartans to wrap up the regular season.
Three stars of the week
Another trio of forwards.
First star — Ohio State junior forward Nick Schilkey: Schilkey recorded his second consecutive five-point weekend, scoring a pair of goals in Friday's 4-4 tie versus Wisconsin and adding a goal and two assists in Saturday's 6-5 win. Schilkey leads the Buckeyes with 17 goals and 18 assists in 30 games played. In 70 games in his two previous seasons, Schilkey totaled 23 goals. This is his third weekly Big Ten award and his second this season.
Second star — Michigan freshman forward Kyle Connor: Connor had two goals and an assist in Michigan's split with Minnesota. In Thursday's 6-2 win, he recorded his ninth multi-goal game of the season, and his assist in Friday's 3-2 loss extended his point-scoring streak to 19 games — a span in which he's scored 21 goals and registered 21 assists. This is his sixth weekly Big Ten award this season.
Third star — Wisconsin sophomore forward Cameron Hughes: Hughes had a goal and three assists as the Badgers tied the Buckeyes 4-4 before losing 6-5. He registered a career-high three points in Saturday's game. Hughes has five goals and 17 assists in 27 games this season after recording three goals and 10 assists in 34 games his freshman year. This is his first weekly Big Ten award.
My ballot
1. Quinnipiac
2. North Dakota
3. Boston College
4. Providence
5. St. Cloud State
6. Michigan
7. Denver
8. Notre Dame
9. Boston University
10. Yale
11. Harvard
12. UMass-Lowell
13. Michigan Tech
14. Penn State
15. Minnesota
16. Miami
17. Minnesota-Duluth
18. Robert Morris
19. St. Lawrence
20. Omaha