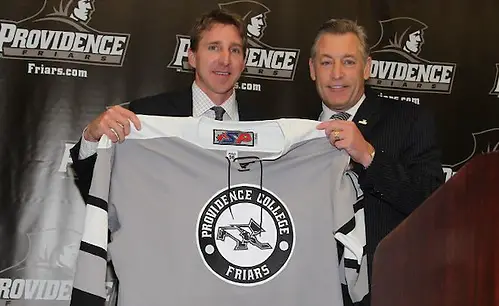 Providence athletics director Bob Driscoll has been named a 2015-16 I-AAA Under Armour Athletics Director of the Year award recipient by the National Association of Collegiate Directors of Athletics.
Driscoll, who also earned the Astro Turf Athletics Director of the Year award during the 2007-08 season, will be presented the award at NACDA's 51st Annual Convention during the James J. Corbett Awards Luncheon at the Hilton Anatole Hotel in Dallas on June 15.
"In the 18-year history of this program, we have honored over 400 directors of athletics from each segment of the NACDA membership," said NACDA executive director Bob Vecchione in a statement. "I would like to congratulate the 2015-16 Under Armour ADOY class of award winners, and look forward to continuing this tradition of honoring the outstanding leadership in our profession for many years to come."
Currently in his 14th season at Providence, Driscoll has transformed and reinvigorated the Friars' athletics program.
The men's hockey team made back-to-back NCAA tournament appearances (2014 and 2015) for the first time in program history before claiming its first NCAA championship with a dramatic, come-from-behind win over Boston University on April 11, 2015, at the TD Garden. It marked the college's third NCAA team title and its first in a men's sport.