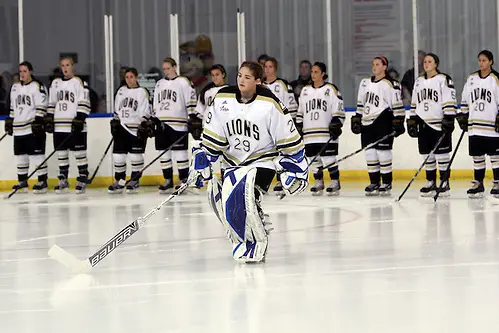 College Hockey America announced its 2015-16 regular-season awards Thursday night, in addition to a pair of All-Conference Teams and an All-Rookie Team.
Player of the Year honors went to Syracuse senior forward Melissa Piacentini, who tallied 18 points in conference play and a school-record 112 points entering the CHA tournament.
Mercyhurst forward Rachael Smith is the Rookie of the Year after 16 points in CHA games that led all league freshmen and also was tops on the Lakers.
Mike Sisti picked up Coach of the Year honors with Mercyhurst in leading the Lakers to their 14th regular-season title.
Syracuse senior Nicole Renault bagged the Top Defenseman award. She was tied for second in league defensemen scoring and was top five in assists.
The Best Defensive Forward award was shared between Syracuse's Jessica Sibley and Penn State's Micayla Catanzariti.
Other awards handed out Thursday included the Regular Season Trophy to Mercyhurst, Scoring Trophy to Sibley and Syracuse teammate Stephanie Grossi, Goaltender Trophy to Mercyhurst freshman Sarah McDonnell, Team Sportsmanship to Penn State and Individual Sportsmanship Award to PSU senior forward Jill Holdcroft.
2015-16 First Team All-CHA
| Player's Name | Position | Class | School |
| --- | --- | --- | --- |
| Shara Jasper | F | Sr. | Lindenwood |
| Stephanie Grossi | F | So. | Syracuse |
| Brittany Howard | F | R-So. | Robert Morris |
| Nicole Renault | D | Sr. | Syracuse |
| Mikaela Lowater | D | Jr. | Robert Morris |
| Nicole Hensley | G | Sr. | Lindenwood |
2015-16 Second Team All-CHA
| Player's Name | Position | Class | School |
| --- | --- | --- | --- |
| Melissa Piacentini | F | Sr. | Syracuse |
| Jessica Sibley | F | Jr. | Syracuse |
| Amy Petersen | F | Jr. | Penn State |
| J'Nai Mahadeo | D | Sr. | Mercyhurst |
| Megan Quinn | D | So. | Syracuse |
| Celine Whitlinger | G | Sr. | Penn State |
2015-16 CHA All-Rookie Team
| Player's Name | Position | School |
| --- | --- | --- |
| Rachael Smith | F | Mercyhurst |
| Shannon Morris-Reade | F | Lindenwood |
| Sarah Quaranta | F | Robert Morris |
| Maggie LaGue | D | Robert Morris |
| Reagan Rust | D | RIT |
| Molly Blasen | D | Mercyhurst |
| Sarah McDonnell | G | Mercyhurst |