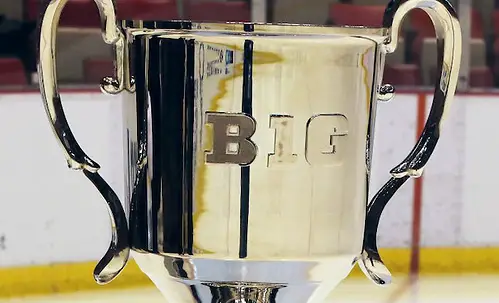 Since moving into my role with Big Ten hockey this past summer, I have spent much of my time listening to coaches, school administrators and conference commissioners from across the country discuss the current state of college hockey. Many conversations have included feedback on the Big Ten's proposal to more closely align the age range of students playing hockey with the traditional college sports timeline and to make more opportunities available to students who want to enroll within two years of their high school graduation.
As it currently exists, the NCAA delayed enrollment rule creates a situation where 17- and 18-year-olds routinely compete against 24- and 25-year-olds. This occurs because players can maintain four years of eligibility by enrolling as a full-time student at a collegiate institution prior to their 21st birthday and then transferring to a school that sponsors hockey to begin competition as a 21-year-old freshman the following fall.
The result is that the average age of incoming freshmen continues to rise, with more than two-thirds of the 2015-16 freshman class having reached their 20th birthday before playing a single collegiate game. Such a wide age range of participants does not exist at any other amateur level in the sport of hockey, nor does it exist in any other NCAA sport except for skiing.
Delayed enrollment is rarely a choice made by a student for academic purposes, but instead occurs at the direction of an institution for purely competitive reasons. A player becomes a 21-year-old freshman not because he was recruited at that age, but often because a school has locked him in with a verbal commitment while he was still in high school and then delayed his college enrollment by up to three years. This creates a situation where students who want to enroll at an institution and begin their collegiate career often have little control over their own timeline, with no option but to play junior hockey until they are given an opportunity to advance and compete collegiately.
The justification for the current delayed enrollment rule is to improve academic and physical maturity and in turn promote competitive balance. In reality, the Big Ten proposal would not significantly change which students play college hockey, but would merely encourage these same students to enroll in college at a younger age, reducing the delay in their educational progression towards a degree. It would also address the circular argument that many 18- and 19-year-olds are not physically ready to compete in college hockey because other players are so much older. Our proposal would reduce the need for delayed enrollment of incoming students by slightly reducing the age of players overall.
Moreover, our proposal represents a compromise that seeks to balance the historic role that junior hockey has played in the development of athletes with the traditional collegiate timeline that exists in every other sport. Future students would still have the ability to play two years of junior hockey after high school graduation while retaining all four years of NCAA eligibility and hockey would still have the least restrictive rule of any sport other than skiing.
While we agree that sports with a relatively low number of Division I programs should be allowed special accommodations to preserve, and potentially grow, overall sponsorship, we do not believe that the recruitment and delayed enrollment system that has evolved within college hockey is in the best interest of the game or its participants. It is an unsustainable system and, if left to the natural competitive instincts of hockey-playing institutions, will eventually consist entirely of players between the ages of 21 and 25.
Taking a step back, the NCAA and its member institutions have taken great strides over the past few years to create a better collegiate experience for all students who participate in varsity athletics. Cost of attendance stipends, four-year scholarships and increased insurance benefits are just a few examples of new and/or improved benefits being created for future students. Providing future college hockey players the ability to have more control over their academic and athletic careers is a positive step in this same direction and is entirely consistent with current NCAA priorities.
We all want to see college hockey continue to grow in terms of academic achievement, institutional sponsorship and athletic success. Through this modest proposal, we believe that we can improve hockey's recruiting environment with minimal impact on competitive balance by moving the college hockey enrollment timeline slightly closer to the traditional college experience, removing delays for incoming students and increasing the number of opportunities for younger players in our game.
Brad Traviolia is deputy commissioner for the Big Ten.