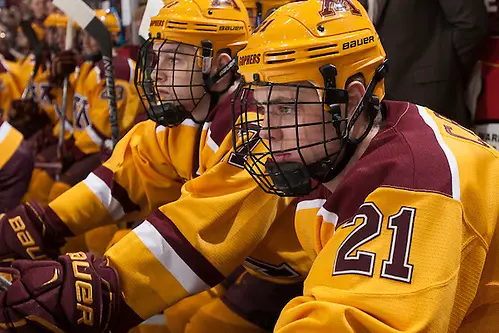 Three conference points is all that stands between Minnesota and its third consecutive Big Ten regular season championship.
The Gophers are four points ahead of second-place Michigan in the standings and will host Wisconsin at Mariucci Arena this weekend. Minnesota skated circles around the Badgers at the Kohl Center in late January, beating them by a two-game combined score of 13-2.
Yes, Minnesota is a heavy favorite to wrap up the conference's regular season crown this weekend, but the vibe surrounding the team isn't that high right now, due in large part to defeats like last Saturday's at Michigan State.
Mason Appleton gave the Spartans the lead 46 seconds into Saturday's game and the team didn't look back, scoring four more unanswered goals to get a shutout victory.
"We just weren't good enough; they were the better team tonight," Minnesota coach Don Lucia said after Saturday's game. "We made a couple mistakes tonight … right off an offensive-zone faceoff, giving up a breakaway, it can't happen this time of the year.
"You make mistakes this time of year, you're going to pay," he added. "And we paid."
A sweep of the Spartans would have given the Gophers the Big Ten title when Michigan lost to Ohio State on Sunday afternoon. With the split, Minnesota will need positive results against its shared-border rival, or for Penn State to handle Michigan, to take home the hardware.
The Badgers will try to make things difficult for the Gophers after getting embarrassed at home earlier this year.
"When you are around sports long enough, it was unfortunate timing," Wisconsin coach Mike Eaves said at the Badgers' Monday news conference. "We have our biggest crowd of the year and our biggest rival, and the roof crashes in on us, because of the score. That's stuff you hate to happen, but it did, and now we have a chance to get back in the saddle again."
Big Ten champions or not, a long list of nonconference losses means that the Gophers more than likely have to win the Big Ten tournament to make the NCAA tournament field. Minnesota is tied with Penn State for 17th in the PairWise Rankings.
"We've just got to win games at this point of the year," Minnesota forward Justin Kloos said after Saturday's game. "We were in a similar situation last year. We're down to it now. We've just got to find a way to win no matter what. If we're feeling good that night or not, we've just got to find a way."
Michigan looks to rebound before postseason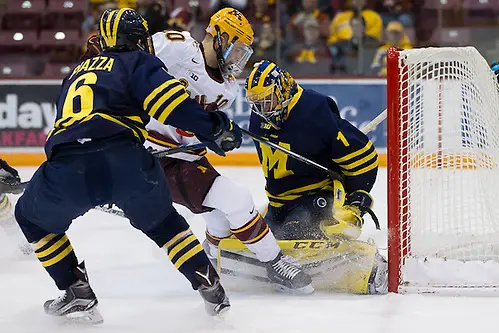 With a pair of losses to Ohio State last weekend, Michigan made the quest to capture its first Big Ten title a lot more difficult.
It also allowed Penn State, the Wolverines' opponent this weekend, to close the gap between second and third place. The top two regular season teams get a first-round bye at the Big Ten tournament March 17-19.
Michigan holds a three-point advantage over the Nittany Lions in the standings. Penn State can jump the Wolverines with a sweep or a win and a shootout victory.
Both teams lost their last game, but Michigan's loss on Sunday meant that Ohio State completed a Friday-Sunday, home-and-home sweep. The Wolverines gave up 13 goals to the Buckeyes.
Michigan coach Red Berenson said it was important that his team learned its lesson from the defeats, but also said that moving on was equally important.
"We can't feel sorry for ourselves all week, but we have to learn from it and we have to refocus on parts of our game that need to be better moving forward," he said. "It's going to be important to play better. We can't give up six goals plus an empty-net goal at home and then we go down there and give up six more. You're not going to beat anybody playing like that."
So what exactly went wrong last weekend?
"I can't tell you what exactly went wrong, whether it was the fact that you had spring break and maybe the team thought it was a week off," he said with a deadpan tone. "We were not ready to play."
The majority of Ohio State's goals found their way past senior goaltender Steve Racine. Berenson said that he didn't fault his netminder and that he planned on sticking with him between the pipes.
"Sometimes a game takes on a different direction than you would expect or prefer, but that's too bad. You have to live with it — it's like the weather," Berenson said. "Racine, he's not happy about giving up five goals in a game or six goals. But did he help us stay in the game? Absolutely.
"I couldn't fault him. I thought he had a couple bad bounces on Friday and we pulled him after five goals," Berenson added. "But when he went in there Sunday, the first 10 minutes of the game they had seven scoring chances, and he stopped them all."
The last time the Wolverines and Nittany Lions squared off, Michigan swept the two-game series, with one contest being played at Pegula Ice Arena and the other being held at Madison Square Garden. Berenson said he expects a pair of closely contested games this weekend.
"We know the way their team plays, and they've had a terrific year this year," he said of Penn State. "They put a lot of shots on the net, they crash the net and they work hard defensively. They're really a hard-working — I don't know whether they call themselves this — blue-collar team. They work as hard as anybody, and if you don't match that work ethic then you're going to be playing on your heels all night.
"These games are more than meaningful, when you look at their PairWise ranking and their situation in the Big Ten," Berenson added. "These games are huge for both teams."
Three stars of the week
First star — Ohio State junior forward Nick Schilkey: Schilkey had two goals and two assists in the Buckeyes' sweep of Michigan last weekend. He scored both goals, the second being the overtime winner, on Sunday in Columbus.
Second star — Michigan State senior goaltender Jake Hildebrand: Hildebrand bounced back from a loss on Friday with a 28-save shutout over Minnesota on Saturday evening. The shutout was the 13th of his career.
Third star — Wisconsin freshman goaltender Matt Jurusik: Jurusik made 46 saves on Saturday to help the Badgers split with Penn State. He made 19 saves in the third period to guide Wisconsin to the 4-3 victory.
B1G in the poll
Michigan dropped three spots to No. 9 after getting swept. Penn State stayed at No. 14 and Minnesota dropped a couple spots to No. 19.
My ballot
1. Quinnipiac
2. North Dakota
3. Boston College
4. Providence
5. St. Cloud State
6. Denver
7. Yale
8. Boston University
9. Michigan
10. Notre Dame
11. Massachusetts-Lowell
12. Harvard
13. Michigan Tech
14. Penn State
15. Northeastern
16. Minnesota State
17. Minnesota
18. Cornell
19. Robert Morris
20. Rensselaer
This week's matchups
Ohio State at Michigan State (Friday and Saturday, Munn Ice Arena)
Penn State at Michigan (Friday and Saturday, Yost Ice Arena)
Wisconsin at Minnesota (Friday and Saturday, Mariucci Arena)