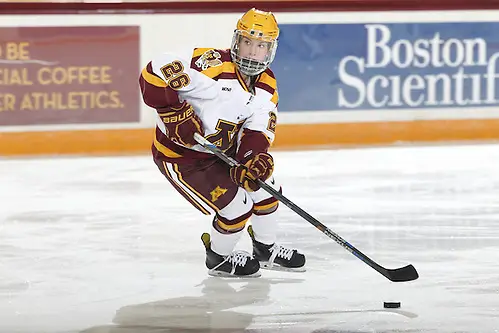 Arlan: While that wasn't the most artistic or memorable quarterfinal round that you'll ever see, it did provide some topics for discussion. There were not, however, a ton of surprises.
Boston College needed just 50 seconds to take a lead on Northeastern on a goal that Brittany Bugalski would like to have back, as it trickled through her and into the net. She made up for it a few minutes later with a fantastic glove save on what looked like a sure goal. Tori Sullivan put the Eagles up 2-0 on a whoops rebound before the end of the first period. While it was almost 16 minutes later that Haley Skarupa effectively put it out of reach with a nice shot, one never got a sense that the Huskies were poised to rally after they fell behind by two. The Eagles closed out a 5-1 win, with the only celebration for Northeastern being Kendall Coyne's 50th goal of the season.
While a goal 50 seconds in might seem quick, it was only the third-fastest goal of the day. Clarkson's Renata Fast capitalized on her team's forecheck pressure to score after just 10 seconds, and the teams played another 1-0 game, but this time it was Quinnipiac left without a goal. The Bobcats were only able to muster 14 shots, and Lindsey West's shot off the crossbar was likely as close as they came to scoring.
When Jaimie McDonell of Princeton scored on Minnesota at the 29-second mark, it could have been the first step in a big upset. Instead, Minnesota's special teams turned the tide to a 3-1 advantage for the Gophers after 20 minutes, Amanda Kessel tallied her first hat trick of her abbreviated senior season, and the Tigers fell by the same 6-2 score as the RIT Tigers in Minneapolis a year earlier.
Wisconsin needed 8:26 for Sam Cogan to put the Badgers on the scoreboard. That was obviously the latest opening goal and also the latest in the game for the winning team to take a lasting lead. The Badgers ultimately scored twice in each period, led by a three-point game from Sarah Nurse. Ann-Renée Desbiens continued to add to her NCAA record with her 21st shutout of the season by saving all 22 Mercyhurst shots.
Given the four losing teams only scored three goals combined, Northeastern's goal came with 100 seconds left, and Princeton's second tally came with less than three seconds showing, there really wasn't a ton of drama. Maybe there was at Quinnipiac, because that was a one-goal game throughout, although I didn't see the third period so I can't say. What was significant to you about the quarterfinals?
Candace: The things that stand out to me most came in the East. I expected Northeastern to play BC closer, but the Eagles never let the Huskies in the game. BC's second line of Andie Anastos, Dana Trivigno, and Makenna Newkirk was brilliant in shadowing Coyne the entire game and not letting her get untracked. Alex Carpenter out-dueled Coyne again, getting two goals and an assist to lead BC into its second straight Frozen Four. BC is also getting scoring from throughout its lineup. Tori Sullivan scored twice; she's been playing well in the postseason. I think one difference from this year's iteration of the Eagles and last year's is that BC is still getting secondary scoring this year. Last season, outside of Carpenter and Skarupa, the scoring dried up.
The other Eastern matchup was again a conference matchup. Quinnipiac had defeated Clarkson, 1-0, in the ECAC Championship, but this time it was the Golden Knights coming out with the 1-0 victory. The two squads are almost mirror images of each other, depending on stifling defenses to get things done. Clarkson only allowed 14 shots on goal in the game, but managed 29 of its own. Renata Fast scored the only goal of the game just 10 seconds in, and then it seemed like Clarkson went into defensive lockdown. This was the first time Clarkson had a lead on Quinnipiac in the four games they played, and that seemed to be the key to getting the win. Anyway, those two teams were so closely matched that it was the one matchup we thought had the best chance of an upset winner, and that proved to be the case.
Finally, Ann-Renée Desbiens continues to be amazingly dominant. She's started in five postseason games dating back to the WCHA tournament, and has five shutouts. Wisconsin cruised past a clearly overmatched Mercyhurst team. The Badgers had 41 shots on net, compared to only 22 for Mercyhurst, and the Lakers didn't really have any great scoring chances. Considering that offense has been in short supply for the Lakers at times this year, that isn't much of a surprise.
What stood out to you?
Arlan: Mainly how few deviations there were from the script. You expected Northeastern to give BC a closer game, but I believe you were in the minority there. I didn't think it was a case of shadowing Coyne as much as it seemed like she was always one on four. Where were her teammates? Often not in the picture. She'd come in on the rush and have few options. Northeastern may be a fast team, but on Saturday, I didn't think it was a particularly quick team outside of Coyne. Plays took too long to develop, and the Huskies went from a neutral position or a slight advantage to being on the defensive because the puck was not moved quickly enough. Was it the stage? Falling behind so early? Getting the full attention of a superior team? Maybe some of each, but that one was never really in doubt once the puck dropped.
It's hard to offer much in the way of an opinion on Clarkson's win when the first 10 seconds of the video are missing. Was Quinnipiac nervous? Were the Bobcats not ready? Did the Golden Knights really score? Is this part of an NCAA conspiracy? It's almost like something from the Watergate era. Apparently, the tape has been erased. We thought we were recording, but I guess not. So yeah, by some means, Clarkson got a goal, and then it prevented Quinnipiac from answering over the remaining 59:50. Other than trying to analyze body language during the anthem and introductions, I don't have much visual evidence, so we'll have to assume Clarkson's greater NCAA experience paid dividends. The Bobcats definitely seemed out of sorts in the aftermath of the game's lone goal; maybe they, like us, were forced to watch the NCAA promotional video and only the Golden Knights were allowed to play for the first 10 seconds. I'd suggest that Clarkson attempt to reprise that strategy versus BC, because nothing else has worked against the Eagles this year.
After falling behind against Princeton, both Kessel and Hannah Brandt found another gear, playing with an urgency that flipped the score in a hurry. Kessel may have had a moment of déjà vu, thinking back to her freshman season when Minnesota's quarterfinal at Boston College got off to a similarly rocky start and quickly imploded. A sixth-year senior was likely better equipped to steady the ship and get it sailing in the right direction. If she can retain the finishing touch she displayed versus the Tigers, that will definitely improve her team's prospects versus Wisconsin. Princeton transitioned the puck very well, getting numbers forward quickly to generate an advantage off the rush, but outside of the first goal, the Tigers weren't able to capitalize.
Offensively, the Badgers looked to have a game plan of taking away the vision of Mercyhurst's Sarah McDonnell, and they implemented that most effectively. There was a lot of traffic in front of her on four of the goals, including the first two. Once the Lakers got down by a couple, the game was nearly over, because they just didn't have the firepower to put up big numbers against Desbiens.
Now we move to the Frozen Four played on the spacious ice surface of the Whittemore Center in Durham, New Hampshire You've no doubt seen over the years how games between teams like Denver and Colorado College can play out differently on an Olympic sheet versus the usual NHL-sized rink. The first thought is that more room benefits the better skating teams, but I've also seen times in the women's game where offenses become stagnant because when the defense clears the puck to the boards, the attacking player has to cover a greater distance to create a threat. Do you think the width of the rink and its deep corners will play a factor, and if so, who benefits?
Candace: Generally, I've seen moving to a larger sheet work in favor of better skating teams, but also teams that have more experience on it. Minnesota, Wisconsin, and Boston College all play on an Olympic sheet a couple of times a year, with Minnesota and Wisconsin getting that experience at St. Cloud and BC at New Hampshire.
In the long run however, I don't see it making much difference. These are four proven squads, ones that, as you pointed out in your wrap, have all been to this stage before. Three of them have won the last five NCAA titles, and six of the last seven and 10 of the last 12. Yes, the casts of players have turned over in that time obviously, but the coaches are the same, and they know what to do get their players peaking at the right time. I expect two closely contests semifinals on Thursday. Extra time wouldn't surprise me in at least one of the two semis.
The other interesting thing to me about the two semis is that they match teams with explosive offenses (Minnesota and Boston College) against teams with stifling defenses (Wisconsin and Clarkson). That old saw says that defense beats offense, but I like to think there is more than one way to play defense. If you can play keep away and relentlessly attack in the offensive zone, it makes it hard for the other team's offense to get untracked.
Interestingly also, both of these games were played last year in the NCAA tournament, with Boston College defeating Clarkson in the quarterfinals and Minnesota defeating Wisconsin in the Frozen Four semifinals.
What is your take on the Frozen Four pairings?
Arlan: I'll start with the first semifinal. I understand what you are saying about the games matching offensive teams versus defensive opponents, but it isn't exactly what we have. Boston College actually had a more effective scoring defense over the course of the season than Clarkson did. The Eagles defense ranked third at 1.18 goals per game, while Clarkson is fifth at 1.31. Not a huge difference, but still, the Golden Knights are not somehow more stifling than BC is. Had it been Quinnipiac rather than Clarkson advancing, then maybe that offense versus defense characterization would have been a better fit.
To some extent, I think that all four teams' success is predicated to a certain degree on the ability to apply an aggressive forecheck. There are differences in the systems used, and each will vary how many forecheckers it commits and how hard or deep they go based on the game situation. I think that is one area where teams may have to feel their way a bit on the larger ice surface. By its very nature, there is more space, so the defensemen tend to have more time to make a play, and they can gain more time by reversing the puck. If the puck is turned over, however, then that extra size works against the defense because now there is more space to defend, and the defending players can wind up too far from their own net. While none of these teams plays on a 100-foot wide rink all the time, Wisconsin's home rink is 90 feet wide and BC's is 87 feet, so each is already accustomed to there being more room than there is on the 85-foot NHL rink.
For anyone to beat the Eagles, it will take a strong goaltending performance. BC will get shots; it averages just under 44 shots per game. The Eagles were held to far below that average in the one game they played at New Hampshire, getting only 27 shots. That may be a function of the Wildcats' strategy, because they held BC below its average in shots in the other two games played at Conte Forum, with totals of 30 and 40. The point is that I doubt that Shea Tiley will have as easy a day as she did on Saturday when Quinnipiac was held to 14 shots. She has a save percentage of .931, so if BC gets its average number of shots, that works out to three goals for the Eagles. Of course, goalies opposing Boston College don't stop anywhere near 93 percent of the shots; they've only turned away 87.7 percent, so that's why BC winds up scoring more than five times a game. In reality, the Eagles have only been held to two goals twice, and both of those were a couple months back.
Clarkson likely has a couple advantages going for it that Quinnipiac would have lacked. Most of its best scoring threats are upperclassmen, so they will be more known quantities in a big game. While neither the Bobcats nor the Golden Knights are in BC's realm when it comes to scoring, Clarkson sets up to have a few more options should it need to rally from behind. It averages .43 goals more per game than Quinnipiac does. If need be, it can activate its defensemen and get a boost on the offensive end. Obviously, that could further open a game up and risk a BC blowout, but once a team is behind, it may as well go for it. Finally, the Golden Knights have Frozen Four success to draw upon. Although it may be slight, there is a difference between believing you can win on this stage and having proven it to yourself. Clarkson isn't the same cast, but it has some of the same characters.
In the end, I think BC just has Clarkson outgunned. The Golden Knights have eight players with more than 20 points, but nobody has reached 50. The Eagles have 13 players with over 20 points, and three have at least 50, including Carpenter and Skarupa with 85 and 77, respectively. Am I missing some reason for optimism for Clarkson?
Candace: I'm not quite as confident as you in the Eagles winning. First, I think the pressure has got to be increasing. BC is now only two wins away from matching Minnesota's perfect season of 2013, but the path has gotten only harder. When Minnesota went 41-0 in 2013, the Gophers entered the Frozen Four having just escaped a triple overtime game against arch-rival North Dakota. The Gophers must have felt more relaxed going into that final weekend. Granted, BC did make life difficult, leading Minnesota late and ultimately falling in overtime, but there was no reason to think that Boston University would be a big barrier in that last game.
Second, BC has never won a game in the Frozen Four, while all the other teams have won championships. That might give Clarkson a mental edge going into Friday's game that the Golden Knights can exploit.
On the opposite side, BC has looked like a team on a mission this year, winning the Beanpot going away, and surviving a minor challenge from Connecticut before claiming a second Hockey East tournament title. I thought the game against Northeastern would be closer than it was, but BC looked dominant. The offense is clicking well, and as you pointed out, Katie Burt is sometimes overlooked, but she has a better goals-against and a better save percentage than Tiley and Minnesota's Amanda Leveille, and she has experience on big stages, playing the Frozen Four last year and also playing in the U.S. U-18 squad last year.
Ultimately, I think it will be a very close game, but I give a slight edge to the Eagles. The other semi is equally intriguing. Minnesota and Wisconsin have played five times so far. The Badgers won the first two, Minnesota the second two, and the Badgers shut out Minnesota's high-powered offense two weeks ago in the WCHA tournament final, winning 1-0. Can Desbiens continue her shutout streak? I didn't see the Princeton game, but Kessel had a hat trick and Brandt had three points, and if those two click, even Desbiens may not be enough.
Arlan: I never understand why people think that the BC team at the 2013 Frozen Four was somehow a better team than BU was that year. The Terriers won the Hockey East regular season and tournament titles and were the higher seed. So much of BC's top talent up front was younger, while BU had upperclassmen like Marie-Philip Poulin, Jenelle Kohanchuk, Isabel Menard, and Louise Warren. The Eagles were able to keep the score closer against Minnesota, but I think some of that was the difference in the Gophers on each of those days. I remember talking to Minnesota players a couple of days before the Frozen Four, and they said they felt like they'd been hit by a truck. That marathon game against North Dakota took a toll, particularly on someone like Kessel, who was just coming back from an injury and wasn't really in game shape yet.
After BC scored to take a lead into the second intermission, I thought that's when the Gophers responded, got their legs going, and took their game to a higher level, and they carried that into the championship game. I thought BU was consistently more dangerous offensively than BC was, but Minnesota got its offense rolling quicker in the final, and Corinne Boyles had a stronger game in goal than Kerrin Sperry did for BU in those games. The Gophers also said that they'd been under so much pressure to reach the final that once they did, they were able to relax and just play.
Clarkson is very likely the best team that BC has faced all season, but that's true from the other perspective as well. I don't think that the Golden Knights are quite as strong as Harvard was last year, and even the Crimson needed some help from the Eagles to advance in the Frozen Four, and all indications are that they've improved this year. If BC plays well on Friday, I don't think Clarkson can match the Eagles.
You mention that three of the participants at this year's Frozen Four have won championships. It's true that Wisconsin has done so multiple times, but none of the current Badgers were part of those teams. Brittany Ammerman, who graduated last year after having an injury redshirt along the way, was the last link, and she and her classmates were the last Badgers to have played in a final. So we have an unusual situation where the two favored teams on Friday have never won a game at the Frozen Four, while the underdogs have a number of players on their rosters who have earned NCAA rings.
I sincerely doubt Minnesota will be able to score four goals off of Desbiens as it did in both games when it swept. A 2-1 score is likely what the Gophers have to shoot for, but the Badgers have averaged two goals per game in the head to head after only scoring once per game last year, so that is a big ask. The Gophers did limit the Wisconsin offense in two of the last three games, however. If the game is still scoreless after two periods, that works in Wisconsin's favor; I think Minnesota has to find a way to get on the scoreboard over the first 30 minutes just to prove it can.
The bright side for the Gophers is that both Brandt and Sarah Potomak scored against Princeton. Neither had found the net up to that point in the postseason, so that may help them relax a bit. Brandt's line has been more mercurial all season even before Kessel began playing. It could be dynamite one game and misfiring the next. The second line centered by Kelly Pannek has been more consistent.
Wisconsin also got its offense rolling against Mercyhurst. It has to be especially encouraging that many of the goals were the type that one expects to score in the postseason, featuring shots through a lot of traffic. What do you see as being the keys for Wisconsin to win on Friday?
Candace: I think the first thing is to contain Kessel and Brandt. Those two are extremely explosive players, and Kessel has often victimized Wisconsin in the past. Keeping them contained is important for Wisconsin. The Badgers aren't as offensively explosive as Minnesota can be, and I see the Gophers much like the Eagles: they are teams that if they get a couple of goals early, they can get on a roll and pile up points in a hurry and put the game away.
In conjunction with that, I think Desbiens needs to be on her game. She is the best goaltender in the country by any statistical measure, and she hasn't given up a goal in the postseason. The games Wisconsin has lost have been the only three games where the Badgers have given up more than two goals. A team gets three or more on Wisconsin, its odds of beating the Badgers have increased exponentially. Score two or less, and the chances of a win are, at least based on this season, zero. If Desbiens is sharp, I think Minnesota loses.
There's also that X-factor. Minnesota had a huge winning streak against Wisconsin going into this season; Wisconsin hadn't beaten Minnesota since 2011, and the Gophers ended the Badgers' season in 2015, 2014, and 2012. The only year Minnesota didn't end Wisconsin's season, 2013, was the year the Badgers didn't make the NCAA tournament. With Wisconsin's wins against Minnesota this year, the monkey is off the back, but still, I wonder if Minnesota can somehow prey on recent history and put some doubt in the heads of the Badgers skaters.
As for Wisconsin getting its offense rolling, I don't really see it that way. Mercyhurst of this year isn't the Mercyhurst of the glory years, and the Lakers had a rookie goaltender to boot. McDonnell's numbers were respectable yes, but those numbers didn't really start to get good until Mercyhurst's out-of-conference schedule ended and the Lakers were playing CHA teams only. Given that many CHA teams struggled to score, I wonder if McDonnell's numbers weren't somewhat padded by that. McDonnell is only a freshman, and I'm sure her experience this year will pay dividends down the line.
It's also hard to read too much into Wisconsin's offensive production based on recent games. The Badgers, aside from the WCHA title game against Minnesota, have scored a lot in their last five games, but two were against Minnesota State and one was against a Duluth team that was clearly overmatched. When Duluth played Minnesota a couple of weeks prior to playing Wisconsin in the WCHA tournament, the Bulldogs gave up six and seven goals, respectively.
Anyway, that game is the one that I think might go into overtime, if the Badgers can frustrate Kessel and Brandt early.
Before we go further, this will be the last Wednesday Women of the year. First, I want to thank you Arlan, for continuing to provide valuable insights into the game. I love doing this feature with you weekly. Of course, we also have to thank our readers, without whom we wouldn't be able to do this every week. We'll be back next year, and I hope you all tune in again.
So, do you agree with my analysis of Wisconsin and Minnesota, or do you see it differently?
Arlan: I have a different X-factor than you do. I think it's Leveille. Even though Wisconsin leads the season series this year, she's 11-3-1 in her career versus the Badgers, and many of those games wound up in the win column for Minnesota because of her being the Gophers' best player for long stretches. That was never more true than in her first career start versus the Badgers, and it set the tone for her era in Minnesota's net. No matter the outcome, this will be her final game against Wisconsin, and she's as good a competitor as her team has ever had in its net. Everyone is talking about Desbiens, and rightly so; she's had the best season I've seen from an NCAA goaltender. However, when these teams reached this stage last year, it was Leveille who came up big when her team was struggling. If she does so on Friday, then I think the Gophers will win, because I think they have a good understanding of what they have to do to score on Desbiens, and what they failed to do in the WCHA tourney.
Your prediction of overtime sounds more than possible, and if both goalies are on, it could go a while. I don't think it will impact the championship game, though. Whoever comes out of that semifinal should be ready to put on a classic in a final. While most expect Boston College to be waiting, myself included, Clarkson demonstrated two years ago that it was more than capable of giving fans their money's worth. I expect a very good championship game, no matter which combination emerges.
I also enjoy doing this column. When I first started following women's college hockey, it seemed like there was nowhere to go to talk about the sport after a fan left the arena. It's gotten much better over the years, but hopefully, USCHO provides an option for those fans who may be somewhere other than a women's hockey hotbed. I'd encourage fans to comment or write to us regarding what they'd like to see in terms of coverage in the future. I know I can get stuck in a rut, and a writer can always use fresh ideas. Anyway, thanks to all of you for reading and being more patient with me than I am with the good souls who referee our games.
It might be appropriate to predict a champion on my way out, but honestly, I have no clue. The ladies will decide it on the ice no matter what I say, and that's for the best. I will take a guess at who the Most Outstanding Player of the Frozen Four will be. But because I don't know what team is going to win, I'll name a different MOP for each contingency.
If Boston College completes its perfect run, it seems almost inevitable that Carpenter will be the MOP. Similarly, Desbiens will be recognized if Wisconsin wins the title. For Minnesota, Brandt has already had an MOP, so Kessel might seem the likely choice, but I'll stick with Leveille. I think she's been under appreciated, but that won't be the case if she backstops Minnesota to a repeat. For Clarkson, I think that Cayley Mercer is sitting on a breakthrough performance. She's been a bit under the radar this season, but by the time her career wraps next season, I doubt that she'll remain there.
I'll wait until later in the week to read your predictions, but would you like to go in a different direction with Most Outstanding Player choices?
Candace: Yes. I think if Minnesota wins, it will be because Kessel has willed it. Minnesota was having a solid season, but down by its recent standards, and then Kessel came back and all of a sudden it seemed the whole team ignited. Without Kessel, I'm not sure Minnesota would have beaten Wisconsin in the series in Minneapolis at the end of the year, and without Kessel, I don't know that Minnesota could beat this Wisconsin team Friday in the Frozen Four.
If Clarkson wins, I think it will be because Tiley stood on her head and completely shut down the offenses of BC and whichever team it faces in the final. Tiley is a great goaltender, but I think she needs to play even better than normal Friday to beat the Eagles.