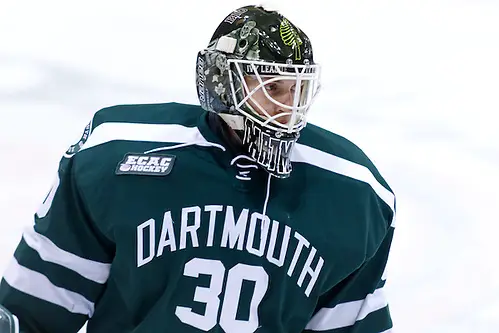 This week, ECAC Hockey coaches talked to the media to preview the conference's final four, and everyone was still talking about Dartmouth goaltender Charles Grant.
The Big Green senior made 46 saves in Dartmouth's unlikely 2-1 victory over Yale in the second game of an ECAC quarterfinal series last weekend, wrapping up a two-game sweep.
ECAC Hockey playoffs
See the tournament bracket and get links to schedules and stories at ECAC Hockey Playoff Central.
Coupled with his team's offensive resurgence, it's led to an unlikely spot at Lake Placid, N.Y., this week and a chance to earn the Whitelaw Cup. Maybe, just maybe, the Big Green can run away with a spot in the NCAA tournament for the first time in 36 years.
"Our team played some really tough series," Dartmouth coach Bob Gaudet said. "Obviously, we know Yale's a great team. They don't lose too many games. They're a tough opponent. Chuck Grant was a huge plus for us. He played great in goal in both games. Our kids battled really hard."
First up for Dartmouth is a matchup in the conference semifinals with top-seed Quinnipiac, which is coming off a quarterfinal victory over Cornell in three games.
It's a matchup in which the Bobcats are heavily favored based on their strengths on the ice. But many in the media pointed to Dartmouth's 7-5 loss to Quinnipiac on Jan. 29, in which the Big Green held a 5-2 lead and allowed Quinnipiac to storm back in the third period.
If history is any indicator, Friday's semifinal game should be wild and unpredictable, although Quinnipiac coach Rand Pecknold said he certainly hopes not.
"It was crazy," Pecknold said of the wild finish in Hanover. "It was definitely unique; you don't get too many of those. Dartmouth was awesome for two periods. They really controlled the play and gave us everything they had. And then things started going our way in the third. We got good bounces. It wasn't just us playing well.
"What I do know of Dartmouth is that they're well coached, they have a lot of firepower and they love to play in transition. … Dartmouth is as good as any team we will face."
Pecknold compared his team's upcoming stretch with two midweek ties against Maine and Rensselaer in mid-February. He said the Bobcats transitioned from playing a poor game against the Black Bears to play "one of our best games of the year" against RPI two nights later.
"We have mental toughness," he said. "These guys want it. Dartmouth is a tough opponent."
For Gaudet, in a stage of the season that many expected his team to have no part, Friday's game is more than just playing with house money. He said he feels like his Big Green have hit their stride at the right time.
"Obviously, we have a tremendous opportunity," he said. "They've been the No. 1 team in the country for a long stretch of the season. Rand has done a fabulous job. They're certainly formidable opponents. To play the best team in the country in such a historic venue, we're honored to have an opportunity.
"This was one of the goals of our guys [to make it this far]. Now we want to win it. … I'm excited about the challenge."
Friday's early game starts at 4 p.m. EDT.
St. Lawrence looks for different result against Harvard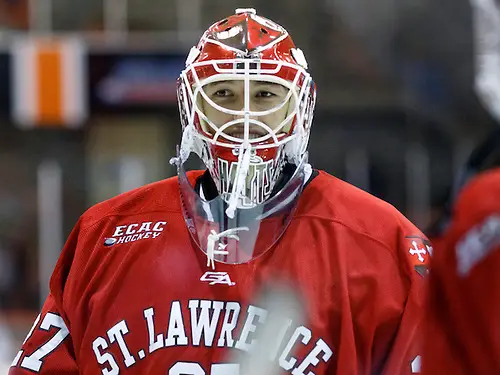 St. Lawrence will certainly need to have short memories for its semifinal game against defending Whitelaw Cup champion Harvard.
The Saints fell to the Crimson 4-1 in both teams' regular season finale on Feb. 27 — a game in which Harvard took the lead in the first period and never relinquished it and Jimmy Vesey scored a goal and an assist. The Saints dropped both games against Harvard in the regular season, but the loss just a few weeks ago is still something that's in the back of their minds.
"We played them twice and lost both times," said St. Lawrence coach Greg Carvel. "We know how dangerous they are. We have to allow our style to dictate the game. You have to play with a good, disciplined style. We're excited. We like the matchup."
For Harvard coach Ted Donato, the regular season results shouldn't be a factor this weekend.
Saints goaltender "Kyle Hayton has been one of the best goalies in the league the last few years," Donato said. "He's certainly had a penchant for getting hot and getting his team a great chance to win. I think St. Lawrence has a tremendous team. They're well-coached, have a great 'D' corps, strong in net, good mix of size and speed. This is a tremendous challenge for us. We're excited about it, and respect the quality of opponent."
Game time for the second semifinal game is approximately 7:30 p.m. EDT Friday. The two winners will play in Saturday's conference championship, which also is scheduled for 7:30.