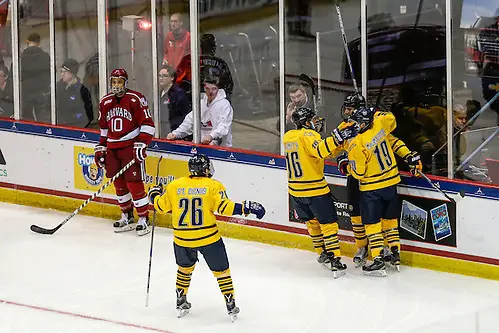 LAKE PLACID, N.Y. — No team likes to see its top player go down with an injury. But for Quinnipiac, watching leading scorer Sam Anas leave late in the first period against Harvard on Saturday after being ridden into the boards by Luke Esposito was one of the differences in the game.
"The guys were mad with the hit, but it's part of hockey," Bobcats coach Rand Pecknold said. "For us, it was more about getting focused. Sam was done."
ECAC Hockey playoffs
See the tournament bracket and get links to schedules and stories at ECAC Hockey Playoff Central.
Anas did not return for the remainder of the game, but was on the ice for the pregame trophy celebration as Quinnipiac beat Harvard 4-1 for the program's first Whitelaw Cup.
Quinnipiac scored two of its three power-play goals on Esposito's penalty, which was ruled a major after a brief review by the officials. The play came in the closing seconds of the first period, giving the Bobcats 4:51 of power-play time to start the second.
Pecknold said he was unsure of Anas' status for the NCAA tournament next weekend. The junior forward missed the semifinal loss to Colgate last year, and Pecknold estimated he was at "40 percent" for Quinnipiac's NCAA tournament loss to North Dakota.
Emotionally, losing Anas to an injury could have been a rallying cry for the Bobcats. But from a practical standpoint, Quinnipiac needed to adjust to cover for his absence.
"It was interesting that we scored three power-play goals," Pecknold said. "You've got Sam on one unit and we move Tanner [MacMaster] up and then we were throwing a third unit out there. It was a little bit of chaos, but we gave them a small amount of structure. We kind of wanted to freelance a little bit. We told them what we wanted to do in the zone, we gave them a breakout and we told them, 'let's get pucks to the nets and let's get greasy goals and we did a good job with that.'"
Quinnipiac's depth has been one of its strengths throughout the season. Pecknold has said throughout the year that this is the first time since making the Frozen Four in 2013 that Quinnipiac has been able to regularly play four lines.
"Any time you see a guy go down, the team wants to step up," defenseman Connor Clifton said. "We knew the five-minute major was going to be big for us; we got two there and we were kind of rolling. It's never fun to see a teammate go down, but the depth we have on this team is amazing."
Harvard was already playing three inexperienced defensemen due to injuries and was without forward Sean Malone, who coach Ted Donato expected to be back for the NCAA tournament next weekend.
Malone and Esposito are two key members of the Crimson's penalty kill unit and made the challenge of shutting down the Bobcats' power play, which was fifth in Division I entering the game, even more difficult.
Despite being short-handed on special teams, Donato didn't think that caused any extra fatigue that impacted Harvard's five-on-five play.
"Whatever way you want to spin it, they executed on special teams; we didn't," Donato said. "And it was the difference in the game."
That difference cost the Crimson a chance at their second straight Whitelaw Cup. Harvard has nine league championships and has finished as the runner-up 11 times.
"It's always tough after a game to weigh in when you're so emotionally tied to it," Donato said. "When it's all said and done, it's our job to stay out of the box."