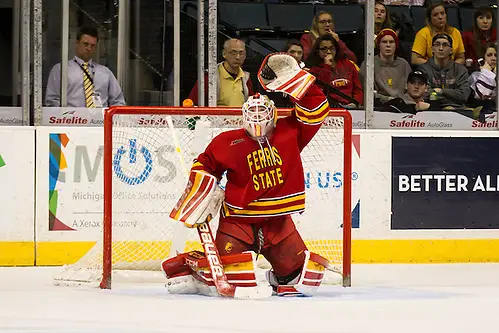 GRAND RAPIDS, Mich. — After Friday night's semifinal matchup against the No. 12 Michigan Tech Huskies, Ferris State Bulldogs coach Bob Daniels compared freshman goaltender Darren Smith to former Bulldogs great CJ Motte.
The comparison between a goalie who had won 66 career games and one who had just 15 might have seemed lofty on Friday, but after Smith's 13-save performance on Saturday in a WCHA championship victory over No. 15 Minnesota State, the comparison appears apt.
WCHA playoffs
See the tournament bracket and get links to schedules and stories at WCHA Playoff Central.
"As the season has gone on, he's played exceedingly well for us," Daniels said Friday night. "There is a lot of similarities, when you look at him, to CJ Motte."
After his 30-save performance against the Huskies, Daniels felt that Smith, who was awarded the WCHA Final Five most valuable player award, carried himself much like Motte.
"He's very calm, cool and collected," said Daniels. "He's really played well in the second half. There was a period of time when he went on an eight-game winning streak, but you would never know when you watch him whether we are up or we are down. He is a cool customer. I think that helps in some regards."
In a 2-1 victory on Saturday night, Smith surrendered his only goal of the tournament on the power play in the first period off the stick of Mavericks senior Bryce Gervais.
Smith was quick to acknowledge his teammates as being a big reason why he has been successful.
"The guys played great all weekend," said Smith. "If you go back to the game against Michigan Tech, most of their shots came from the outside. They didn't have that many scoring chances. When the guys are doing that, that makes my life much easier.
"Then again tonight, in the third period, I only had two shots, or something like that. With a 2-1 lead in the third period, in that pressure, to have two shots, that is a lot nicer than having to work."
Smith had an opportunity to meet and work with Motte before beginning his career at Ferris State.
"I trained with him a bit in the summer before I first got here in August," said Smith. "He's a tremendous goalie. He had a great four years here."
Smith did not start the season as the starting goaltender for the Bulldogs, but they would be hard-pressed now to go into action without him. The four seniors that play directly in front of him enjoy playing with him.
"Being a defenseman, Smitty is a part of us," said senior Brandon Anselmini. "I think, overall, if you can count on him and he can count on us, it's a perfect match for us."
Junior forward Gerald Mayhew agreed.
"It's a battle, as goalies," said Mayhew. "I don't know it personally, but I can tell it is pretty hard, especially if you are a backup. You don't want to let a bad goal in. Smitty has come in and obviously done a great job. He is the MVP of the tournament, so kudos to him."