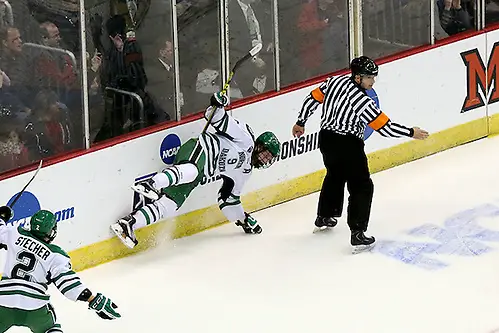 It could be heard echoing along the concrete corridors underneath Cincinnati's U.S. Bank Arena. Young men's voices, tinged with the ecstasy and an enthusiasm that accompanies a great triumph.
"Third time is the charm!"
2016 Frozen Four
Follow all of USCHO's coverage at Frozen Four Central.
Saturday's 5-2 triumph over the Michigan in the Midwest Regional final put North Dakota in familiar territory. The program has skated to 21 Frozen Four appearances before. Last weekend's final horn brought the 22nd.
To everyone involved with the program in any capacity — especially players like alternate captain Paul LaDue — it's hardly surprising that North Dakota is back in the thick of things in April.
"We didn't expect anything less," he said. "We haven't won [a national championship] in a while and it's about time to bring one back home."
But it's one thing to expect success. It's quite another to achieve it, and 10 individuals on this roster have twice experienced the bitter sting of disappointment when only four teams remained.
First, it was a heartbreaking, 2-1 loss to rival Minnesota that came in the final second of regulation in 2014. History repeated itself in Boston one year later when North Dakota failed to best Boston University in a 5-3 barn-burner that came down to the wire.
Luke Johnson remembers it all too well.
"We expect excellence at this school and from this team," he said. "It's tough to lose those games in the Frozen Four. Both years I've been here I thought we played well and were the better team most of the games."
So what makes this trip different? For starters, the team finally acquired a post-Fighting Sioux nickname. After three years without a moniker, North Dakota has part of a season under its belt as the "Fighting Hawks."
The shift in identity extends to the roster, too: Freshmen like Brock Boeser have reloaded this squad, filling in for the holes left by players such as Michael Parks and Mark MacMillan.
Together with Drake Caggiula and Nick Schmaltz, Boeser helps form the "CBS line," a trio that totals 143 points in 109 combined games played.
North Dakota also will be taking a new head coach to Tampa. Dave Hakstol's tenure as the winningest college hockey coach of the past decade came to an end in May 2015 when he left for the NHL's Philadelphia Flyers, but the athletic brass didn't have to look very far for his replacement.
Assistant coach Brad Berry stepped up to become the bench boss and excelled in a big way his first year, leading the Fighting Hawks to a 32-6-4 record and the Frozen Four bid. Despite the new superior, players like sophomore Tucker Poolman haven't missed a beat.
"We were all familiar with him," Poolman said. "He was here when Coach Hakstol was here, and we know what we're getting from him."
And Berry knew what he was getting from his team, night in and night out: Nine players that have been claimed by professional organizations. A goaltender with just four losses on the season and a .934 save percentage in Cam Johnson. The nation's seventh-best offense and second-best defense.
It's a team that handed Northeastern its second loss in the last 24 games in the opening round of the NCAA tournament, then tamed the best offense in the country the next evening.
"It's very humbling," Berry said in the news conference following Saturday's win. "We're very grateful. I truly believe we have a special group in our locker room."
So what is it that makes this Frozen Four team different from the two that have immediately preceded it? Who's to say much is really different at all?
A few names on the back of the green and white jerseys have changed. The point totals and records and opponents aren't the same. There's a new coach and a new leading scorer in Boeser.
But the name on the front of the sweater still says North Dakota, and excellence is still expected. The process isn't any different. This team knows what it takes to win. This group has exhibited a high level of play all year, and it bears the knowledge that it has what it takes to make a run for the program's first national championship since 2000.
That's why those voices could be heard reverberating in the tunnels beneath the arena on Saturday. It's why those five words were repeated like the chorus to a song:
"Third time is the charm."