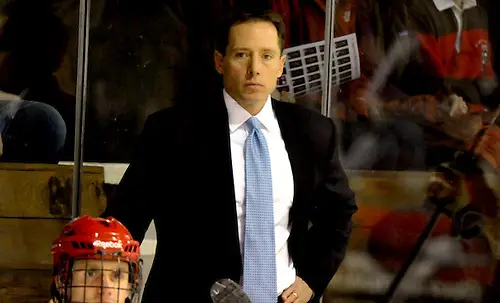 After five years behind the bench at St. Lawrence, including the past four as head coach, Greg Carvel is leaving the Saints to take over as head coach at Massachusetts.
ESPN's John Buccigross tweeted earlier today that the hiring was official.
Sources tell me UMass AD Ryan Bamford has worked out a 5-yr deal with SLU's Greg Carvel. A release could be coming as soon as this afternoon

— John Buccigross (@Buccigross) March 29, 2016
Carvel took over at SLU at the start of the 2012-13 season and led the Saints to a 72-63-15 mark over the past four seasons.
The UMass job was available when John Micheletto was fired back on March 6.
"I am very excited about the opportunity that exists for the University of Massachusetts hockey program and the potential for success here," Carvel said in a news release. "I was very impressed with the vision and energy of director of athletics Ryan Bamford and his desire to succeed in Hockey East. I feel that I bring a wide range of coaching experience and proven success at the collegiate, professional and international levels.
"As an alumnus of St. Lawrence University, I leave with a heavy heart and great appreciation for what the university has done for me, in particular, Joe Marsh. The University of Massachusetts will provide me with the next opportunity to help rebuild a hockey program that has great potential for success. Having earned my master's degree from UMass, I am well aware of the prestige of the school and its desire to have a championship-caliber hockey program at a Top 30 Public Research University."
Carvel began his professional coaching career as director of hockey operations for the Lowell Lock Monsters of the American Hockey League. He joined the Anaheim Ducks as scouting coordinator in May of 1999, adding video coordinator to his duties in 2002 and earning a promotion to assistant coach in 2003. He joined the Ottawa Senators as an assistant coach in 2004 and was on the staff until the summer of 2011. Both the Ducks and the Senators made it to the Stanley Cup Finals during his time as an assistant coach.
A former Saints captain and the first CoSIDA Academic All-American in SLU program history, Carvel had 38 goals and 85 assists for 123 points in 131 collegiate games.
Carvel played one year of professional hockey in Sweden and then became assistant athletic director and assistant hockey coach at Canterbury Prep. He went on to earn a master's degree in sport management at UMass in 1998 and was an assistant coach at Amherst College in 1996 while pursuing his degree.