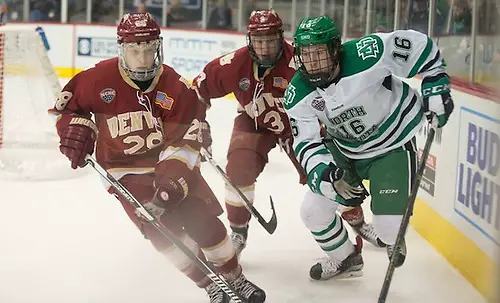 When the teams involved in the second semifinal of the NCAA Frozen Four take the ice at Amalie Arena, an air of familiarity will surround those involved. After all, NCHC rivals North Dakota and Denver have already played five games against each other this season.
There should not be any surprises between the two teams come Thursday night as each team earned a home sweep during the regular season and they tied 1-1 in the third place game of the NCHC Frozen Faceoff.
2016 Frozen Four
Follow all of USCHO's coverage at Frozen Four Central.
"The matchup is really kind of the tale of two teams," said an opposing head coach. "They can counter on the other. … [North Dakota is] a heavy team. They can beat you a lot of different ways. … If Denver is on their game, they are going to possess the puck, which they do real well."
The Fighting Hawks are led offensively by the "CBS Line" of freshman Brock Boeser (26-28–54), senior Drake Caggiula (21-25–46) and sophomore Nick Schmaltz (10-34–44), but they are not defined by that trio.
North Dakota features six skaters with at least 10 goals and two more within two of double digits, proving that their scoring is balanced throughout the lineup.
Coach Brad Berry, who is in his first season at the helm, makes sure his forwards play a 200-foot game, which allows the Fighting Hawks to outnumber teams defensively first and then position themselves to transition quickly to the attack.
"There really isn't a lot of weaknesses on their team," said an opposing head coach. "You are really going to have to play your best hockey to give yourself an opportunity and go from there."
To make matters worse for opponents, North Dakota features a defensive corps that is led by four juniors in Paul LaDue, Troy Stecher, Keaton Thompson and Gage Ausmus. Stecher is the smallest of that group at 5-foot-11, and all four have at least nine assists.
"North Dakota has those big giants LaDue and [Tucker] Poolman on defense," said an opposing head coach. "They are hard to get to the net on."
What makes the Fighting Hawks' blue line group so tough is both their physical strength and their ability to move the puck up the ice with a smart first pass.
Behind that strong back end is sophomore Cam Johnson, who proved he could carry the mail in his second season after seeing action in just two games as a freshman. The Flint, Mich., native had a strong season, going 22-4-2 in 32 games with a 1.67 GAA and a.934 save percentage.
If there is a team that matches up well with the Fighting Hawks, it is the Pioneers.
They are led offensively by the trio of sophomore Danton Heinen (20-28–48), freshman Dylan Gambrell (17-30–47) and junior Trevor Moore (11-33–44). Third-year coach Jim Montgomery likes to match lines, and in doing so, he creates favorable starts for Heinen.
"Coach Montgomery does a good job of getting [Heinen] in whenever he can," said an opposing head coach. "I think that will be important in this game, if Denver has a line that can offset the Caggiula line."
Denver can be deadly on the power play thanks to its high skill set.
"You have to stay disciplined, stay out of the box," said an opposing head coach. "Heinen's group is pretty good on the power play. If you allow them to possess the puck, you are kind of playing into their hands."
Unlike the Fighting Hawks' blue line group, the Pioneers' defense, which is led by junior Will Butcher and senior Nolan Zajac, is smaller but also more willing to skate the puck out of the zone themselves, adding a different dimension to Denver's attack.
"Zajac and Butcher, and [Matt] VanVoorhis a little bit, have the ability to create offense," said an opposing head coach.
Sophomore Tanner Jaillet has solidified things in goal, making 21 of his 30 appearances after the start of 2016. He opened January with a pair of ties against Notre Dame and has only one loss since.
Jaillet has proven to be a pleasant surprise for the Pioneers. He is 17-4-5 on the season with a 2.25 GAA and a .923 save percentage.
For the Fighting Hawks, Thursday likely will be business as usual. They are built for postseason play and that shows each season. To beat them, the Pioneers will need to challenge North Dakota's defense from the moment they first touch the puck, and then their forwards will have to play a full-ice game to match the Fighting Hawks' skating ability.
The Pioneers' offense will have to step forward as well, allowing Montgomery to match lines where possible (North Dakota, the higher seed, gets the last change), giving Heinen and his linemates as favorable a matchup as he can each shift.
There are few secrets left between the Fighting Hawks and the Pioneers at this point of the season, and that should make for a compelling semifinal game at 8:30 p.m. EDT Thursday.