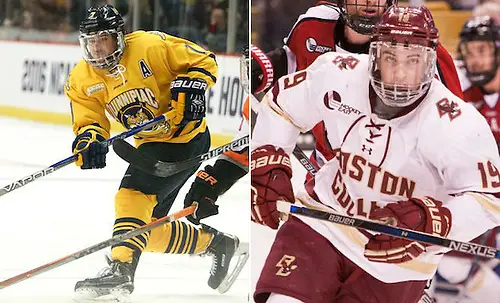 When top-seeded Quinnipiac takes on sixth-seeded Boston College on Thursday night in the first semifinal of the NCAA Frozen Four at Amalie Arena, it will be the battle of two similar teams where the biggest difference between the pair is the two hours of distance between the two campuses.
The Eagles feature the deepest offense among the remaining four teams thanks to having nine players with 10 or more goals. They are certainly built with a national championship in mind.
2016 Frozen Four
Follow all of USCHO's coverage at Frozen Four Central.
"They just have a program that expects to be at the Frozen Four every year and that is half the battle," said one opposing head coach. "That, coupled with a very, very talented team. When you look up and down that lineup, you have eight guys with double-digit goals. That is a lot of balanced scoring."
Junior Ryan Fitzgerald leads the way with 23 goals and 46 points. Youngsters Colin White (19-23–42), a freshman, and sophomore Zach Sanford (13-26–39) have also contributed heavily.
With so many players having the ability to score, teams cannot single out the Fitzgerald line or sophomore Alex Tuch's line or junior Austin Cangelosi's line. Throw in junior Adam Gilmour's line, and there is almost no breaks for opponents as the Eagles can attack in waves.
"You have White and Fitzgerald on one line, Sanford and Tuch on another, Cangelosi and [Miles] Wood on another," said an opposing head coach. "You throw in Gilmour and [Teddy] Doherty. It's hard to match up against them."
Behind that deep offensive group is a talented, relatively young defensive corps that features mainly juniors and freshmen, a couple of whom are likely NHL-bound in juniors Ian McCoshen and Steve Santini.
Doherty, a senior, freshman Casey Fitzgerald and junior Scott Savage give the Eagles an impressive top five. All three have at least 14 assists.
"They are really talented back there on defense as well," said an opposing head coach. "They are deep up front and deep on defense."
Waiting between the pipes is arguably the most experienced goaltender in the tournament, junior Thatcher Demko. The third-year starter has set career highs in games played (38), wins (27), GAA (1.85) and save percentage (.936).
The San Diego native has lost just three times since the start of 2016, but they have all come over the last seven starts.
"They have a very talented team that expects to be there," said an opposing head coach. "They don't have many weaknesses."
This year's senior class for the Bobcats has been to the NCAA tournament every year, and this is their second trip to the Frozen Four, where they finished as the runner-up in 2013. For players like Travis St. Denis and Soren Jonzzon, this is their last chance at redemption.
The Bobcats are balanced offensively, with five double-digit goal-scorers and one more, freshman Scott Davidson (9), within a goal of reaching that plateau.
Where the Bobcats really shine, however, is on the power play, which hums at 27.4 percent thanks a 45-for-164 success rate. Leading scorer junior Sam Anas has 10 power-play goals. St. Denis has 10 as well. Junior Tim Clifton has nine.
Most teams in the country have fewer than 29 power-play goals total.
"They have a power play that I think is outstanding," said an opposing head coach. "They've scored 45 power-play goals. That is an awful lot of power-play goals. You cannot take penalties against them, because they will really make you pay on the power play."
While their defensive corps may not look intimidating at first glance, three of them are extremely dangerous pushing the puck up the ice. Junior Devon Toews (7-23–30), junior Connor Clifton (7-20–27) and freshman Chase Priskie (4-22–26) are all good off the rush, helping the Bobcats play a high-tempo game.
"Toews is good, Clifton is good," said an opposing head coach. "Priskie has had a great year as a freshman. They have a lot of talent and they really are confident when they play."
Behind that group is the steady hand of senior Michael Garteig. A backup that first Frozen Four go-round in 2013, Garteig has carried the mail the last three seasons and has done a solid job throughout. This season, he has gone 31-3-7, setting a career high for wins, with a 1.83 GAA and a .926 save percentage, both career highs as well.
The Bobcats are comfortable trailing early in games.
"They are a team that has a lot of confidence that no matter what the score is in the game, they can come back," said an opposing head coach. "Just look at how many times they came back, tied games late, and then won them in overtime."
With two deep squads coming in, there is very little that separates these two teams. Even their coaches, Jerry York at Boston College and Rand Pecknold at Quinnipiac, each have 22 years of experience with their teams.
At the end of the day, it may come down to special teams; if so, the Bobcats seem to have the edge. We will find out at 5 p.m. EDT on Thursday.