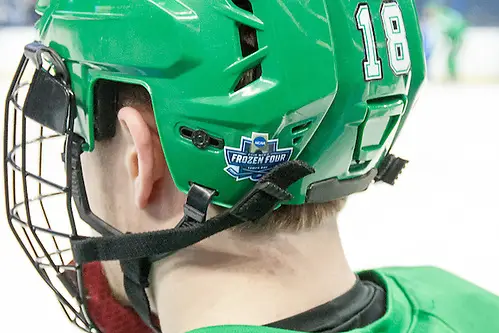 TAMPA, Fla. — In their third straight run at a national title, North Dakota brings a team that has some experience on the national stage. But with 11 freshmen on the roster and only four seniors, this Fighting Hawks team is significantly different from the squads that bowed out in the 2014 and 2015 semifinals.
"We started the season as a young team with 11 freshmen, and we tried to get those guys up to speed as fast as we can," said junior defenseman Troy Stecher. "I'm really confident that we have. We're a really mature group now and we understand the task at hand."
While the Fighting Hawks are led in scoring by freshman Brock Boeser (26-28–54), coach Brad Berry said that it's the locker room leadership of the upperclassmen that has given North Dakota a chance to compete for another NCAA championship.
"You look at the Brock Boesers and the younger players in our group and it's no coincidence," said Berry. "They're very good players; they're very gifted and talented. But … a lot of the leaders in the locker room have been a big part of his development."
It's not just in nurturing the newcomers that the character of this North Dakota team has been defined. In the first half of the season, both of UND's scholarship goaltenders were injured and a junior walk-on who'd never played a game, Matt Hrynkiw, stepped into the cage. The team rallied around him, and from Oct. 10 through Nov. 21, Hrynkiw played every game, going 9-1-2 with two shutouts to his credit. This, from a player who practiced with the team for two years previously never even expecting to see game action.
Berry said that the coaching staff calls this team "a special group."
"We talked about it in the mid part of the year when we went through all the injury problems … and a third-string walk-on being our No. 1 goalie, reeling off nine wins in a row — it's that special bond, that team-first mentality. The next man up has to do the job. It's because of the leadership. It's been a big part of us not only staying on the rails this year but for the development of freshmen."
The leadership and team-first mentality extends to playing passionate but disciplined hockey, said Berry. "We take our lunch boxes and we go to work every day and it's all about the work and the humility and getting after it," he said. "In saying that, we want to be aggressive on the ice but we do talk about discipline.
"That's a great word we use every day in our locker room, about playing with tenacity but playing disciplined. Again, it's going to be an important factor this weekend going forward."
The Fighting Hawks take an average of 11.3 penalty minutes per game, down from 13.4 a year ago. In the Midwest Regional, North Dakota took a total of four penalties — two per game — for eight total minutes in the box.
"I thought we did a really good job in Cincinnati and even in the Frozen Faceoff of limiting our penalties. That's playing with heart, but playing with discipline."