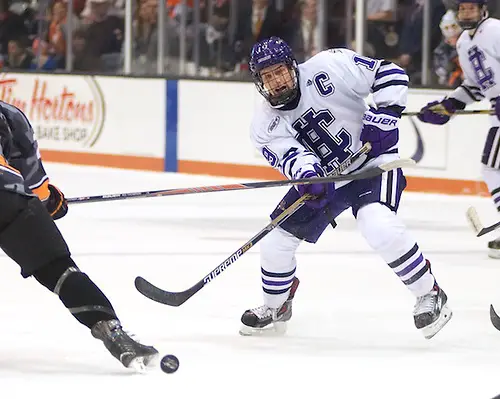 Holy Cross senior Matt Vidal is the 2016 recipient of the Derek Hines Unsung Hero Award, the Hockey Commissioners Association announced Friday.
Vidal, a two-time Crusaders captain, has been a member of "Power Play Points For Pink," which donates money to an organization for people touched by breast cancer for every Holy Cross power-play goal scored. It has raised around $50,000 over the last four years.
He also is a volunteer for Working for Worcester, helping build a playground in 2013 and 2015 and helping transform an outdoor parking lot into a basketball court in 2014.
The award is named for Derek Hines, a former Army player who was killed in the line of duty in Afghanistan in 2005. It recognizes "a fearless leader and beloved fan favorite who always places his team first."
"I am honored and humbled to accept the Derek Hines Unsung Hero Award," Vidal said in a news release. "The characteristics that he displayed as a player and a person are those in which I could only strive to emulate. His choice to sacrifice for our country deserves the utmost respect and recognition.
"In receiving this award I will attempt to continue to value what Derek stood for as a player, leader and community member. I would like to thank the Hines family for continuing Derek's legacy and the Hockey Commissioners Association for selecting me as the recipient of this prestigious award. I would also like to thank my family, teammates and coaches for all they have done for me."
Vidal, an Economics and Philosophy major, is a two-time member of the Atlantic Hockey all-academic team.
He scored 14 goals and 60 points in 136 collegiate games. He signed with the ECHL's Atlanta Gladiators.