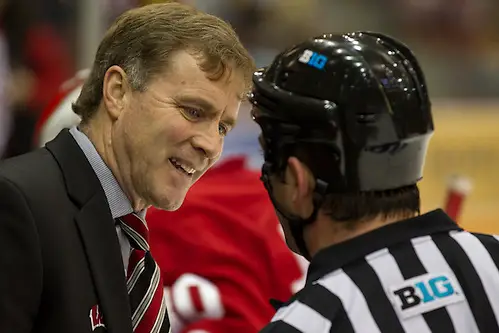 Former Wisconsin coach Mike Eaves has been named the head coach at St. Olaf, the Minnesota school announced Friday.
Eaves, who was fired in March after his 14th season leading his alma mater, won a national championship as a player (1977) and coach (2006).
He started his collegiate coaching career at a Division III school, Wisconsin-Eau Claire, in 1986.
"It's a unique situation to do something special," Eaves said in a statement released by St. Olaf. "St. Olaf is truly committed to academics, it's in a great college town, and the campus community is very supportive."
He replaces Sean Goldsworthy, who was 193-235-63 in 19 seasons with the Oles. The team slipped to back-to-back six-win seasons in 2014-15 and 2015-16.
Eaves was 267-225-76 with the Badgers but was let go after four- and eight-win records in the last two seasons, respectively.
He has also coached with St. Cloud State, the USA Hockey National Team Development Program, the NHL's Philadelphia Flyers and Pittsburgh Penguins, the AHL's Hershey Bears, Finland's SM-Liiga and the Shattuck-St. Mary's prep school.
"Mike is a proven winner at every level he has coached and embodies everything our department and college stand for," St. Olaf athletic director Ryan Bowles said. "He is committed to our mission of preparing our student-athletes for life after college. The future is bright for Ole men's hockey and we are excited to welcome Mike and his wife Beth to the Ole family."
St. Olaf is preparing to unveil plans and a fundraising campaign this summer for a new on-campus arena. The Oles play at Northfield Ice Arena.
"I'm excited for the opportunity and the future of this program," said Eaves, who is scheduled to start at St. Olaf on June 13.