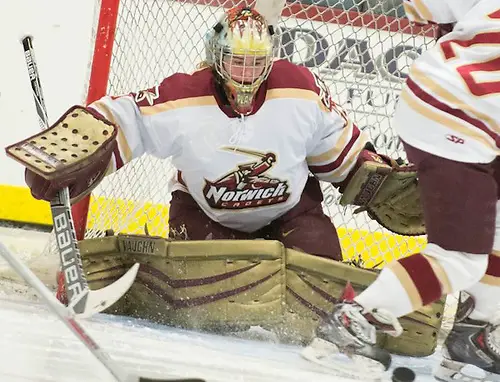 On Thursday, the NEHC released its annual women's preseason coaches poll.
The poll is compiled based on rankings from the league's 14 head coaches.
Last year's NEHC regular-season champion, Norwich, was selected to finish first, receiving seven first-place votes. NEHC Open champion Holy Cross followed with three first-place votes, while St. Anselm ranked third. Reigning league champion Massachusetts-Boston rounds out the top four, receiving one first-place vote.
| School (First-place votes) | Total points |
| --- | --- |
| 1. Norwich (7) | 181 |
| 2. Holy Cross (3) | 170 |
| 3. St. Anselm (3) | 166 |
| 4. Massachusetts-Boston (1) | 161 |
| 5. University of New England | 127 |
| 6. Franklin Pierce | 118 |
| 7. Castleton | 116 |
| 8. Manhattanville | 101 |
| 9. Salve Regina | 95 |
| 10. Plymouth State | 66 |
| 11. New England College | 61 |
| 12. Southern Maine | 45 |
| 13. St. Michael's | 36 |
| 14. Nichols | 27 |