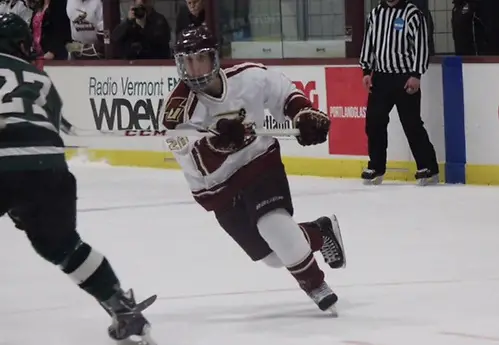 The NEHC released its annual preseason coaches poll for the men's conference on Thursday.
The poll is compiled based on rankings from the league's nine head coaches.
Reigning league champions from Massachusetts-Boston were selected to defend their title, receiving four first-place votes. Perennial conference powers Norwich and Babson were selected to finish second and third, receiving two and three first-place votes, respectively.
| School (First-place votes) | Total points |
| --- | --- |
| 1. Massachusetts-Boston (4) | 74 |
| 2. Norwich (2) | 70 |
| 3. Babson (3) | 69 |
| 4. Skidmore | 50 |
| 5. New England College | 47 |
| 6. St. Anselm | 37 |
| 7. Castleton | 28 |
| 8. Southern Maine | 18 |
| 9. St. Michael's | 12 |