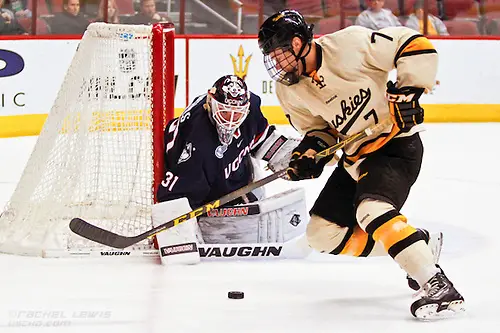 It's exciting, it's hectic and it gives coaches nightmares.
Welcome to 3-on-3 overtime.
The WCHA adopted the new overtime format this season, mirroring the 3-on-3 set up in the NHL. Games officially end as a tie in the record book and for NCAA PairWise purposes, but the overtime winner gets an extra point in the WCHA standings.
Michigan Tech's Reid Sturos scored the first 3-on-3 overtime goal in WCHA history this past weekend to deliver a victory against Alabama-Huntsville. Sturos scored 31 seconds into overtime on a sharp-angle shot.
It was a shot that Huntsville goalie Jordan Uhelski will want back, but the play's build up was clinical 3-on-3 overtime strategy by Tech.
After establishing possession in the offensive zone Michigan Tech worked the puck around and eventually set up Sturos' game-winning shot from below the circle. While 3-on-3 — particularly in the NHL — has a reputation as hockey's equivalent to a roller coaster on skates, the patient teams are the ones that thrive in the format.
It's really a possession game with mistakes magnified by that much more. Turnovers often end up in the back of your net, and controlling the puck and line changes can be the difference as coaches typically shorten the bench to their best six or eight players in overtime.
"We saw that, you make one mistake and the game is over," Huntsville coach Mike Corbett said. "I think the thing a lot of people forget about are the line changes. Guys are going to burn energy faster in 3-on-3, so how do you keep them fresh? That's going to be the trick."
Other WCHA coaches had similar thoughts, while several pointed out that the opening faceoff and dictating the opening rush of 3-on-3 is going to end quite a few games this season.
Coaches almost universally said they'll probably deploy a two-forward, one-defenseman format in overtime, which Tech and Huntsville both used on Saturday.
The high-paced, sudden-death format has grabbed rave reviews in the NHL. But will it take off in college hockey?
WCHA coaches had differing thoughts.
"I think we should mirror our game like the NHL as much as possible," Bowling Green coach Chris Bergeron said, whose team played a 3-on-3 non-conference overtime session with Western Michigan this past weekend. "It's something the fans want and it's something that the top league in the world has embraced. We should want to be like that and I think college hockey in general should look into it."
Northern Michigan coach Walt Kyle disagreed.
"I think we should be like the rest of the NCAA," Kyle said. "I know I'm in the minority, but I don't have a problem with the traditional format or a tie."
Lakers off to a promising start
Lake Superior State's delayed start to the season was worth the wait.
The Lakers played an exhibition game on Oct. 2 — a 3-3 tie against Laurentian — then took a weekend off before officially kicking off their 2016-17 season last Friday and Saturday.
That extra time did the Lakers some good. LSSU scored 13 goals over the course of their two-game series against Michigan State and routed the Spartans 6-1 and 7-3.
"College hockey is hard because you don't get that long exhibition season to work on things and establish chemistry and special teams," Lakers head coach Damon Whitten said in his postgame comments.
LSSU's all-out slaughter of a big instate rival was made even bigger by the fact that this season is the beginning of Lake Superior State's 50th season of varsity hockey — something that the the Lakers are celebrating all year.
That, combined with it being LSSU's "Great Lake State Weekend" and the fact that they were playing the Spartans, gave the Lakers some of their biggest home crowds in a while.
"The crowd had a huge impact on our game," Whitten said. "Huge credit to them and also to our student section with their energy and enthusiasm. This is a big year for us, celebrating 50 years, and also a big weekend, with it being Great Lake State Weekend. It was huge for our team to be able to feed off that crowd."
Also huge for the Lakers: Fifteen different players recorded at least a point against the Spartans. Sophomore defensemen Owen Headrick led the way with six of them (a goal and five assists). Nine players had at least one goal, and four (Gus Correale, JT Henke, Max Humitz and Gage Torrel) had two apiece.
Not bad for a team that had the worst offense in the conference last season (1.80 goals per game).
The will look to continue that offensive barrage this weekend when they travel to Alabama Huntsville for their league opener.
Ice chips
– Alaska-Anchorage finally picked up its first win of the season Saturday when the Seawolves edged Canisius 1-0 in the second game Saturday's Brice Alaska Gold Rush. Sophomore Mason Mitchell scored the game's only goal, while Olivier Mantha made 22 stops for his first shutout since Nov. 14, 2015.
– Michael Bitzer helped backstop a big weekend for Bemidji State. The junior goaltender collected the 11th and 12th shutouts of his career on Friday and Saturday against Northern Michigan. BSU won both games 2-0 and Bitzer had 21 saves in each game. Bitzer is currently the NCAA's active shutout leader and is also tied for Bemidji State's all-time career lead.
– Bowling Green got a better effort, but Bergeron is still looking for more from his group. Bergeron said the Falcons games against former CCHA rival Western Michigan were "small steps in the right direction, combined with disappointment."
– Michigan Tech finally snapped its season-opening four-game losing streak with a five-point weekend against Huntsville. The Huskies went 5-for-9 on the power play on the weekend and are now 6-for-34 (17.5 percent) overall — good enough for 17th in the country.
– Minnesota State's two wins against instate rival St. Cloud State were its first over the Huskies since 2011, and also the Mavericks' first sweep of St. Cloud since the 2007-08 season. MSU hasn't started the season 4-0 since 1998-99, when they went 6-0 to start off.
– Northern Michigan may have lost both games, but Kyle said goalie Atte Tolvanen put on a show this weekend against Bitzer. Kyle said Tolvanen could be one of the best goalies in the league and now has 92 saves on 100 shots.
Players of the Week
This week's WCHA players of the week are Sturos (offensive), Bitzer (co-defensive), Headrick (co-defensive) and Minnesota State freshman forward Parker Tuomie (rookie).