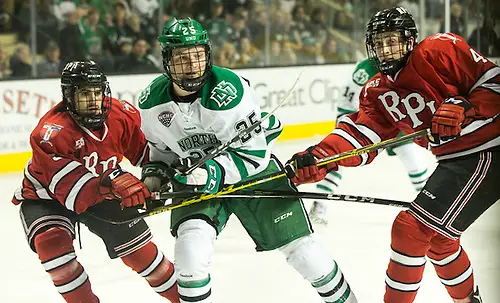 After North Dakota defeated visiting nonconference foe Rensselaer 5-2 on Saturday, UND freshman forward Ludvig Hoff joked about a "Euro connection" forming on the Fighting Hawks' roster.
Earlier that night, the on-ice chemistry showing between Hoff and linemate Joel Janatuinen was no laughing matter for RPI.
Janatuinen, a sophomore forward from Espoo, Finland, recorded his first collegiate hat trick against the Engineers. His first two tallies came on feeds from Hoff, hailing from Oslo, Norway.
With UND trailing 1-0 15 minutes into the first period, Hoff took the puck into the near corner of RPI's zone before threading a pass around two Engineers defenders and a third just ahead of the play. Janatuinen, having called for the puck from the slot, one-timed a shot past RPI goaltender Chase Perry to tie the game.
Midway through the second period, with UND ahead 2-1 via a go-ahead goal from Tyson Jost, UND's Scandinavian linemates teamed up again to double the Hawks' lead at 3-1.
Hoff dispossessed a RPI skater behind the net before backhanding a pass out front. Janatuinen was unmarked as he strode into the slot before beating Perry with a shot creeping in left of the far post.
Janatuinen later clinched his hat trick on a goal 8:56 into the third period. Janatuinen and Hoff collected a combined five points in the victory, while junior linemate Austin Poganski picked up the secondary assist on Janatuinen's first goal of the night.
After the game, UND coach Brad Berry was asked where the Scandinavian pair's chemistry comes from.
"I think it's their language that they speak, probably," Berry joked. "They always have a smile on their face, they work extremely hard and it's nice to see guys work off of each other."
Both of them have had to adapt from the European style of play to the North American one, although both were seasoned vets on this continent by the time they arrived in Grand Forks.
Janatuinen played his junior hockey for the Sioux City Musketeers of the United States Hockey League, and Hoff came to UND from the USHL's Lincoln Stars.
Both underclassmen spoke about the differences in styles, as well as the extra 15 feet of ice they enjoyed when they were younger.
"Back home, the rink's a bit bigger with the Olympic ice and there's a lot more time and space out there and I think the pace here is a lot higher," Janatuinen said. "I like the game here, and it really gets you going. You just have to think fast and just play hard, so I'm really enjoying it and I think it's making me better as a hockey player."
Hoff, only two inches shorter at 5-foot-10 than Janatuinen, experienced a similar shift to North American hockey.
"The European game, you have a little bit more time on the bigger ice sheets," Hoff said, "so it was kind of a transition right away but I kind of like to play a little rough sometimes and get a couple of hits, so I like the small ice sheets. I think it fits to my playing style.
"I think it's a little different back in Europe with the way you play and you like to hold onto the puck, but with our system (at UND), the coaches encourage you to keep the puck and it's been working out so far with our line. It's been fun so far."
Three games — and three UND wins — into the season, Hoff is averaging a point per game and is already standing out among the Hawks' eight-man freshman class.
"Anytime you step up a level from junior to college, that's a big jump and you never know how fast somebody can make that jump," Berry said of Hoff. "All I know is that he played in juniors in the USHL and he was depended on heavily, not only in all situations but in leadership, too, so he was battle-tested before he came here.
"Now, making that step in here, that's another situation, but that's a part of him being a good player and he has good players around him and that's a big deal."
That isn't meant to say that Hoff or Janatuinen are products of UND's system. They are, however, fitting into it well.
"It's been a lot of skill work and going in the mornings and, every day at practice, all the boys are going hard and it makes me want to go hard, too," Hoff said. "Just going to the rink every day makes me better as a hockey player, whether it's in the weight room or if it's on the ice.
"All the boys are here to become professional hockey players, and you really would understand that if you were on the ice with us with all the battles and all that stuff."
Broncos maintaining focus through early success
Western Michigan coach Andy Murray has had little to complain about through his team's first four non-exhibition games of the season.
The Broncos are 3-0-1, going undefeated in a pair of weekend series against ranked former CCHA rivals Ferris State and Bowling Green. After a 4-4 tie Friday at BGSU, Western pounded the Falcons 8-2 on Saturday back at home in Kalamazoo, Mich.
Through four games, WMU's skaters have found the back of the net 19 times.
"Our puck possession was certainly good in the first four games and because of that, we weren't spending much time in our own zone defending," Murray said. "We played with good pace, and we've seen some improvement in our returning players and we've got a spark from our freshmen, as well.
"It's been a good start for us, and our theme right now is just to keep the blinders on, and there's a reason why racehorses keep their blinders on so that they stay focused straight ahead."
Murray does have cause for wariness, though. WMU went unbeaten in its first three games last season — including one win each against Ferris and BGSU — before the Broncos' season went south and WMU finished seventh in the final NCHC standings.
So far this year, however, Murray is trying to strike a balance between keeping the atmosphere light and keeping his team focused. With Western idle this upcoming weekend, Murray was asked Wednesday what his team's practices have looked like this week.
In short: It's been hard, to a point.
"We've been pushing them real hard all week and we've created game scenarios in practice, and then (Thursday), because I'm a Canadian and I can do it fairly well, we're going curling," Murray said. "We have a curling club in town, maybe eight minutes from campus, and we're going to use it as a team-building thing and have our own little bonspiel. We've split our team and equipment staff into 10 teams of four so we've got 40 people curling. It's good, as a coach, to pick a team-builder that you're fairly good at. Being a Canadian, I have a background in curling, so that's why we're going curling, and I'm a bad bowler so that's why we're not going bowling."
Western returns to game action late next week with a pair of games at No. 6 Denver. Miami then visits Kalamazoo on Nov. 4-5 before WMU faces second-ranked Minnesota-Duluth on the road the following week.
One might wonder if being idle this weekend before the team's trip to Colorado might put a halt to the Broncos' early momentum. Murray, formerly the head coach of the NHL's Los Angeles Kings and St. Louis Blues before coming to WMU, doesn't share that view.
"I hate the word 'momentum,' I'll be very honest with you, because what is momentum?" Murray asked. "You hear coaches all the time, and I remember when Scott Linehan was the coach of the St. Louis Rams when I was in St. Louis and they won the last two games of the year and lost all of their other ones, and I remember him saying, 'We've got momentum going into next year.' Well, really? Who cares? Do you think the team that's playing you first next year cares?
"You've got to go in and win that game, and I hate when teams say after a weekend series, 'We've got momentum now.' Well, really? What is momentum? You'd better be good the next time you play, because if you're not, you're going to get beat. Momentum's nothing other than that you'd better be good your next game, so I don't believe in momentum.
"I don't think you can gain it and I don't think you can lose it," Murray continued. "That's why when I say the bye is perfect, if I said anything else, we'd be sending the wrong message to my team."
Players of the week
Offensive player of the week: Adam Johnson, Minnesota-Duluth. Much of the offensive success that UMD had in a split against Notre Dame came from the sophomore forward. In the Bulldogs' 4-3 win Friday, Johnson marked his first career multi-goal game with a pair of tallies, including his first game-winning goal for Duluth.
Defensive player of the week: Will Butcher, Denver. The senior defenseman recorded eight blocks in two home victories over then-No. 2 Boston University. Butcher helped DU kill seven of the Terriers' nine power-play opportunities on the weekend.
Rookie of the week: Wade Allison, Western Michigan. A four-point weekend from the freshman forward was a big reason why WMU was able to pick up a tie and victory in its home-and-home series with Bowling Green. His two goals and as many assists all came on power plays.
Goaltender of the week: Tanner Jaillet, Denver. The junior netminder stopped 47 of BU's 51 shots last weekend in Denver's two wins over the Terriers. He was particularly effective in DU's 3-1 win Saturday, helping the Pioneers go 5-for-6 on the penalty kill.