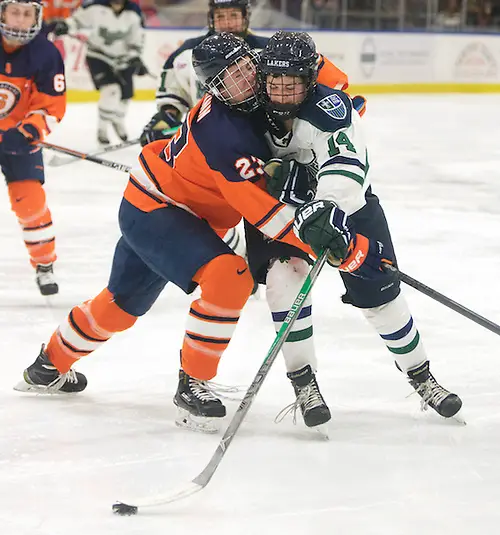 The Mercyhurst Lakers have one of the most consistent and impressive resumes in women's college hockey. They earned an NCAA at-large tournament bid for 10 consecutive seasons, starting in the 2004-2005 season and ending in 2013-2014. They've won the CHA regular season title all but one year since its inception and the CHA tournament title 11 times. They have four Frozen Four appearances. Yet, they don't seem to have the notoriety or name recognition that accompanies such an accomplished resume.
Coach Michael Sisti, who's been with the Lakers since they first took the ice in 1999, says that while he, his staff, and the current players are aware of the legacy of the program, they don't focus too much on what's happened in the past.
"We're just trying to do the best we can today," Sisti said. "Anything we've done in the past we're very proud of, but we don't really have time to worry about what people think or say. We're proud of what we've done and we're just trying to keep doing great things each day."
At times, the history and the tradition of the program can cast a shadow on whatever the current team is or is not doing. Though that can put a lot of pressure on the players, Sisti said it can also encourage them to "reach for a little more."
That "here and now" philosophy can apply to a full season, but it's also something Sisti said he uses on a day-to-day basis. The Lakers' first four games were against ranked opponents, and their next series is against a rival in Cornell. With eight new players — roughly half their roster — it's been a quick and difficult transition into the season for the Lakers.
Any coach who says they don't spare a thought for March or the postseason is probably lying, but Sisti said that the postseason is just a theory if the team doesn't take care of their games now.
"We try not to get ahead of ourselves," said Sisti. "We just want to be the best team we can be today. You can't win your league or get in the polls if you don't win the games right in front of you. You win the games on your schedule, then everything else will take care of itself. It's a difficult road. We realize we can't win a championship in October, but we're trying to position ourselves. These early games you're trying to win as many as you can and get better as a team and steadily improve throughout the season."
Mercyhurst has been lucky to have some of the top talent to ever play the game among their alumni, but not every roster is stocked with the same level of talent. Sometimes there are superstar players that help lift a team or a program, but what Mercyhurst — and Sisti — have proven with their consistency is that they have a knack for finding a way to win.
This early in the season, coaches are still find and evaluating their players' strengths and weaknesses and working on ways to improve upon those weaknesses, but the sign of a great coach is one who can take the team they have and formulate a plan to win, regardless of who is or is not on the roster. It's something Sisti has proven adept at.
"We've won all different ways with all different teams; I think that's something we've done well — we've adjusted," said Sisti. "We've had all kinds of team find their way along the season. There's so much adversity during the year, there's so many highs and lows. The trick is just to grow and figure out a way that particular group can be successful."
Despite their big win over Quinnipiac on Friday, the Lakers are just 1-2-1 to start the season. It's been a chaotic first few weeks to the season, but with so many years of experience under his belt, Sisti said the increase in parity can only be good for the growth of the game.
"You should have to play really well to earn wins, not play average and still win just because your team is that much deeper than the other team. We love competition and I think it brings out the best in everyone. If your team is good enough, you'll find a way to win those games. It's such a fine line between winning and losing. If you win six or seven one-goal games or lose six or seven one-goal games, it can really change your season and dictate if you're a good team or a great team."
Thus far, it's not clear which Mercyhurst will be, but Sisti said he saw marked improvement in his team from their first series into their second. A week off in-between certainly helped, but Sisti also says playing top teams — and needing to rise to that challenge — is only going to help his team get better.
"We thought we were a way better hockey team last weekend compared to our first weekend," said Sisti. "When you play really good teams, you learn a lot about your team. We proved that we can play with anybody. We proved that we've got big-time players that can win games. Now we just have to do that consistently and I think that's the next challenge for us to see if we can play like we did Friday all the time and that's our norm throughout the season. That's a tall order, but that's what we're going to try to do."