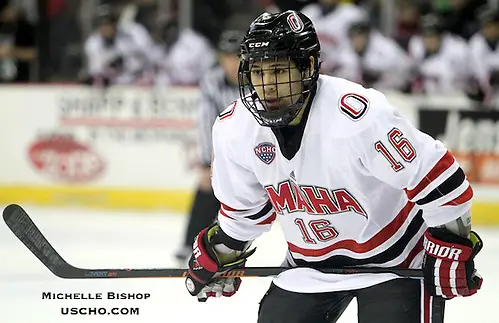 In-season polls don't mean as much to Omaha coach Dean Blais as other perhaps more quantifiable things do.
Take league points, for instance.
Earning plenty of those automatically takes care of other potential concerns. A team that's strong in its own conference is bound to pick up national attention.
As UNO prepares to open NCHC league play this weekend at home against Colorado College, Blais doesn't need to look far for inspiration regarding keeping his team's blinders on.
Fresh off the Mavericks' first-ever Frozen Four berth in 2015, UNO was ranked as high as second in the USCHO Men's Division I poll early in the 2015-16 season. The Mavericks carried that No. 2 rating into their first NCHC series at Western Michigan before the Broncos sent UNO packing with a pair of losses.
Later in the season, the Mavericks missed out on a return trip to the NCAA tournament.
The feeling from last season in Kalamazoo, Mich. – that 48-hour stretch – hasn't been forgotten in midtown Omaha, and Blais doesn't want to relive it this weekend against CC.
"We went into Western Michigan as the No. 1 team in the country and opened up our new arena with two wins against the Air Force Academy," Blais said. "This is a little bit different, but hopefully we'll have success in our opener against Colorado College and then go to Miami, so it's similar in a way, but we're not the No. 1 team in the country.
"Matter of fact, we're not even in the top 20, so I don't understand the rankings, but this will be a big weekend to lead off the NCHC conference play."
UNO (3-2-1) enters its series against CC (2-4) on a high note. The Mavericks fell out of the USCHO Men's Division I poll two weeks ago but made a case last weekend for getting back in after performing well in a home split against then-No. 5 Massachusetts-Lowell.
Three power-play goals and a short-handed tally sparked UNO to its 5-1 rout of the River Hawks on Friday. The victory over UML snapped the Mavericks' six-game home winless streak (0-5-1) dating back to last season and included a loss and tie against Vermont two weeks ago.
UNO looked even better in places on Saturday but got the short end of the stick in a 4-2 loss to UML. Mavericks goaltender Evan Weninger allowed the game-winning goal with 4:18 left before the River Hawks added an empty-netter.
The Mavericks did many little things well Saturday. UNO won most of the loose puck battles along the boards and split Saturday's faceoffs 32-32 one night after being outdrawn 48-21.
Blais hopes to see his Mavericks carry recently-gained momentum into this weekend's two-game set. Another pair of good performances could snowball into NCHC points and everything else provided to a team that proves itself to be a contender.
"You can't miss on any points," Blais said. "Last year, the way we were playing going toward the end of the year, we needed a win or two to qualify for the NCAA tournament and we didn't get it. This year, we're looking at every weekend [as being] important in the NCHC.
"Every non-conference game's important for the PairWise, and the PairWise should be coming out soon. I think we're fine in the PairWise. Going up and winning that [season-opening] tournament in Alaska certainly lent a lot of credibility to what we've done, and then a win over fifth-ranked Lowell. We've got to establish that there's points out there and we've got to get them when they're available."
RedHawks "run the gamut"
Seven games into the season, Miami's large group of 14 freshmen has already become acclimated to playing hockey at the Division I collegiate level.
That's a good thing for the RedHawks as they open league play this weekend in arguably the toughest conference in the country.
Miami is unranked heading into this weekend's road series against Western Michigan, and unsurprisingly so. The RedHawks have won just three of those first seven games during a tricky early non-conference stretch with games against Providence, Ohio State, Maine and Bowling Green.
That early slate ended last weekend a home split against in-state rival BGSU. Miami pulled off a 2-1 victory over the Falcons on Friday before falling 4-1 Saturday night at Steve Cady Arena.
MU head coach Enrico Blasi has been looking at the big picture. He recalls the myriad games situations the RedHawks have found themselves in early this season and believes that experience will pay off down the line.
"I think that's part of the maturing process and the growth of our team," Blasi said. "You're going to face teams that play certain styles and you're going to have to counter against that and you're going to have to continue to play the way you're capable of playing and you can't get frustrated with things like that.
"If I look back at the month of October, we've been through so much: Close games, overtime games, games where we were behind, games where we were in front, games where we got – like I said Saturday night – our butts kicked, and games where we've scored goals and we've been leading by three or four.
"We've kind of run the gamut on gaining experience through game situations where I don't know if you could've predicted that we would've gone through all those experiences," Blasi continued. "We feel good about that but we also have to remember those feelings and remember the lessons that were learned in those games."
There's still plenty of progress to be made, and perhaps especially at opponents' ends of the ice. Miami's 2.43 goals scored per game so far places the RedHawks tied for 44th in the country in team offense.
Miami has done a lot of things right, though. The RedHawks' penalty-killers have negated all but two of opponents' 40 power play opportunities so far, and freshman goaltender Ryan Larkin has given up just south of two goals per game in seven starts while posting a .927 save percentage.
Much of Miami's scoring thus far has come from an expected source. Senior forward Anthony Louis leads the team with five goals, two of them game winners.
This weekend's matchup is bound to give Miami another tough pair of tests. WMU (3-2-1) won three of its first four games of the season before being swept last weekend at then-No. 3 Denver.
Part of Blasi's plan for this weekend in Kalamazoo involves his RedHawks trying to neutralize WMU attackers that are much improved over last season.
"I think you've got to limit their opportunities," Blasi said. "They've got two units that I would call 1A and 1B. They really don't have weaknesses on either one. They have guys that can one-time the puck, they've got lots of movement, they've got skill players on both units.
"We're going to have to block shots, we're going to have to make sure our sticks are in lanes and taking away their passing lanes and we're going to have to make some saves. Other than that, you've got to do what you do and we're going to stick to our strengths on that."
Players of the week
Offense: Alex Iafallo, Minnesota-Duluth. A five-point weekend from the senior forward helped propel the Bulldogs to a home sweep of then-No. 1 North Dakota. Iafallo recorded a career-high four points and the first hat trick of his career in UMD's 5-2 win on Friday.
Defense: Will Butcher, Denver. The senior defenseman continues to be a rock for the Pioneers, and he also supplied four points last weekend in a home sweep of Western Michigan. Butcher blocked three shots against the Broncos and helped kill 10 of Western's 12 power-play opportunities.
Rookie: Jack Ahcan, St. Cloud State. The freshman blueliner recorded four points (one goal, three assists) last weekend in a home sweep of non-conference foe Alabama-Huntsville. Ahcan is now on a four-game point streak.
Goaltender: Hunter Miska, Minnesota-Duluth. The freshman goalie recorded 54 saves on 56 shots last weekend against UND and helped the Bulldogs go 12-for-13 on the penalty kill. His 30 saves in Saturday's 3-0 win for UMD marked UND's first shutout loss in 97 games.