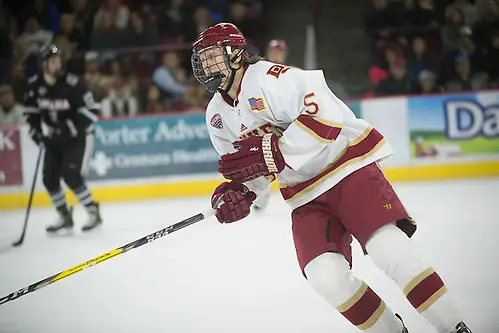 On a weekend where No. 1 Minnesota Duluth was off, No. 2 Denver played a weekend series against archrival Colorado College, a team that until recently had always troubled Denver.
However, the Pioneers swept the weekend series, 2-1 and 5-1, and have now won 12 straight against CC and 14 of their last 16.
The two games were very different, according to DU coach Jim Montgomery, in part because of CC's defensive play. Ironically, the bigger ice sheet at CC's home rink, World Arena, proved to be an advantage for Denver.
"I think that on Friday night, CC did a terrific job of defending," said Montgomery. "We had the puck a lot — we just had a tough time penetrating scoring areas — and I thought that on the bigger ice surface, we were able to penetrate a little easier."
Friday, the Pioneers were paced by senior defenseman Will Butcher, who had two assists, and leading scorer Henrik Borgström had an assist on the game-winning goal by Jarid Lukosevicius.
Saturday, senior assistant captain Evan Janssen assisted on the first goal and scored the third goal, and Liam Finlay had two assists. Borgström also scored a highlight-reel goal that put the kibosh on any CC rally.
"That's been a fun part of this year — it's been someone different every night, whether it's (Troy) Terry, (Dylan) Gambrell, or Liam Finlay and players like Michael Davies or Adam Plant stepping up, and Tanner Jaillet has been a rock for us in net," said Montgomery.
Jaillet, a junior, has played in every game in the second half except for one. He is currently ranked fourth among goaltenders nationally with a 1.82 GAA and is seventh among goalies in save percentage with a .932.
"He just gives our entire bench confidence," said Montgomery of his goaltender. "He sees the puck well, he tracks it well, there are no rebounds lying around to make you nervous, and he's great at handling the puck behind our net."
One area that Denver has improved on in the second half has been its power play. Last year, the power play clicked 18.44 percent of the time. The unit was led by Danton Heinen and Trevor Moore up front and included defenseman Nolan Zajac. Quentin Shore was also often on the first power-play unit. All four of those players were gone at the start of the year, and the power play struggled to find its footing at first.
However, Denver's power play is now even stronger than it was last season, ranked 13th nationally and clicking at a 20.57 percent success rate.
"I think our power play in the last six weeks or so has really developed a swagger and an attitude to it, and you can see the confidence in both units when they step on the ice," said Montgomery. "It's nice because last year we were never really comfortable with the confidence of our power play and this year, it's a great time for our power play to start developing the confidence leading up to what will hopefully be the postseason."
Denver has now won five in a row, and eight of its last 10. By sweeping Colorado College, the Pioneers also moved into first place in the NCHC, one point ahead of Duluth. This weekend, the Pioneers play Miami. The last time the teams faced off in November, Denver had just ascended to the number one ranking in the country, and had a disappointing weekend against the RedHawks, getting two ties.
With Duluth hot on their heels in the race for the Penrose Cup, awarded to the regular-season champion in the NCHC, Montgomery knows his team needs to be strong out of the gate.
"I think we have to be greasier and have more willingness to get to the net front," said Montgomery. "We know how well-coached Miami is and how hard they are to play against. Ever since I've been here, we've never won two games in a row against Miami. We know we have our work cut out for us, especially being on the road at Oxford."
St. Cloud State ascends to possible NCAA tournament berth
Last weekend, St. Cloud State found itself in a familiar position: tied late in the game on a Saturday night.
However, unlike the previous few times, St. Cloud got a late goal, then sealed the win against Miami with an empty-netter, earning its first weekend sweep since Nov. 11-12, 2016.
"Saturday, it was so familiar to all the other Saturdays we've had this month: it was 1-1 in the third," said St. Cloud coach Bob Motzko. "We were 1-1 in the third with North Dakota, we were 1-1 in the third with Duluth. Very tight games and it comes down to making a play. I don't think there is a big explanation. We have been playing very good hockey. We're not scoring at a high rate, but I'm not sure who is, and we found a way to score with two and a half minutes to go in the third period on a nice play. We've got effort every night, real decent execution, but usually on Saturdays the last month, if we make one play we are in a much better situation, instead of overtime losses.
"We finally got ourselves a win."
St. Cloud went 8-7-1 in the first half, and opened the second half with a loss against Connecticut in the Desert Hockey Classic. It seemed as if the Huskies' defense was too porous at times, and missed the presence of Charlie Lindgren in net.
However, since that loss to Connecticut, freshman Jeff Smith has settled down in net, and while St. Cloud's record in the second half is only 7-7-0, they have played well since getting swept by Miami on Jan. 6-7, the nadir of their season, and have gained success in part due to Smith's play, as he helped limit the opposition to three or less goals in every game but one.
"The first half, we weren't going to win a whole lot with the goals we were giving up," explained Motzko. "That's not putting all the blame on goaltending. I think we've come a long way with our defensive play and have come full circle with our goaltending. We put ourselves back in a good position. We still have so much left to fight for, but it is our defensive play that has been able to do it for us."
One reason things have taken a while for St. Cloud to develop is the changing nature of the team. Last season, St. Cloud was led by five seniors, and had four players scoring over a point a game and two more at close to that mark. The Huskies had one of the most potent offenses in the country, and seemed to score at will at times.
This season, by contrast, St. Cloud doesn't have a single player averaging a point a game or better. Sophomore Mikey Eyssimont leads the team in scoring with 26 points, and the Huskies lean on him to come up with the big offensive plays.
"We need that from Mikey because he is the one guy returning that has the ability to put offense in consistently," said Motzko. "What I like most about Mikey is last year, he played on a line where things came easy for him, with a 50-point center in Kalle Kossila and a big strong wing in Patrick Russell. We've had to switch up lines all year long, and Mikey has had to work hard at not getting frustrated and staying the course. None of us are going to score like we did last year, and I think it's taken us half a year to realize that, and just know who we are."
With St. Cloud's improved play over the last four weeks, the Huskies have moved up to 12th in the PairWise rankings, in position for another NCAA tournament berth. They area also fourth in the NCHC standings, in possession of the final home ice spot, though North Dakota and Omaha trail by only two points, and North Dakota has two games in hand. Motzko knows there is still a lot of hockey to be played, and if his players want to make the NCAA tournament again, they can't look too far ahead.
"From an NCAA standpoint, we were on life support; now we are off life support, but we are still in critical condition," said Motzko. "We have got to continue to battle and the recipe for us has been weekend to weekend, keeping our focus on each weekend and getting as many points and wins as we can and not looking past them. We have been skirting off the bubble, on the bubble the entire second half, so why change now? We know we are vulnerable, and the only thing that can solve it is being successful and we just have to concentrate week to week. We don't have enough in the bank to sit back."
NCHC Players of the Week
Offensive Player of the Week – Sheldon Dries, Western Michigan: Dries earned six points on the weekend, helping Western Michigan to a road split with Omaha. In Friday's 7-6 come-from-behind win, Dries had two goals and two assists, scoring twice in the first six minutes of the game, including once short-handed. He assisted on his team's final two goals over the last six minutes of the game as Western rallied from 6-5 down, including setting up the tying goal while short-handed with a long pass. He finished the game plus-3 and was named the game's third star. Saturday, he had two more assists as Western rallied from a 3-0 deficit to tie it 3-3 before losing 6-3. He finished the weekend plus-4.
Defensive Player of the Week – Luc Snuggerud, Omaha: Snuggerud had four points on the weekend as Omaha earned a split with No. 8 Western Michigan. Friday, he had three points, getting Omaha's scoring started with an assist on a power-play goal and then later scoring a power-play goal in the period. He finished plus-1 and was named the game's second star. Saturday, he scored a power-play goal in the third period to put Omaha up 5-3. He anchored a penalty kill that killed five of Western's seven power plays. His 11 goals are tops among defensemen nationally.
Rookie of the Week -Jeff Smith, St. Cloud State: Smith helped St. Cloud earn its first weekend sweep since November by posting a .942 save percentage and 1.50 GAA in a series against Miami. Friday, he made 30 saves in a 4-2 win, including 12 in the third period. Both goals he gave up were while St. Cloud was short-handed. He was named the game's third star. Saturday, he made 19 saves in a 3-1 win, and again was named the game's third star.
Goaltender of the Week -Tanner Jaillet, Denver: Jaillet helped Denver earn another sweep of arch-rival Colorado College, and Denver's 12th win in a row over the Tigers. Friday, he made 14 saves in a 2-1 win and helped Denver kill both CC power plays. Saturday, he made22 saves, including 11 in the third period, and only gave up a power-play goal. He had a .947 save percentage on the weekend and a 1.00 GAA. His 1.82 GAA and .932 save percentage lead all NCHC goalies.