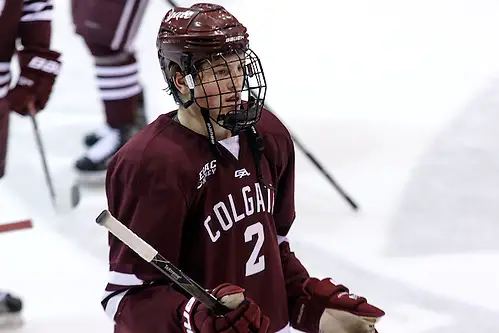 Heading into last weekend, Colgate's chances of hosting a first-round playoff series hinged on grabbing a four-point weekend.
Colgate entered the weekend with 10 points, two points behind Dartmouth for eighth and one point behind Princeton for ninth. The Raiders did their part as they defeated Brown on Saturday 2-1 and picked up a key 4-2 victory over Yale on Sunday to get to 14 points.
Princeton also swept the weekend to propel the Tigers to 15 points, which put them in eighth. Dartmouth split the weekend, which allowed Colgate to jump them into ninth.
It was the first weekend sweep of the Raiders on the season after losing four straight, during which time coach Don Vaughan kept telling the players hosting a first-round playoff series was well within reach.
"I was talking about that for the last couple of weeks, but when the wins don't come consistently, it's hard to keep talking about it," Vaughan said. "We needed something positive for our guys – we've worked pretty hard. We've had some pretty difficult losses, some six or seven one-goal losses. It took its toll on the team and the psyche. I think getting the sweep this [last] weekend just gives us a little bit of a charge, I guess, and some energy to know we are playing for something a little bit more – an opportunity to play another series at home in the playoffs."
Vaughan knows there's still plenty of hockey left to play and getting a home playoff series is still a tall order, but he also knows if the Raiders didn't get any wins last weekend, odds are the team would be jumping on a bus for the playoffs.
With the opening of the Class of 1956 Arena this season, Colgate wants to finish its inaugural season in the rink with a playoff series.
"I think it's a great facility and a beautiful building," Vaughan said. "The crowds have been good and we want to give our fans an opportunity for a playoff game. They have been supportive all year in a year that's been pretty lean in wins. It will be great for our guys – certainly our seniors – to play a playoff series in the new building and give our fans something to get excited about."
The wins this past weekend have been a microcosm of their season as the Raiders didn't rely just on one or two players to put the puck in the net and had multiple players contribute against Brown and Yale.
For Vaughan, he knew everybody had to contribute offensively this year after losing 51 percent of the team's goal scoring production from 2015-16.
"Coming into the season we knew that," he said. "We talk about that with the guys as we lost a great offensive group to graduation last year with the Spinks (brothers), (Mike) Borkowski, (Darcy) Murphy and those guys. We knew it was going to be 'score by committee' – a term we use. Certainly, we got that this [past] weekend. Scoring has been a challenge for us obviously for the last little while. That might be a direct result of us focusing so much on the defensive side of this game. Fearing we would be in low scoring games, we weren't putting up big numbers."
Vaughan said he's liked what he has seen out of freshman Bobby McMann, who's tied atop the Colgate scoring chart with 18 points with senior defenseman Jake Kulevich. Another freshman Vaughan will be relying on down the stretch is Jared Cockrell, who has 14 points with fellow freshman John Snodgrass.
The offense is expected to receive a boost from sophomore Adam Dauda, who missed all of January and the first weekend of February with an injury. While he didn't get on the score sheet last weekend, Vaughan said Dauda did create some chances.
While his numbers haven't been stellar as in years past, Vaughan also knows he has a veteran goaltender in Charlie Finn, who has been in big games before.
"He really has helped Colton (Point), too, who is a true freshman," Vaughan said. "He has learned a lot from Charlie on how we approaches it. Charlie has been there, he's been there often, though his numbers might not bare out. I think a lot of that is on us, too, in front of him with some of the other players on how we've played. He has saved us on a lot of nights this year and allowed us to be in games that easily could have gotten away from us."
Foo and Vecchione making their Hobey Baker case
The Union duo of Spencer Foo and Mike Vecchione continue to make the case to be in the running for the Hobey Baker Award as the top player in college hockey.
This past weekend, Vechione attained his second 50-point season with a goal and an assist in a 6-2 loss to Harvard on Friday and an assist in a 8-3 victory over Dartmouth.
He has 23 goals and 28 assists for 51 points, which is second in the nation behind Northeastern's Zach Aston-Reese, who has 52 points.
Foo, meanwhile, had a hat trick and an assist against Dartmouth and now has 20 goals and 30 assists on the season.
They have made impressions on the opposition to boot.
"Sometimes, it's tough when you don't see the rest of the country – you watch them on TV, but you don't get to see them in person – I think both of those guys are tremendous players," Harvard coach Ted Donato said. "I think they are absolutely deserving of the attention they have gotten so far. Vecchione is all over the place. He has a great shot, but he works. He plays a real tough and honest game. He's a handful and he has had a tremendous year. I think he's a big part of their identity. I think it was his 23rd goal of the year? That's a lot of goals, hats off to him. I think Foo is also a tremendous player and is very skilled. It's tough – there's a lot of great players out there – but we have a few ourselves. I will have bias to our own guys, but I think those guys are great players that are deserving of the attention they are getting."
Taverner no longer on Quinnipiac's roster
Quinnipiac coach Rand Pecknold confirmed to Kyle Levasseur of Q30 Television that junior forward Andrew Taverner is no longer with the team.
"I'm not going to comment on Andrew Taverner, as he's no longer part of our team," Pecknold told Levasseur.
The 21-year old Edmonton, Alberta, native had three goals and five assists this season in 21 games. For his career, he had 15 goals and 17 assists in 93 games. Before arriving in Hamden, Conn., he played three years with the Sherwood Park Crusaders of the Alberta Junior Hockey League, where he had 50 goals and 56 assists in 150 games.
Players of the week
• Harvard's Ryan Donato was named player of the week with his four-goal effort in the 6-2 victory over Union on Friday night. He also added a goal in the 6-3 victory over Boston University in the Beanpot championship game Monday night. He now has 16 goals and 10 assists in 26 games.
• Princeton's Jackson Cressey was named the rookie of the week as he had two assists in each of the Tigers wins this weekend over St. Lawrence and Clarkson. The team's third leading scorer has five goals and 21 assists in 25 games.
• Princeton's Colton Phinney was named goalie of the week as he posted a 3-1 victory over St. Lawrence and a 3-2 victory over Clarkson. He has a 10-11-3 record with a 3.26 GAA and a .905 save percentage.