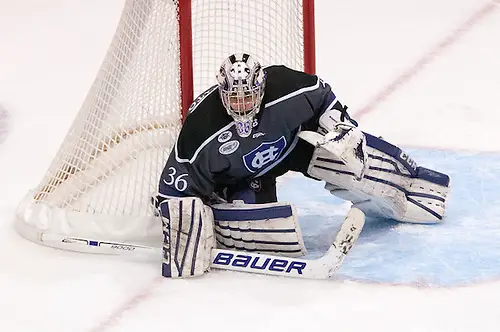 In what's turning into an annual rite of passage, Atlantic Hockey enters its final two weekends with nearly every playoff position fully up for grabs.
Ten of the 11 slots in the playoff race are separated from someone else by one point, and, for yet another season, parity is turning the proverbial "mad dash to the finish" into a "demolition derby for the last man standing."
"It's really a credit to how good the league really is," Holy Cross coach David Berard said. "Parity is great, and we're seeing it this year more than ever. It's a league where it's tough to get points on the road, but it's also tough to get more than two points in general. Look at last weekend when we had four of the five games on Saturday go into overtime. We're probably looking at a lot more games that will shape up that way."
It's a place Holy Cross fans might have had trouble seeing in the first half of the season.
Heading into Christmas break, the Crusaders were 6-7-3 overall and 3-4-3 in league play with one win in their final seven games. But following a 3-0 loss to Canisius on Dec. 30, Holy Cross won its next three, kicking off a 7-2-3 run that pulled them well over .500 in every respect.
"We have better committed to team defense," Berard said. "We had some early offensive success in the beginning of the season, especially in winning some nonconference games. That tricked us a little bit into being overconfident in our offense, which isn't our formula, but it's how we started the year. We were incorrect in that regard, and we started to do too much."
For Berard, fixing the issues was as easy as recommitting to the strategy.
While the Crusaders' offensive numbers were ahead of their production, their trademark defense wasn't where it needed to be. They allowed four goals or more nine times in their first 16 games, a number they looked to decrease drastically after break. Since then, they've allowed four goals only once, producing two defensive shutouts in the process.
With three 20-point scorers, including Danny Lopez's 31 points and 17 goals, they're poised to have two or three more players join that list, highlighting the offense's success. But defensively, Paul Berrafato's GAA is down to 2.66, including a 2.57 mark in conference play. That's assisted by limiting shot selection; Atlantic Hockey teams are averaging less than 25 shots against the Crusaders.
"We evaluated our team and did some stat analysis with the eye test," Berard said. "We had a feel for what the team could be, and the offensive numbers were ahead and good. But our defensive numbers were too high. Our shots on goal and chances allowed were too high. Our penalty kill struggled, and our goals-against average was higher than it should've been. The break came at a good time — we didn't change anything, but we've just been doing it all better. And that's been the biggest difference."
With the improvements, the Crusaders are now in fifth place with 26 points. They're one point behind fourth place Robert Morris and two points behind third-place Army West Point, meaning they very much are playing for home ice in the AHC quarterfinals for the second straight year.
It's a precarious position, though.
The fifth-place team receives a bye, but goes on the road for the second round. At the same time, Holy Cross is just two points ahead of Mercyhurst and RIT for sixth place and three points ahead of eighth-place Bentley.
"We dug ourselves a hole in the first half, but we're in a position now to compete for home ice," said Berard. "But we have to just focus on controlling what we do as a team, and our goal has to be to take care of business and play our best. We want to play our best hockey into the playoffs, No matter where we finish, we know every series is always going to be tough, but we can't control that and just have to be feeling good about our game into the postseason. This year alone, we've gone from eighth place to fifth to third to fifth again, so we have to just maintain focus on our game."
Healthy Hate
Any time there's a schedule release, in any sport, there's hope that the final weeks of games can provide intense, meaningful games.
For the past couple of years, that's been the norm in Atlantic Hockey.
But there's the added bonus of having distinct rivalries flare up in the final couple of weeks of the season. Traditional matchups with historical storylines will dot the race for the final sets of points. Between this weekend and next, we'll see the following matchups renew their requisite bad blood:
Air Force-RIT: Since 2007, they've won all but two conference championships, with AIr Force beating RIT in the 2011 and 2012 title games.
Bentley-Sacred Heart Since 2010-2011, the Falcons and Pioneers have played 27 times, with the Falcons holding a 13-11-3 edge, in a series that included two playoff series.
Holy Cross-Army West Point: Until last year, Holy Cross held the advantage over the Black Knights. Now Army West Point leads the series by four games after sweeping the Crusaders last year in the postseason and dominating them earlier this year.
Canisius-Niagara The two teams compete in the all-sports rivalry known as the Battle of the Bridge. Separated by roughly 20 miles, it's the shortest geographic rivalry in the league.
Canisius-Mercyhurst: The two teams have played over 80 times dating back to their time spent in the Division III ECAC West.
Army West Point-American International: The two teams have played over 90 times in a rivalry dating back to 1954. Yellow Jacket head coach Eric Lang is a former Brian Riley assistant.
Robert Morris-Niagara: There are times that I really do miss the old CHA.
Bentley-Holy Cross: They haven't played yet this year, but in the season's final weekend, they'll renew an intense, physical rivalry that's seen 60 previous incarnations.
"We're more familiar with the eastern teams," Holy Cross' David Berard said. "We know Army and Bentley better because of our proximity to them. This is the way it should be, and teams are approaching these series already like they're playoff series. We know the teams are going to be playing hard, and these games all have huge implications. It's great, and I know we're going to embrace the opportunity."
In the Clinch
Going into this weekend, we know Canisius and Air Force have two of the top four spots.
Army and Robert Morris have at least home ice in the first round clinched, while Holy Cross, Mercyhurst, RIT, and Bentley are closing in.
Heading into Friday, for all the fans who are concerned, here's what can be clinched:
— Both Canisius and Air Force can clinch one of the top seeds with a win or tie against their respective opponents. Both can also clinch if Holy Cross beats or ties Army West Point.
— Army West Point clinches at least up through the sixth seed with a win over Holy Cross, but they can clinch a first-round bye with a win over the Crusaders, a Robert Morris win over Mercyhurst, AND an Air Force win or tie against RIT.
— Holy Cross, Mercyhurst and RIT can all clinch first-round, home-ice series with a combination of events, and almost all of it includes Bentley. For the Crusaders, home ice runs through any combination of two points for them plus Bentley. If they win, they get home ice. If Bentley wins, they get home ice. If they both tie, Holy Cross clinches home ice.
— Mercyhurst's needs a win over Robert Morris combined with a Bentley win over Sacred Heart.
— RIT needs a combination of three points between themselves and Bentley. That means a win combined with a Bentley win or tie gets them in, and a tie combined with a Bentley outright win gets them in.
I'll go put my abacus away now until Saturday morning.
Players of the Week
Player of the Week: Army West Point's Conor Andrle: Andrle had five points in the Black Knights' sweep of Niagara. It included the overtime winner on Saturday that came with under a minute remaining in the extra session.
Defensive Player of the Week – Air Force's Phil Boje: Boje had two points and a +1 rating in the Air Force three-point weekend. His goal on Saturday was the game-tying strike for the Falcons.
Goaltender of the Week – Bentley's Aidan Pelino: Pelino had his first career shutout on Friday, making 28 saves in Bentley's victory over Robert Morris. He followed that up with a 32-save performance in Bentley's 1-1 tie against the Colonials on Saturday.
Rookie of the Week – Army West Point's Brendan Soucie: Soucie had three points against Niagara, all on Friday, as the Black Knights earned the four-point weekend against the Purple Eagles.