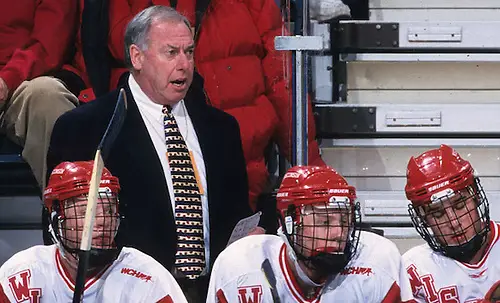 A celebration of Jeff Sauer's life will be held Thursday, March 9 at 6 p.m. CDT at the Kohl Center in Madison, Wis.
Sauer passed away Feb. 2 in Madison at the age of 73 after courageously battling a brief illness. The Sauer family will greet visitors from 4 p.m. to 6 p.m. preceding the celebration of life.
Those attending are encouraged to use parking lots 29 and 46 or the Lake St. ramp near the Kohl Center.
Sauer coached hockey for 11 years at his alma mater, Colorado College, before returning to Wisconsin, where he previously had served as an assistant coach. In a 20-year head coaching career at UW, Sauer's Badger teams won two national titles and appeared in the NCAA tournament 12 times. He led the Badgers to 489 victories, the most victories for a UW coach in any sport. His 655 career victories are eighth most among college coaches.
His love for hockey continued after he stepped down at UW in 2002. In 2011, Sauer was named head coach of the U.S. National Sled Hockey Team. In his six seasons as coach, he won titles in seven major international events, including a gold medal at the 2014 Paralympics in Sochi, Russia.
A member of USA Hockey's International Council and Disabled Hockey Committee, Sauer was president of the American Hearing Impaired Hockey Association (AHIHA). He helped select the last six U.S. Deaflympic Ice Hockey Teams while leading the team as head coach in the last four Winter Deaflympics. He also served as a disciplinary judge for many years for the International Ice Hockey Federation at the world junior tournament and world tournament.
In over 40 years of coaching hockey, Sauer was honored with AHIHA's Gunzo Trophy (1997), USA Hockey's Distinguished Achievement Award (2000), the American Hockey Coaches Association's John "Snooks" Kelly Founders Award (2004), the NHL's Lester Patrick Trophy (2011) and the Hobey Baker Legend of College Hockey Award (2013). He also has been inducted into the state of Wisconsin Hockey Hall of Fame, the Madison Sports Hall of Fame, the University of Wisconsin Athletics Hall of Fame, the Colorado Springs Sports Hall of Fame, the Colorado College Athletics Hall of Fame and the U.S. Hockey Hall of Fame.
Sauer is survived by his wife Jamie, son Chip (Rachel), daughter Beth (Carl) Frederick, sister Ann (Ken) Donovan and four grandchildren Eliana, Camden, Malia, and Amelie.