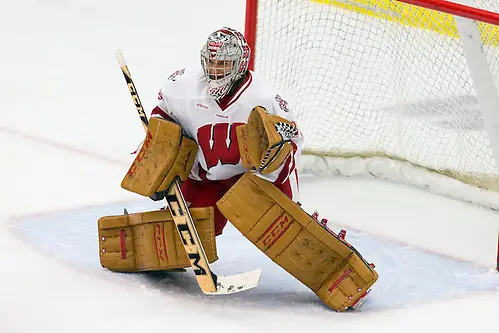 Wisconsin senior goaltender Ann-Renee Desbiens has been awarded the 2017 Patty Kazmaier Memorial Award.
The honors were presented to Desbiens Saturday afternoon at the Foundry Art Centre as part of the women's Frozen Four weekend hosted by Lindenwood University.
The award, which is in its 20th year, is presented annually to the top player in NCAA Division I women's hockey by the USA Hockey Foundation.
Desbiens is just the third goaltender to win the award, joining Jessie Vetter (Wisconsin) who captured the award in 2009 and Ali Brewer (Brown) in 2000. She is also the fifth player from Wisconsin to win the award (Brianna Decker/2012, Meghan Duggan/2011, Vetter/2009 and Sara Bauer/2006).
Desbiens was selected from a group of three finalists that included senior forwards Cayley Mercer (Clarkson) and Lara Stalder (Minnesota Duluth).
"Coming off last season with a streak of shutouts I've never seen before, Ann-Renee has backed it up this year with another outstanding, record-breaking year," said Wisconsin coach Mark Johnson in a statement. "She has given us an opportunity to win every night and is one of the key reasons for our success."
Desbiens, a top-three finalist for the second straight year, leads the nation in save percentage (.965), GAA (0.67), shutouts (17) and wins (29) entering tomorrow's national championship game.
Named to the All-WCHA First Team for the second-consecutive season, Desbiens set the NCAA record for most career shutouts in both men's and women's college hockey with 44 on Nov. 6, 2016, and currently has 57 career blank slates.
She was named WCHA Defensive Player of the Month for both January and February, and topped conference goaltenders with a .963 save percentage, 21 wins and 13 shutouts in 26 WCHA contests. In total, Desbiens has allowed one goal or less in 28 of her 34 games this season heading into the national semifinals.