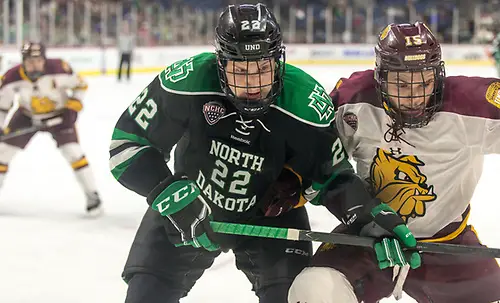 Most fans with teams in the Division I men's NCAA tournament believe they have a claim to the toughest regional in the tournament. Yet it is hard to say that the toughest quartet in 2017 is anything other than the West Regional, given the relative strength of all the teams assigned to Fargo, N.D.
The overall No. 2 seed in the tournament, Minnesota Duluth, will have its hands full with a tricky Ohio State team in the first round. The winner of that game will get the winner of the regional's other first-round game between the defending national champion North Dakota and Hockey East's preseason No. 1 team, Boston University.
West Regional, Fargo, N.D.
• Boston University vs. North Dakota, 2 p.m. CDT Friday, ESPN2
• Minnesota Duluth vs. Ohio State, 5:30 p.m. CDT Friday, ESPNU
• Regional championship, 5 p.m. CDT Saturday, ESPNU
Minnesota Duluth enters the tournament winners of a very competitive NCHC tournament, and as the No. 3 team in the most recent USCHO.com poll. Alex Iafallo leads the way for the Bulldogs, scoring 1.18 points per game during his 2016-17 campaign. The Bulldogs won the North Star College Cup at the end of January, defeating both Minnesota and St. Cloud State in the mid-season tournament.
The Bulldogs won the NCHC tournament by beating another team that's in the West Regional, North Dakota. The Fighting Hawks made the NCHC tournament final by upsetting the eventual No. 1 overall seed in the tournament, Denver, in the semifinal.
Following last year's championship-winning campaign, the Fighting Hawks are 21-15-3 on the year, and made the tournament despite a sub-.500 record in the NCHC (11-12-1).
The Ohio State Buckeyes made the tournament as the last at-large team in. The Buckeyes were eliminated in the semifinal of the Big Ten by the Wisconsin Badgers, who ultimately did not make the tournament themselves. The Buckeyes are led by Mason Jobst, who is the seventh-highest point getter in the country.
Despite the Buckeyes' tenuousness in making the tournament, they have some big wins. The Buckeyes upset Denver in the first game of the season. Ohio State also defeated fellow tournament qualifiers Minnesota and Penn State twice during the regular season.
Finally, the preseason Hockey East favorite Boston University travels out to Fargo following a stunning defeat in the Hockey East semifinal at the hands of crosstown rival Boston College. The Terriers boasted six players on the U.S. World Junior Championship team, including goaltender Jake Oettinger, who is sixth in the country in goals-against average at 2.09.
The Terriers, however, did not have an easy time in the regular season. BU was swept by Merrimack late in the season and lost to Connecticut earlier in the season.
The winner of the West Regional plays the winner of the East Regional at the Frozen Four in Chicago on April 6.