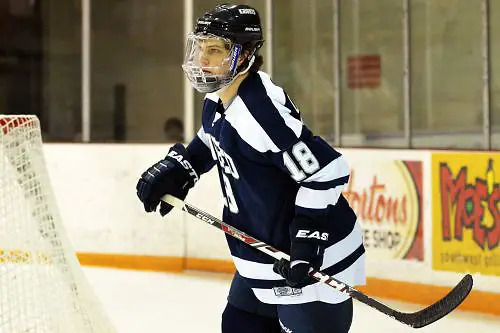 Players from 22 different schools — including six participating this weekend in the NCAA Division III championship in Utica, N.Y. — can boast 2017 CCM Division II-III men's hockey All-American selections as the squads were announced Thursday evening at the event's banquet.
Nine different schools led the way with two honorees each, including NCAA semifinalists Adrian, Norwich and St. Norbert.
Geneseo senior forward Stephen Collins is the only First Team repeat selection from 2016.
First Team – East
| Player's Name | Position | Class | School |
| --- | --- | --- | --- |
| Stephen Collins | F | Sr. | Geneseo |
| Brady Fleurent | F | So. | University of New England |
| Colin Larkin | F | Jr. | UMass Boston |
| Stephen Johnson | D | Sr. | Oswego |
| Cody Smith | D | Sr. | Norwich |
| Evan Buitenhuis | G | Jr. | Hamilton |
First Team – West
| Player's Name | Position | Class | School |
| --- | --- | --- | --- |
| Lawrence Cornellier | F | Sr. | Wisconsin-Stevens Point |
| Jack Lewis | F | Sr. | Lake Forest |
| Patrick Moore | F | Sr. | Wisconsin-Eau Claire |
| Cory Dunn | D | So. | Adrian |
| Rory Vesel | D | Sr. | Augsburg |
| T.J. Black | G | So. | St. Norbert |
Second Team – East
| Player's Name | Position | Class | School |
| --- | --- | --- | --- |
| Dominik Gabaj | F | Sr. | Nazareth |
| Jory Mullin | F | Sr. | Neumann |
| William Pelletier | F | Sr. | Norwich |
| Tyler Bishop | D | Sr. | UMass Boston |
| Logan Day | D | So. | Endicott |
| Brett Kilar | G | Sr. | New England College |
Second Team – West
| Player's Name | Position | Class | School |
| --- | --- | --- | --- |
| Trevor Boyd | F | So. | Adrian |
| Nate Flynn | F | Jr. | Augsburg |
| Thomas Williams | F | Sr. | St. Thomas |
| Sean Campbell | D | Jr. | St. Norbert |
| Mitch Hall | D | Jr. | Hamline |
| Gianni Mangone | D | So. | Marian |
| Benjamin Myers | G | So. | St. Thomas |
Third Team – East
| Player's Name | Position | Class | School |
| --- | --- | --- | --- |
| Tommy Besinger | F | So. | Endicott |
| Trevor Fleurent | F | Sr. | University of New England |
| Kenny Neil | F | Sr. | Oswego |
| Carl Belizario | D | Sr. | Hobart |
| Ayrton Valente | D | Jr. | Plattsburgh |
| Mike DeLaVergne | G | Sr. | Buffalo State |