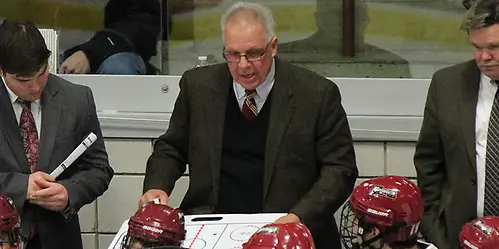 For leading Norwich into the NCAA Division III championships, Mike McShane has been named the winner of the Edward Jeremiah Award as the CCM/AHCA Division III Men's Coach of the Year.
It is the fifth such honor for McShane, who also captured the award in 1998, 1999, 2000 and 2010. He was assisted this year by Steve Mattson, Alec Thieda, Bryce Currier and Cap Raeder.
Norwich enters Friday's NCAA semifinal in Utica against Adrian on a 23-game unbeaten streak (21-0-2) and brings a 25-1-3 overall record to the event.
In 36 years as a head coach, McShane is 720-341-67 at Norwich (22 years), Providence (9) and St. Lawrence (5).
This year, in guiding Norwich to its 18th regular-season title in the past 19 seasons, McShane was recognized as the NEHC Coach of the Year by his peers. His Cadets squad rank in the top ten nationally in both team offense (4.28 g/gm—8th) and team defense (1.72 g/gm—3rd). Norwich led the NEHC in scoring offense (4.44 g/gm), scoring defense (1.44 g/gm), power play (29.5%) and special teams net (+16).
McShane also notched his 700th career win this season, becoming only the seventh coach in NCAA hockey history at any level to amass the 700-win mark.
The Edward Jeremiah Award is named in honor of the legendary Dartmouth coach and was first presented in 1970.
The runner-up for the 2017 Jeremiah Award was Hamilton's Rob Haberbusch.