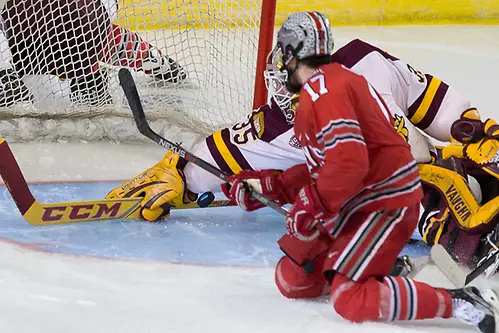 FARGO, N.D. — Here are three takeaways from Minnesota Duluth's 3-2 overtime victory over Ohio State on Friday in the West Regional semifinals:
1. Miska steals the show
Pardon the cliché, but it was clear that Ohio State ran into a hot goaltender Friday night.
The Buckeyes came in with the second-highest scoring offense in Division I (3.97 goals per game) and had ample opportunities to capture the lead after coming back from a 2-0 deficit to Minnesota Duluth in the third period. But Bulldogs goaltender Hunter Miska could not be denied.
One key stop that was turning heads came in the second period, when the freshman netminder had to shift over and reach out to stop a wide open Kevin Miller shot right on the doorstep. That save kept the Buckeyes off the scoreboard, and a moment later Nick Wolff scored for the Bulldogs to make it 2-0.
Ohio State rallied back in the third to tie, but Miska got back on the horse and stymied the Buckeyes the rest of the way. He made nine saves in the overtime period, including a diving stop with his paddle on David Gust.
2. Power play shut down
Ohio State's calling card all year was its power play, which was the country's best at 32.5 percent coming into the game. The Buckeyes had only 10 games all season in which they did not tally a power-play goal.
The Bulldogs took four penalties, including two in the third period. And UMD was able to kill all four penalties, despite allowing eight shots on goal.
Brenden Kotyk took the most untimely of those penalties at 18:54 of the third, which put the Bulldogs on high alert. But Ohio State, which scored 49 of its 151 total goals this season on the power play, couldn't solve Miska and UMD killed it. Before OSU got another chance, Willie Raskob won it for the Bulldogs.
3. Late start disrupts pre-game routine
The game was scheduled to start at 5:30 p.m. But with the early game (North Dakota and Boston University) lasting more than 1½ overtime periods, any precise pregame routines were thrown completely off.
The puck didn't actually drop until 7:23 p.m.
"You get a little restless there," said Raskob. "Everyone was a little on edge. I know my adrenaline was pumping there for about an hour and a half before the game, for sure. After that first overtime, though, we gathered as a team, went for a walk, regrouped a bit and everyone reset. I think our team has been through adversity all year and this was another step for us."