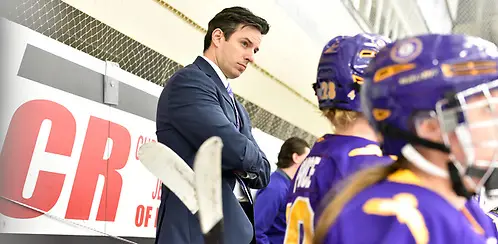 Tim Crowley has been named the head coach of the Elmira women's program after a stint as the team's interim coach.
Dean Jackson left the school to join Penn State's staff after the 2015-16 season and was replaced on an interim basis by Kelsea Martalock.
Martalock left Elmira because of a "personnel matter" on which the school would not comment, and Crowley was installed as the new interim coach.
Crowley also is the head coach of Elmira's women's golf team.
"Coach Crowley joined this team after it started and was able to resume the momentum of the season both on the ice and in recruiting," Pat Thompson, Elmira's vice president of athletics, said in a statement. "Having had the opportunity to work with him for almost five years, I felt he was a great fit and well qualified to carry on our women's ice hockey tradition."
Elmira finished at No. 6 in the USCHO.com Division III Women's Poll this season with a 18-6-4 record.
Crowley, a former player at Brockport, has coached with Elmira's men's team and at Potsdam.