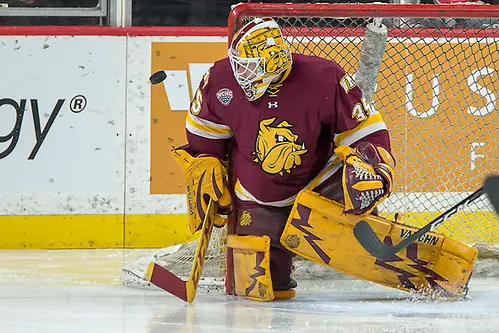 When they meet on Thursday in the first of two semifinal matchups in the Frozen Four, the Minnesota Duluth Bulldogs will look to use their size and physical play to their advantage, while the Harvard Crimson will look to rely on the strength of their back end to keep the Bulldogs at bay.
The Bulldogs possess a physical blue line corps that keeps freshman goaltender Hunter Miska from getting into too much trouble. The youngster struggled a bit in the early portion of the season but turned a corner in early December in a series on the road at Denver. After giving up four goals during the Friday night game, he surrendered only one the next night. Since then, he has given up four goals only twice more.
Frozen Four 2017
More coverage of the 2017 NCAA men's Frozen Four at Frozen Four Central.
"I think they have done a real good job of bringing [Miska] along," said an opposing coach who saw the Bulldogs early in the season. "I thought he played excellent in the regional. He seems to have found his groove and has given them good, solid goaltending back there."
In 37 appearances this season, Miska is 26-4-5 with a 2.21 goals against average and a .919 save percentage.
In front of Miska is a defensive corps whose smallest member is senior Willie Raskob at 5-foot-10. The Bulldogs' blue liners include three players 6-foot-4 or bigger in freshman Nick Wolff, senior Carson Soucy — who may be back from injury in time for the Frozen Four — and senior Brendan Kotyk, all of whom have played at least 33 games and have at least 12 points.
"They have good size on defense, but they have some mobility back there," said an opposing coach. "They have some guys who can really shoot the puck from the point. They are strong back there."
Up front, the Bulldogs feature senior Alex Iafallo. The Eden, N.Y., native collected around 24 points a season until this year, when he has exploded for 19 goals, 30 assists and 49 points, all career highs. He has also picked up the first two short-handed goals of his career and racked up five game-winners.
After starting the season with a point in each of his first three games, Iafallo exploded for four on Oct. 28 against North Dakota. Since then, he has been racking up the points and has finished the season strong. He enters the Frozen Four on a streak of seven straight games with two points.
Freshman winger Joey Anderson has found a home on the right side of a line with Iafallo and senior Dominic Toninato. Anderson has 11 goals and 34 points playing with the veterans.
Sophomore Adam Johnson also has had a strong season centering the Bulldogs' second line. After starting the year on a seven-game point streak, Johnson has set new career highs with 18 goals, 19 assists, 37 points, seven power-play goals and five game-winners.
After their talented forwards, the Bulldogs feature a lineup that includes role players who are both mentally and physically tough.
"I like their physicality," said an opposing coach. "They play a physical brand of hockey, but they also can play with skill and speed, and that gives them a nice combination."
The Bulldogs will need all of that higher-end talent to deal with 6-foot-5 Merrick Madsen, who patrols the crease for the Crimson. He leads a strong back end for Harvard that does not surrender much in its own end.
Madsen has appeared in 35 contests, going 28-5-2 in those games. He sports a 2.11 goals against average and a .922 save percentage, but it's his length that makes him difficult to beat most nights.
"He has a really intimidating presence," said an opposing coach who saw the Crimson early in the season. "When he stands up, he literally looks like he is 7-feet [tall]. He plays with an overwhelming presence back there because he plays goaltender hard."
In front of Madsen, the Crimson's blue line looks similar to that of the Bulldogs. They feature junior Wiley Sherman, who stands 6-foot-7, and a number of defenders over 6-foot-2. However, it is the somewhat diminutive Adam Fox, a freshman, who steals the show. The rookie has stepped in and played like a veteran from day one, racking up six goals and 39 points. Two of his six goals have come on the power play and two have been scored on empty nets.
"Easily the best freshman [defenseman] we saw all year was Fox," said an opposing coach. "He was so impressive in his very first collegiate games. You knew he was going to be special. He's proven to be one of the best overall defensemen in the country."
Up front, the Crimson are senior-heavy with Tyler Moy, Alexander Kerfoot and Sean Malone, all of whom have racked up at least 16 goals and 42 points. The Crimson are also deep in skilled forwards, as sophomore Ryan Donato has proven.
The son of former NHLer and 13-year Harvard coach Ted Donato, Ryan Donato equaled his point total as a freshman (21) in goals this season, and has added 19 assists as well.
After a bit of a slow start, Ryan Donato has scored 25 points since the start of 2017, including a four-goal game against Union on Feb. 10 and a four-assist effort against Brown on Feb. 18.
"They just seem so balanced up front," said an opposing coach. "They have, obviously, a superstar in Ryan Donato. He, to me, was easily one of the top five players we played against all year."
The Crimson will need all of their high-end talent to get past the stifling blue line corps of the Bulldogs in the first semifinal of the Frozen Four on Thursday. The Bulldogs will look for more strong play from Miska if they want to shut down the Crimson's high-flying offense.