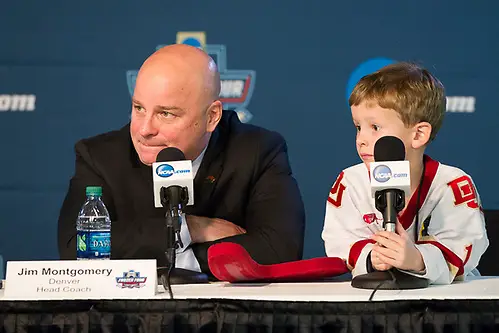 CHICAGO — If you were writing this as a novel, it would probably be rejected as being too unrealistic.
The poetry and symmetry are unmistakable, however.
Frozen Four 2017
More coverage of the 2017 NCAA men's Frozen Four at Frozen Four Central.
Denver coach Jim Montgomery became the fourth man to win a national championship as both a player and a coach when the Pioneers defeated Minnesota Duluth 3-2 on Saturday.
The others were Mike Eaves (Wisconsin and Wisconsin), George Gwozdecky (Wisconsin and Denver) and Al Renfrew (Michigan and Michigan).
"He sets the standard for all of us," said Denver forward Matt Marcinew. "You know, it's unbelievable. He's an unbelievable coach. He's the reason why we're here. And we can't say enough about Coach Montgomery. He's so structured, detail-oriented. He knows the game inside and out. And he's the reason we're here."
As a player at Maine, Montgomery played in two Frozen Fours, in 1991 and 1993. In 1991, Maine lost to Northern Michigan, which went on to win the national championship in triple overtime against Boston University.
His second time, Maine won, and Montgomery scored a natural hat trick in the third period against Lake Superior State to rally Maine from a two-goal deficit. Montgomery also was named the tournament's most outstanding player.
As a coach, Montgomery and Denver lost in the Frozen Four in 2016 to eventual champion North Dakota. This year, the second year back, Montgomery and Denver won.
As an added storyline, Denver forward Jarid Lukosevicius became the first player to score a natural hat trick in the championship game since his coach did it in 1993. For that, Lukosevicius was named the tournament's most outstanding player.
"No, I didn't know it before," Lukosevicius said when asked about the feat.
"I guess it's my turn to start balding," he joked, to which Montgomery rejoined, "What do you mean start?"
Lukosevicius also said it was his first hat trick since midget hockey, and he didn't know what Montgomery saw in him when he recruited him, but Montgomery was effusive talking about his first line left wing.
"Well, what I saw was a guy who knew how to score goals and had really good hockey sense," Montgomery said.
Denver also finished the year undefeated when scoring first, going 25-0-1, and finished the year with 33 wins, the first time Denver has won 30 games since its last national championship in 2005.
After Lukosevicius got the hat trick to match his coach's performance, the video board flashed that statistic. His players tried to call Montgomery's attention to it, but his focus was on the game.
"No, I didn't know — the players were asking me if I saw the board, and I said I'm staying in the moment," said Montgomery. "My eyes are staying below the boards. I didn't know he meant the scoreboard. So I did not know. I did not know there was another — that's the first hat trick. But I'm glad I'm part of both, and I'm glad we won the championship on both nights."
Montgomery, who won the Spencer Penrose Award as national coach of the year, also talked about how he learned from his coaches at Maine and used those experiences as a coach this year.
"Being part of that and being able to lead that group, so to speak, as the head coach, it's an incredible feeling of pride that we were able to do this and to be able to lead a group like Shawn Walsh did, who is a mentor of mine, the way he led us," Montgomery said. "I'm not saying I'm like Shawn Walsh, because he's a legend. But I just draw a lot, my experiences from him.
"And especially [former Maine assistant coach] Grant Standbrook, who I've worked with. And I spoke to Grant today about what does it take. And we had a great moment. And he's in his hospital. He's battling cancer right now. And he's texting me, he's calling me in between periods to give me advice. And it's just a special bond when you're part of a special program and a special family and you have that kind of commitment to each other.
"It never dies. And these young men I know will be friends for life and they'll be proud Pioneers for the rest of their life."