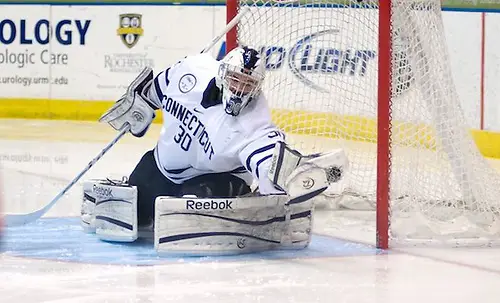 The Holy Cross men's program has announced Matt Grogan as a volunteer assistant coach.
Grogan was a standout goalie at Connecticut and also brings professional playing experience in the ECHL and SPHL.
"We are very excited to welcome Matt to our staff as our volunteer assistant coach," said Holy Cross coach David Berard in a news release. "I was fortunate to coach Matt at UConn for two years and watched him develop into one of the best goalies in Atlantic Hockey. I look forward to watching him start his coaching career at Holy Cross and work with our goaltenders to help them reach their full potential. His passion for the game, work ethic, knowledge and drive will serve him well as a coach."
Grogan has a vast background as an instructor and counselor at hockey camps and clinics. He was a camp instructor and counselor for the Stop It Goaltending Camp from 2010 to 2015 and had the same position for the Behind The Mask Goalie School from 2012 to 2016. He led goalie clinics for Australia Hockey in 2015 and was a Pro Crease instructor in 2013 and 2016. Grogan is currently a private goaltending instructor, an instructor for the CAN/AM Lake Placid Hockey Camps and a director at Voity Goaltending.
After the 2012-2013 season, Grogan earned the Atlantic Hockey Top Goaltender Award by posting a 1.93 GAA. He also received Atlantic Hockey All-Conference honors.