The Boston College men's and women's hockey teams moved into newly redesigned and expanded locker rooms inside Conte Forum on Monday.
Through the generosity of many donors and former players, both projects were privately funded.
Lead gifts from Art Bryne (men's project) and Dave and Janet Griffith (women's project) made these projects possible.
The redesigned spaces were both enlarged, and now include separate wet and dry locker rooms, coaches' areas, equipment spaces and lounges. Saunas were also installed in both the men's and women's locker rooms. Each student-athlete now has two separate lockers: one for their hockey equipment and one dry space for their personal belongings. The dry lockers include multiple charging stations for the student-athletes' phones and tech devices.
The players' stalls in the main team rooms include backlit nameplates and LED lights around the foot-locker portion of the stall. Additionally, all of the stalls have their own individual ventilation systems, which are vented through the Conte Forum HVAC system and have individual fans to dry the hockey equipment.
Both lounge spaces include DreamSeat coaches, 90-inch televisions and ping-pong tables. Smart Board teaching stations were installed to allow for game film analysis and X/O instruction.
"I would like to personally thank all of our dedicated and loyal supporters, donors and former student-athletes who reinvested into the Boston College hockey program to make this new locker room an ample home for present, future and former Eagles," BC men's coach Jerry York said in a statement. "Every contribution matters to us and is greatly appreciated. It is a perfect reflection of our selfless community and family that we consider the Boston College hockey program. Thank you to all who helped make this possible and be sure to come pay us a visit to take in our new home."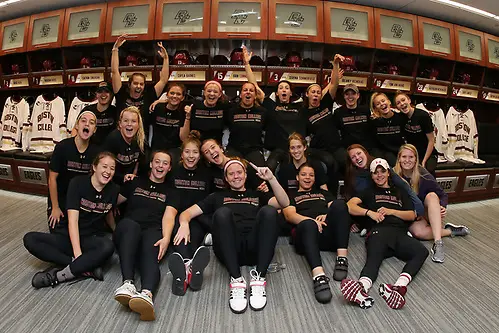 "We're so fortunate to walk in the door of a brand-new locker room to start the 2017-18 season," Eagles' women's coach Katie Crowley added. "The donors are the reason we were able to build the best locker room in women's college hockey. Their generosity has been extremely important for our program and this locker room is possible because of them. Our players, past and present, have made this program into one of the best in the country. We are truly honored to step in to this beautiful locker room and represent everyone who has come before and all who are the future of BC women's hockey."
Both teams moved into their newly unveiled locker rooms on Monday, with the women's team seeing the space at noon ahead of their practice, and the men getting a look at their new locker room at 1:15 p.m. before their daily practice.