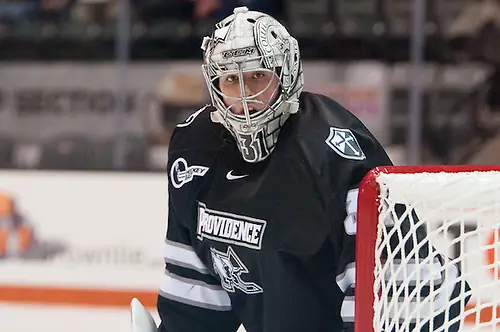 If you're a fan of Providence, you're likely pretty pleased with the team's start.
A 5-2-0 mark is more than decent considering the Friars' competition through its first seven games.
But there will also be skeptics that look at a three-game stretch – games against Boston College, St. Lawrence and Clarkson – where the Friars allowed 14 goals in a three-game stretch, that makes folks cautious about the team's defense.
That's a legitimate criticsm, says coach Nate Leaman, though the one consistent through all of those game he says has been its goaltender, Hayden Hawkey.
And for Hawkey, you can't place any blame.
"Our goaltender Hayden Hawkey had a great weekend," said Leaman talking about this past week's two games against Boston College and Boston University, where his netminder allowed just a single goal. "There were times in both games that maybe the game goes the other way if maybe he doesn't make some key saves.
"There were times against BC where I thought we were a little fragile and he held us in there to keep the game 1-0. BU made a strong push at the end of the second period and Hayden made a great goal-line save to keep it 3-0."
Those two wins came after a weekend in the North Country where Providence split, despite having to win an oblong 6-5 game against St. Lawrence. That also followed a home game against BC where the Friars gave up four goals in a 4-3 loss, despite once holding a 3-0 lead.
Leaman, though continued to highlight to solid play of Hawkey, noting that the number of goals he allowed aren't always indicative of his personal play.
"It was a good bounceback weekend for him," said Leamn of the BC-BU series. "I think if he continues to play that well, it's going to be a big bonus for our team.
He then went on to explain Hawkey's previous three efforts.
"The first BC game, we got up 3-0 and we just stopped playing. We didn't give him any help in the first Boston College game. That was a factor of the team in front of him.
Moving on to the series against a winless St. Lawrence team and nationally-ranked Clarkson.
"St. Lawrence hadn't won a game yet and they were a hungry game," Leaman said "I thought it was a great college hockey game. We scored six goals, they scored five. There were a lot of shots with screens and traffic.
"I wasn't down on the way Hawk played at all. It's just the way the game went. Good goalies know how to win a game 1-0 and they know how to win a game 6-5."
The next night at Clarkson wasn't pretty, but Leaman says you can't blame the goaltender.
"We went over to Clarkson and I didn't think we put a great effort in front of Hawk. Right from the beginning of the game. So I don't pin any of those three on Hawk. That was more of a way the team played.
At the same time, Providence's offense hasn't been the offense one would imagine. Top returners Brian Pinho and Scott Conway have both struggled. But they've also be bailed out by teammates taking steps forward, particularly in the sophomore class.
"I'm pleased with our scoring because I know both Brian Pinho and Scott Conway are going to get going," said Leaman. "They're two of the guys who lead us in chances right now.
"All of those guys who were freshman for us last year – Kasper Bjorkqvist, Vimal Sukumaran, Josh Wilkins and Brandon Duhaime – all of those guys have come back and taken a big step after their freshman year.
"If you want to be a good team, I believe that you have to score with three lines, so we're certainly getting that."
Secondary scoring important to the Huskies
It's a luxury to have great offensive talents like the Northeastern duo of Dylan Sikura and Adam Gaudette. In the first month of the season, Sikura totaled six goals and 14 points in seven games. Gaudette matched the goals pace and was a point behind with 13.
To be successful, though, Huskies coach Jim Madigan understands that the offense can't simply revolve around this pair. And on Saturday night, Northeastern proved that in a 5-4 overtime win over UMass Lowell.
Northeastern got a goal from Gaudette, but Sikura was held off the board completely. That opened the door for others like Patrick Schule, who scored the overtime game winner and Grant Jozefek, who opened the scoring and now has five goal on the season.
"Someone asked me [before Saturday's game] for a key to the game and I said, 'secondary scoring,'" said Madigan. "Our power play, which is obviously very good, we had some looks but we weren't moving off the puck. We had four five-on-threes and for use to not to score on one of them, its uncommon.
"So secondary scoring was important and we got it."
Madigan particularly highlight the line of Schule combined with Lincoln Griffin and John Picking.
"They just grinded it out down around the goal and got some goals for us."
The ending of two remarkable streaks
If you read Tuesday Morning Quarterback, you have already seen my mention of two streaks engineered by Hockey East teams that came to an end this past weekend. When Monday's USCHO.com poll was released, both Boston College and UMass Lowell had slipped out of the top 20.
For Lowell, it was the first time the team missed the poll in 119 editions of the poll. The last time the River Hawks were left out of the poll was December 31, 2012. That was the second longest streak.
The longest belonged to Boston College, which was included in 209 straight polls prior to Monday. The Eagles last missed the poll on February 23, 2009, and that omission lasted just a single week.
Certainly it was interesting that the two longest streaks in the poll both belonged to Hockey East teams. But what was even more interesting was digging to find which team now holds the longest streak.
That belongs to Boston University, which hasn't dropped from the top 20 since the beginning of the 2013-14 season. That gives the Terriers 105 consecutive appearances in the top 20.
Below is the list of the current longest poll streaks:
1. Boston University – 105
2. North Dakota – 92
3. Denver – 82
4. Harvard – 72
5. Notre Dame – 50
6. Minnesota – 35
7. Minnesota Duluth 34
Special thanks to former Lowell Sun writer Chaz Scoggins and UMass Lowell radio voice Bob Ellis for assistance with these poll stats.