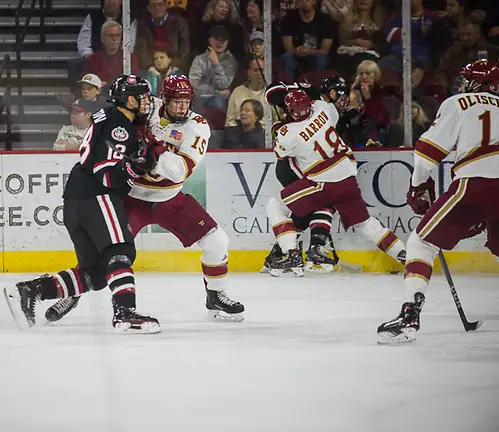 Each week during the season, we look at the big events and big games around Division I men's college hockey in Tuesday Morning Quarterback.
Paula: Denver downs St. Cloud! Denver downs St. Cloud!
And, yes, I am trying recreate last week's TMQ opening, with an updated twist.
What a turn of events, in just one week's time. With their sweep of St. Cloud, the Pioneers have improved to 6-2-2, recaptured the No. 1 spot in this week's poll, and have climbed to .500 early in NCHC conference play. And the way the Pioneers did it is something that can be momentum changing for the season, even this early in the season. Leading 2-1 after two periods Friday, the Pioneers scored two in the third to take the game 4-2 and then went on to make a statement Saturday. Two power-play goals by Adam Plant in the second — his first two of the season — resulting in a 3-1 lead after two and two more goals in the third for that 5-1 win.
Four power-play goals on the weekend, two goals by Henrik Borgstrom Friday, three goals on the weekend by Jarid Lukosevicius, and the Pioneers managed to give freshman goaltender Devin Cooley 2:14 at the end of the game, his first time in net as a Pioneer. It seems as though Denver was determined to make a statement after the sweep at the hands of Western Michigan the week before.
Jim: Well, those two wins were certainly statement victories for the Pioneers, but given that they lost twice a weekend ago to Western Michigan, the voters in the USCHO.com poll were very split.
One voter still thought it was appropriate to vote St. Cloud No. 1. That's something I have a difficult thing doing after the top team gets swept. North Dakota, unbeaten in five (3-0-2), deserves the top spot in the mind of two voters. Denver obviously grabs the majority of top votes, 43 total.
And then there's Cornell. The Big Red, ranked No. 14 a week ago, garnered four first-place votes, second behind Denver, and jumped from 14th to sixth, one of the larger jumps I can ever remember. Cornell beat both Dartmouth and Harvard this past weekend to improve to 6-0-0, the only remaining unbeaten team.
And therein lies an issue when ranking Ivies.
Cornell began the year ranked 15th and fell out of the poll without ever playing a regulation game. But the fact that the Big Red and the rest of the Ivies begin a month after everyone else, it takes until about mid-November for an Ivy League team to move from the bottom/middle of the poll to anywhere near the top. Maybe that's why polls really aren't the best tools to judge which teams are the best as much as they tell us which teams are playing well right now.
Paula: I found the top vote for St. Cloud a little hard to fathom, too, and I've had them at the top of my ballot frequently this season.
When a top team is swept like that, I have a tough time voting them at the top again. I suppose a case can be made that the Huskies were swept by another top contender, but the way in which Denver won that second game should put to rest the idea of voting St. Cloud No. 1 for this week at least.
You've hit on something that has always frustrated me about the poll. I feel so uncomfortable voting for any team that hasn't played a single game while others are showing us real evidence, but that hasn't stopped me from voting for Ivy League teams before they've played. I admit to having voted Cornell much lower until this week, and the Big Red ended up exactly where I had them in my ballot.
You're right – the polls aren't the best tools to judge how teams should be ranked, necessarily, this early in the season. It's not just the difference in scheduling for the Ivies, either. I look at the vast differences between leagues in terms of conference versus nonconference play early in the season, and it's hard to get a handle on how teams are playing relative to each other. You can make the point that we've just not seen enough games, either – and the fact that we rank a full third of the total number of teams that play.
I think the same can be said of the PairWise Rankings this early in the season. It's a matter of insufficient data.
As you've said, though, that doesn't mean that both the poll and the PWR can't be looked at in terms of who's playing well now. I'm happy to see Michigan finally climb into the poll, as I've seen a lot of the Wolverines and know them to be better than how they may be thought of outside of the vicinity of the Big Ten. I wasn't surprised that they beat Minnesota Friday – in fact, I called it, as did my B1G writing partner, Drew Claussen – but I was surprised at how they came back for that 6-6 tie on Saturday.
There are other quirks of this week's poll that I find interesting, like the fact that Minnesota State leapt from No. 10 to No. 5 after sweeping Bemidji State and both Minnesota Duluth and Harvard as high as they are with their records as they are. But, as you say, it may be a snapshot of where we are this week rather than an overall picture.
Jim: Well, the one team that the proves the poll isn't always about how well a team is playing is Boston University, which seems to be sticking around the USCHO.com poll based on reputation and/or expectations. The Terriers have struggled, are below .500 and got a shellacking from Northeastern, 6-1 on Friday, six games after falling to the same Huskies team 4-1 at home.
Now BU did rebound on Saturday night to beat No. 9 New Hampshire 4-0 at home, riding a shutout in the first career start for Max Prawdzik. That was likely what allowed voters to keep BU in the poll and extend their streak for most consecutive weeks ranked (107 weeks). But BU has dropped from No. 2 to begin the season to its current place at No. 18.
We'll see if Maine, which has put together some decent efforts this season, particularly at home, can hand BU the loss that will end the Terriers poll streak. BU will head to Orono for two games this weekend.
A Tip of the Cap…
Paula: … … to Providence Friar Drew Brown, who lost his battle against a rare form of bone cancer Nov. 11. Brown, a native of Grass Lake, Mich., had 10 goals and 22 assists in 75 games. The night that Brown died, Providence beat Massachusetts 7-2. Brown wore the No. 7 jersey as a Friar. As someone who's covered Hockey East for a long time, Jimmy, I imagine you know many people impacted by Brown's life.
Jim: It's painful to hear that Brown lost his battle. He was so incredibly courageous throughout and I recall him being able to take a few strides around the ice during a practice skate at the TD Garden in 2015 prior to the Frozen Four. There's no doubt that helped motivate his Friars team, which many will remember went on to dramatically win the national title.
The fact that Providence scored seven goals on Saturday night sends chills down my spine. Sometimes there are strange moments of fate that occur in life and I like to think that Saturday was one of those.
To his family, friends and former coaches and teammates, I think Paula and I can speak for everyone at USCHO that you are in our thoughts and prayers through such a difficult time.
[youtube_sc url=https://www.youtube.com/watch?v=6FUEHp46U8Y]