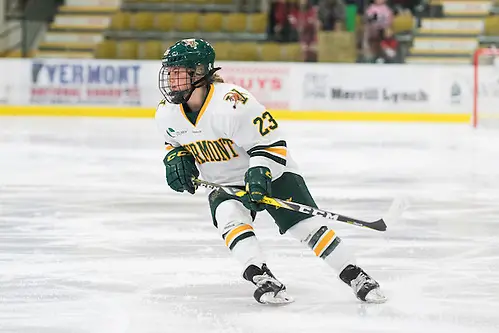 Arlan: Friday was a day where I didn't have to go anywhere and could just sit at home and watch or somehow follow a bunch of hockey games. I was lucky in that it was an eventful day, with games featuring ranked teams, upsets, and dramatic finishes.
The biggest surprise of the day was Vermont handing No. 3 Clarkson its second loss of the season. No. 2 Boston College went down to defeat for the first time, 2-1, at No. 8 St. Lawrence. Both of those high-ranked teams were able to salvage splits on Saturday. Meanwhile, No. 1 Wisconsin and No. 4 Colgate safely recorded road sweeps over No. 7 Cornell and a New Hampshire squad that was receiving votes, respectively.
As far as drama goes, Rebecca Leslie earned Boston University a 2-2 tie with Connecticut when she scored with a fraction less than 50 seconds in regulation. BU's announcer said that one couldn't have a later comeback than that, but I knew that to be untrue, as I'd just witnessed Quinnipiac's Taylor House scoring an extra-attacker goal with 1.8 seconds left to deny Union a third straight ECAC win. Melissa Samoskevich made it hurt all the more when she completed her hat trick a minute into overtime to give the Bobcats a 4-3 victory.
Maine went to overtime twice, settling for a 2-2 tie with No. 9 Providence, before pulling out a 4-3 win over UConn on Sunday when Michelle Weis scored 35 seconds into the extra session. No. 6 Minnesota also won a game in overtime, that coming at Mercyhurst on freshman Taylor Wente's power-play tally. Northeastern at Merrimack, Penn State at Syracuse, and Yale at Harvard were other teams to play bonus hockey without producing a winner.
What stood out to me? Clarkson's 3-2 loss at Vermont. The teams were tied entering the third, after the Catamounts' Alyssa Gorecki's second goal of the game equaled the pair of tallies off the stick of Michaela Pejzlová. Past the midway point of the final frame, the Golden Knights spent most of a power play sending prime opportunities just wide of the net. To take nothing away from the efforts of UVM goaltender Sydney Scobee, who made 35 saves, it seemed like just a matter of time before Clarkson potted a winner when it went back on the power play a minute later with just over five minutes to play.
However, 25 seconds into the advantage, the Golden Knights took a bad hooking penalty 200 feet from their own net to negate the advantage. Vermont seemed to gain momentum out of its brief power play at the end of the penalty time. It was able to get some quality offensive-zone time, when it had precious little lately, and another Clarkson penalty followed less than two minutes later. Taylor Willard capitalized with the winning goal seven seconds into the advantage, and Vermont was able to close out the win.
Clarkson has the fifth-best penalty kill and is successful 89.4 percent of the time, but it also gets whistled for 10.8 minutes a game, which is also fifth. The Golden Knights' previous loss also came while shorthanded in overtime versus Colgate. So the biggest lesson that I took away from the weekend was that Clarkson will need to be more disciplined, particularly in late, clutch situations, if it wants to repeat.
What do you think of this season's Clarkson squad? And did you spot something else in this weekend's results that could alter the national picture?
Nicole: For the most part, I feel like Clarkson has to be pretty happy with how the year is going so far. Like the rest of the top teams in the country, they came into the season with a couple of questions after graduating a talented class. I think one of the most pleasant surprises for Clarkson has been Elizabeth Giguère. They really needed an offensive catalyst to help replace Cayley Mercer, and Giguere seems to be able to step into that role. Loren Gabel and Michaela Pejzlová have also elevated their game, and that they've got some depth up front is certainly something that can only serve them well. The Golden Knights tend to be a defensive-minded team, so your observations about their losses certainly stick out a bit more for me. They're averaging more than four goals a game, and goalie Shea Tiley seems to have found another gear for her own game. There are a lot of pieces that seem to be working well for them, which is why I feel like it's so much more glaring and unusual that their defense is the part you're calling out.
There's also just far less room for error this season in the ECAC. It definitely feels like we've had a bit of a power switch. WCHA fans used to complain about how there were so many good squads in their conference that they ended up beating each other up and affecting their national rankings because of losses to quality opponents. Now the ECAC has more than a couple of top tier teams and then a second tier of very good teams that have the ability to pull an upset. I expect the eventual conference winner will have a decent number of losses just by nature of the quality of the opponents they're facing.
We've not seen too much new at the top of the polls. I thought it was an important step for the Badgers to get the sweep of Cornell. With a less competitive WCHA, those games helped get a bit of a clearer picture of where they stack up against the rest of the top teams in the weekly polls. This year's Badgers team seems to be a lot more relaxed than last year's. We talked a lot throughout last season about their streaky scoring, and that ultimately was a big part of their Frozen Four appearance. The current squad just feels a lot less pressed. Maybe it's because they had no major expectations coming into the season and have had to share the offensive burden. On Saturday, they didn't score their first goal until well into the second period, something that in the past would sometimes have them pressing and getting frustrated, and that wasn't in evidence this weekend.
I don't think there's anyone that expects the Badgers to have an undefeated season, but they've certainly surpassed expectations — the WCHA preseason coaches poll had them finishing behind Minnesota. What's your take on Wisconsin, and what do you think the rest of their season looks like?
Arlan: Regarding Clarkson, I don't feel like I was pointing at its defense. The Golden Knights have traditionally been a well-coached team that executes, so I see committing a bad penalty in the offensive zone while on the power play as a failure to execute what the coaches are teaching, rather than any defensive shortcoming.
Right now, no team is better executing what its coaching staff is asking of it than Wisconsin. Because the Badgers are the No. 1 team, we'll talk about them every week that the three of us do this column, but to be frank, they won't play a game that truly matters until March. That's totally contrary to what Mark Johnson or any other coach wants to admit, but it's the truth. The Badgers will advance to the NCAA tournament and host a quarterfinal. I think everyone who follows the sport would concede as much. Whether they lose a game or four along the way won't change much. Sure, being the top seed is important, but with the way the tournament works, if either Minnesota or Minnesota-Duluth gets into the field, it will be shipped to Madison, no questions asked. Not that the Gophers or Bulldogs are necessarily any better a team than someone like Robert Morris or any other potential CHA champion, but the WCHA teams have the advantage of playing in LaBahn Arena twice every season, so they know exactly what the Badgers are going to bring, and they don't have to rely on some provided game footage to have an appreciation of that forecheck. Ohio State being sent to Wisconsin is far less of a certainty, but still more likely than someone like Syracuse. Using your credit card can be all about the miles, and so is determining NCAA pairings.
I'm sure that Wisconsin has been fairly loose through these first two months, but I doubt that they'll be quite as carefree if they are playing a game at the Frozen Four with their season on the line and they skate out for the final period of regulation with the scoreboard still reading 0-0. Wisconsin just had three seasons with Ann-Renée Desbiens, who many Wisconsin fans consider to be the best goalie in the program's illustrious history, and in four Frozen Four games her offense scored her one, two, one, and zero goals. If they skate onto the ice at Ridder Arena in March and score twice in the opening five minutes, then I agree they'll relax. If the minutes tick away and Badger shots are hitting little besides goaltender equipment and the end boards, I doubt that they'll take any solace in their preseason ranking in some poll.
With all due respect to the Boston College offense, the Wisconsin forecheck is the most impressive weapon that I've seen on display thus far this season. The Badgers are the top team, and there is a gap back to the second squad. They are the favorite to hoist the big trophy in March. However, I thought that last year as well, and that didn't make me right. So I believe they'll keep rolling, outside of the odd day that none of us can explain where the bounces favor the underdog, through the WCHA regular and playoff season. After that, pressure may be a privilege and all that, but if they don't find a way to bury a puck in the first 40 minutes of a game, they'll feel a lot more privileged than they want to be.
I have my own theories, but what did you think of aforementioned BC coming up short for the first time?
Nicole: Standing on it's own, there's certainly a few things to take from that loss. St. Lawrence scored twice on just 13 shots, and not one of BC's biggest weapons was involved in their lone goal. But neither of those were true the second game of the series, so it's hard to point to either of them as the reason for the loss. In fact, in game two St. Lawrence outshot the Eagles, 39-23.
There are, predictably, some glaring holes in the BC defense. That's to be expected when their top three blue liners are playing with Team USA in the lead up to the Pyeongchang Olympics, but it doesn't change the fact that BC isn't winning games because of stingy defense, but because of a truly prolific offense. The Eagles are 24th in the country defensively, allowing nearly 2.50 goals per game. Last season, they allowed a full point less per game and were ranked fourth in the country defensively. It's been a huge swing for them, and they've been helped by a less-than-impressive showing from the rest of Hockey East.
I expect that as the season goes on, that defense will improve. They aren't necessarily young, but as a whole, they're inexperienced. The six women they started on defense on Saturday average less than two years' experience. Take out Toni Ann Miano's 108 games, and the other five average closer to about a season and a half of experience. It's going to take them time to improve and get comfortable. Boston College has been able to mitigate those growing pains by simply outscoring and overpowering their opponents on offense, but there are times, like Friday, where that will break down or be stifled.
Miano is the team's fourth-highest scorer as a defender, and Makenna Newkirk has continued her scoring ways, but while the Daryl Watts-Caitrin Lonergan-Willow Corson line has been terrorizing other teams, there's a pretty big drop-off after them. The Watts line is responsible for more than 50 percent of BC's scoring. If an opponent matches their top D line against them and manages to neutralize them at all, they've taken away that offensive buffer that the Eagles have been counting on.
I imagine quite a few teams will be watching tape from Friday to see how St. Lawrence was able to win, and I expect we'll see more attempts to stifle BC's offense from teams in the future.
You said you had some theories — care to share with the class?
Arlan: I didn't say that they were good theories, nor that anyone is obliged to share them, but for what they're worth, here are my thoughts on Boston College at present.
Yes, BC's defensive statistics aren't what we're accustomed to seeing from the Eagles, and much of the star caliber has been stripped away from its blue line. For all that supposed vulnerability, how many goals did BC allow in its loss? Two. How many goals did it surrender when Connecticut earned a tie? Two. It's not like the blue line is a gaping hole that can't contain anyone. It's just not the position of strength that it usually is in Chestnut Hill. Opponents can get at least a couple of goals off the Eagles, and that's been true with only one exception, that being UMD in the second game of that series. The Bulldogs were a team that predictably struggled to score early in the season, having graduated five of six to reach 20 points last year, and that game versus BC was one of five in the first eight games where they were held to a goal or less.
In terms of an eye test, where one really sees the difference in the defense from last year to this is by watching Katie Burt. She's having to scramble around her net far more than she has in the past. One save isn't enough; she's frequently called upon to make a second and even a third.
I think you made the key point when you referenced the drop in scoring after Lonergan's line, Newkirk, and Miano. Lonergan has centered the two freshmen for all 11 games. Corson hasn't enjoyed nearly the success of her linemates — through the first 10 games, she averaged a point a game with only a pair of goals, but she broke through on Saturday with her first multi-goal game of her career in a three-point effort, and if she can continue to share in the wealth, it'll be a lot tougher for opponents to try to contain a line of three scoring threats rather than two.
Candace has talked about BC coming in waves, but much of what she is seeing are aftershocks after a tsunami. Delaney Belinskas had 33 points as a freshman; she has only two as a sophomore, a couple of assists in the win over Maine. Kenzie Kent is averaging just over half of what she did through her first three seasons. Even in the case of Newkirk, half of her six tallies have come via special teams, so she's not finding the net regularly while teams are skating five-on-five.
With all that gloom and doom, the Eagles will be fine. Like Wisconsin, they'll be hosting when the NCAAs roll around. You mentioned SLU providing a tape of how to defeat BC, but the fact is that most of the teams in Hockey East don't skate as well as the Saints. They were able to close out the upset on Friday by staying in position, getting to loose pucks, and clearing them out of danger. BC wins the majority of those races against lesser teams.
Burt earned her 100th win on Saturday. She needs only 15 more to surpass Noora Räty to become the winningest goalie in NCAA history. With 23 scheduled contests remaining, plus at least two in the Hockey East playoffs and the NCAAs to follow, if she stays healthy, that record is hers.
At this point, there seems to be a clear demarcation between the top four teams in the country and the rest. We've talked about three of them. What did you learn from the fourth, Colgate, as it went to Durham and inflicted a pair of losses on New Hampshire?
Nicole: Colgate certainly looks like the real deal this year, but as we've already said, navigating the ECAC this year is going to be no easy feat for any team.
While every other top team has had to make adjustments, Colgate returned nearly all its scoring, and the Raiders basically just have to continue to build on what they've already done. It's almost impossible to imagine that just three years ago, the Raiders finished the season 7-25-2 when watching this team on the ice. Both the players and the coaching staff have done an incredible job turning the program around and working to build something. They're a great story, no matter who you root for in college hockey, and it's hard not to want to see them succeed and sort of get over the hump of the past few seasons. They've certainly looked to be well on the way this season. Last year, they had clearly elevated above the middle of the pack, but struggled against the top squads. Now, they are one of those top squads, and the Raiders are winning against their top competition.
They have a fairly friendly schedule, as well. Though they definitely can't look past anyone, based on records, they've got a pair against Cornell before the break, and they have a weekend against St. Lawrence followed by Clarkson in late January, but the end of the regular season should be smooth for them and allow them to build some momentum and confidence heading into the postseason.
This past weekend, we saw a hat trick from Shae Labbe, but also four other goal scorers. They're showing some scoring depth, which will certainly help them as the season goes on. Though the second game wasn't as high scoring, in both matchups New Hampshire scored first before Colgate took control. With that kind of poise and resilience, they'll do well against tougher opponents.
We've both mentioned the gap between the top four and the rest of the top 10. Two of those six teams, Minnesota and St. Lawrence, have four losses. Two others, Providence and Cornell, have three losses. Robert Morris is sitting with just a single loss, but can't seem to do much to move up in the polls. It doesn't help the Colonials that the rest of the CHA isn't doing so well, but is there anything Robert Morris can do to improve their spot?
Arlan: RMU has four games on its schedule with No. 5 Ohio State, hosting the Buckeyes right after Thanksgiving and then traveling to Columbus in January. It also visits newly voted No. 3 Colgate in January. The surest way to move up in any poll is to knock off the teams above.
However, I've spoken with Paul Colontino a few times over the years, and I'm willing to bet that while he might be happy for his players and program to get some recognition from the voters, he's more focused on improving and doing what it takes to reach the national tournament come March. How many times has Northeastern been ranked over the years, and the Huskies have only one NCAA tournament experience to show for it. Impressing the voters is far less important than impressing the logic behind the PairWise.
Ever since the CHA got its autobid, even that hasn't always been paramount for the conference's coaches. To advance, they know that their teams don't have to win a war of attrition with the likes of Northeastern, Cornell, and St. Lawrence. They just have to conquer the other five teams that share their circuit by reaching the playoff final and winning that ultimate league game. At that point, whether the polls undervalued the CHA champion or the PairWise failed to smile upon it, that team is in the dance and its season is a success.
To that end, the Colonials are making progress. In recent weeks, they've been more consistent than they were in their early series. Brittany Howard makes a fitting poster child for this team. She may not be the most talented player in the country, but I haven't seen anyone more determined than she is. If nothing else, she is going to will the puck into the net. If she keeps producing at her current rate and RMU can extend its postseason, she has a shot at a 200-point career. Like Colgate, the Colonials have a lot of upperclassmen who contribute greatly to the cause.
Suppose they do win the CHA championship and return to the NCAAs. At that point, they'd be playing with house money. If you want to talk about a team that wouldn't have any pressure of expectations, it would be RMU. Compared to last year's team, it would have a far better idea of what would await in an NCAA quarterfinal. I'd don't expect that the Colonials are going to worry much about the polls. Instead, they'll just keep jumping over the boards and playing hockey.
Is this a cruel sport or what? Union was so close to springing that upset at Quinnipiac, only to have two players vacate the front of the net to challenge the puck carrier in the closing seconds. With an extra skater on the ice, that left a Bobcat all alone in front with enough time to send a puck upstairs to tie it up. Can the Dutchwomen recover from the sting of seeing the win slip away to become an overtime loss?
Nicole: I think I've shown over the year that I'm a sucker for a good underdog story, and no one embodies that more than Union. I feel like I'm as invested in their games as they themselves are. I want such good things for them. We talk about the long season grind and how difficult it is to be a student-athlete; for teams like Union, that struggle is even further compounded by the mental drain of things like that long losing streak last season. It takes so much character to put in all the work and take the ice time and time again, and many adults I know would walk away, so I'm always so impressed by these collegians.
Getting that win over Quinnipiac would have been a huge boon for them, but I also think that when you're in that situation, you have learned not to hang so much on wins or losses. In order to keep their spirits up and to keep sane, honestly, I think the Dutchwomen look to plays, passes, shifts, goals, and other smaller parts of the game to serve as motivation. I don't think those final seconds take away from what Union accomplished or what it says about their growth, and I think they know that. A tie against a team that's been ranked this season is another great step for them, and for better or worse, they've learned to find "little wins" among bigger losses, so I think their players can recognize the big picture of what that game means and not get too hung up on what happened at the end.
We definitely tend to focus on the front-runners, but I hope Union knows how much people are pulling for them and see the improvements. Josh Sciba has done a lot there in about a season and a half, and the players continue to show growth.
They've played just five games, so I'm asking for a wildly early analysis, but it definitely seems like Harvard has rebounded a bit from last year's disaster season. I'm not sure any of us will ever figure out what happened, and Katey Stone is definitely not going to talk about it, but what do you think the status is in Cambridge?
Arlan: It looks to me like Harvard is another of those teams in that middle tier that seems to get a bit broader every year. Last year's five-win season clearly went off the rails for the Crimson, but their problems started earlier. They backed up their run to the 2015 title game with a 7-1-1 start two years ago, and then they slumped to a 10-11-2 finish that ended with a quarterfinal loss at Colgate in overtime. While I don't expect them to be as unsuccessful as they were in 2016-17 — they'll be back to double-digit wins for starters — neither do I foresee a quick return to glory.
Harvard looks to be a three-two team; they score three goals on average while allowing two. While that isn't terrible, and it could take them somewhere, they've done that thus far against teams that figure to finish from the middle on down. The Crimson have a number of good players, but I don't see any who are great at this point of their careers. They came into the season with only one player who had as many as 50 career points, senior Lexie Laing. She was a team captain, but now she's no longer listed on the roster. Now they're a mix of youth and veterans who have been either role players or injury-plagued. The top five scorers in the early going are underclassmen, so better days may be on the horizon. I'd guess that they'll be back in the playoffs, but as a road team. With the right matchup, advancing would be a possibility, and Stone's team could still be playing come the semifinals.
I'm sorry if that prediction came with too much hedging of my bets, but with the way teams rise and fall from season to season and even within a campaign, it seems like I may be trying to read a map that I'm holding upside down. Hockey East definitely makes me feel that way, and I think it is getting worse. Every week, one could make a case for a different team to be the likely runner-up to BC. We start out looking at Northeastern, and then switch to Providence. UNH gets its 15 minutes in the spotlight, and now Vermont could be the best bet. Meanwhile, tell Maine to go warm up, because they're on deck.
There doesn't even look to be a likely candidate to finish ninth. Connecticut is there now, but those Huskies don't appear far from being a quarterfinal host. Is there clarity in Hockey East from your perspective that I'm missing?
Nicole: Heck no — and if there's anyone out there that does, I sure hope they get in contact. I'm fairly baffled by Northeastern thus far, if I'm honest. I keep thinking something will start to make sense as to why they're 6-6-2 overall, but I keep coming up empty. Before the season, coach Dave Flint said this is the deepest team he's had — they returned 16 upperclassmen and have a solid netminder in Brittany Bugalski. Even if you take away the games against ranked teams, they've still dropped two to Providence and one to Maine. I'd like to say they might be able to figure things out, but they have three losses and a tie in the last five games and they've got Maine, Wisconsin, and BC on the docket before the 1st of December. It's not early season and any kinks should have been showing signs of straightening out by now, but here we are.
It both says a lot about my ability to predict things and how unsure everything is, but I actually thought Connecticut had the makings of finishing in the top three. Shows what I know, obviously, but I think you're right in saying it's difficult to imagine them finishing last and outside the conference tournament. In my opinion, the middle part of this conference is just chalk full of potential. and with both BU and Northeastern slumping a bit, a second- or third-place spot in Hockey East is up for the taking — some team just has to find the wherewithal to do it.
I really love what we've seen from Maine over the past few seasons; I actually have them on deck as the subject of this week's column. They've shown some flashes of brilliance — and potential — over the past few seasons, but could never quite seem to put it together. They've won 10 games each of the past two seasons, but already have eight wins this season. It seems like things are gelling in Orono.
Though not to the same degree as Northeastern, Providence also leaves me a little confused. There's a lot of depth there, and thus far they've managed to keep the penalties down, something that had been a problem for them the past two seasons and impacted their ability to be effective. They aren't exactly struggling, but they also don't seem to be jumping at the opportunity in front of them.
That's a lot of words to agree that I don't have the foggiest idea what's happening in Hockey East or how it will all play out, but I am certainly enjoying watching it.